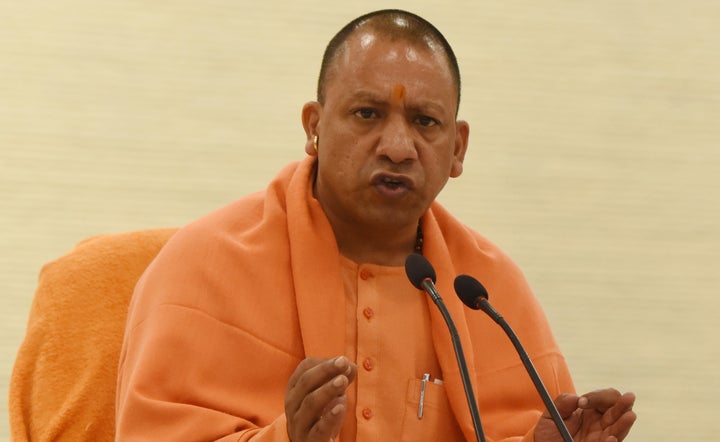 Chief Minister Yogi Adityanath asserted on Tuesday that the BJP government had changed the image of Uttar Pradesh and the state's law and order had become a model for the country as not one incident of rioting happened under his watch.
Presenting a report card on the completion of two years of his government, he said when he assumed office in March 2017, debt-ridden farmers were committing suicides and Uttar Pradesh had become "synonymous with murder, loot and riots."
Adityanath said he changed the "perception about the state" and improved its "tarnished image". The better atmosphere has become a "nazeer" (model) for the country, he said.
Adityanath has repeatedly claimed (read here and here) that Uttar Pradesh has not witnessed any riots under the Bharatiya Janata Party (BJP) rule and the state has just become safer since he took charge.
However, the chief minister's claims seem more fiction than truth. It would perhaps be good for Adityanath to revisit the months since he took charge.
According to a reply given by Union Minister of State for Home Affairs Hansraj Ahir in the Lok Sabha in February, 2018, there were 822 incidents of communal violence in India in 2017. Uttar Pradesh witnessed 195 communal incidents, in which 44 people were killed and 542 others injured, in 2017, the reply said.
Since Adityanath took over, there have been at least three major reported incidents of violence.
In January last year, a 22-year-old youth was shot dead during a "Tiranga Yatra" on Republic Day by some people after which a series of violent incidents had taken place in Kasganj. The yatra was organised by members of the Akhil Bharatiya Vidyarthi Parishad (ABVP) and Vishwa Hindu Parishad (VHP).
The clashes, according to The Indian Express, began after a group objected to certain slogans raised by participants of the "Tiranga Yatra".
In 2018, mob violence in Uttar Pradesh's Bulandshahr left two people dead. Cattle carcasses were allegedly found strewn in the fields outside village Mahaw in Siyana on 3 December after which a mob went on the rampage, attacking the local Chingrawathi police post.
Inspector Subodh Kumar Singh (44) and civilian Sumit Kumar (20) of Chingrawathi village were killed of gunshot injuries in the ensuing violence.
The Adityanath administration had received severe flak for being more concerned about the cow carcasses and dismissing the killings of Kumar and Singh as an "accident".
Caste clashes in Saharanpur
Uttar Pradesh's Saharanpur district was also rocked by violence in 2017. In May that year, a Dalit group objected to a procession of Thakurs to mark the birth anniversary of Rajput king Maharana Pratap, triggering violence, Hindustan Times reported. One person was killed and over 15 injured in the violence.
The Uttar Pradesh government has emphasised on the importance of cows and trivialised mob lynching. Adityanath, according to ANI, had said last year that incidents of mob lynchings are being given unnecessary importance.
He had told ANI that humans are important, but so are cows and both need to be protected.
According to a Factchecker analysis, since the BJP came to power in Uttar Pradesh, the state has recorded 69 percent of its cases of bovine-related violence.
If the Chief Minister perhaps needs another reminder of the law and order situation, a 38-year-old man was shot dead last year by a policeman when he allegedly refused to stop his car for checking in Lucknow.