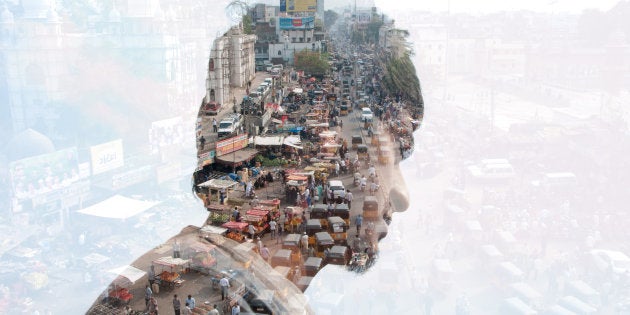 Socially conservative, religiously inclined, worried about jobs - a new nationally representative sample survey of India's youth paints a sobering profile of what young people think and want.
Ten years after their first such survey, the Delhi-based Centre for the Study in Developing Societies (CSDS) and Konrad Adenauer Stiftung (KAS), a German foundation associated with a political party, conducted a sample survey on 6122 respondents in the age group of 15-34 years in 19 Indian states. The findings were released on Monday.
The survey shows that support among young people is low for what are believed to be progressive issues. More young people support banning movies which hurt religious sentiments than oppose it, more support the death penalty than oppose it, and more disagree that the consumption of beef is a personal choice. These opinions vary sharply by religion; Muslim youth are more likely to oppose the death penalty and 69% disagree with any objection to the consumption of beef.
While there is relative support for equal access to education for men and women and for women leaders, many also subscribe to deeply patriarchal views with over half saying that wives must always listen to their husbands.
Close on the heels of the debate over racism in India, just 63% of young people say they wouldn't mind an African neighbour.
Very religious
Nearly 80% said that they prayed quite often and nearly half watched religious shows on TV. Over 45% said that they keep religious fasts.
A majority also believed that religion (47%) should take precedence over science (33%).
Marriage and caste
Young people are also fairly conservative on issues to do with marriage and sexuality; a majority disapprove of dating before marriage and live-in relationships, and nearly as many oppose inter-religious marriage as those who support it. Over one in three also disapprove of inter-caste marriage.
Despite an increase in the share of young people who approve of inter-caste marriage over time, the share of people practising what they preach is miniscule; just 4% had an inter-caste marriage, and just 3% an inter-religious one. The vast majority - 84% - had an arranged marriage and just 6% had a love marriage. Love marriages were more common among dalits (10%) and Muslims (7%). Among those who had love marriages, three out of ten were inter-caste.
However, there has been a massive decline in the belief in the institution of marriage with just 52% now saying that it is important to get married, as as against 80% ten years ago.
Over 65% of those aged 15-34 live with their parents, while 31% live with their spouse.
Although there has been a twenty percentage point increase in the share of young people who are now in education, agriculture remains the top employer of young people. Just 2% have government jobs - while 65% of them would like a government job. The share of young people who want a government job over a private job or their own business has only grown in the last ten years.
This desire for a government job could fuel support for reservations for SCs/ STs and OBCs in education and government jobs - particularly among those young people who are from backward castes themselves. Hindu upper caste youth have the lowest support for reservation for SCs/STs in government jobs at 30%. This support for reservations does not extend to Muslims - more young people oppose reservations for Muslims than support it.
Overall, the greatest issue before the youth, respondents said, was jobs.
Limited political interest
Despite an increase in political interest over time, 46% of the young people surveyed said that they had no interest at all in politics, though only one in ten said that they had never voted - non-voters were more common among more educated youth. Fewer than one in every five had attended an election meeting in the last ten years. Just 15% had participated in a protest, and the figure was even lower among students.
Nearly half said that they did not identify with any political party, but among affiliated young people, the BJP was by far the most popular choice.
Half of all young people had never used social media. Among those who had, Whatsapp and Facebook were the most popular. Over 80% of young people reported owning a mobile phone, of which over half were smartphones. Over a quarter owned a laptop.
TV is the most popular way for young people to get their news, closely followed by newspapers. TV viewing has grown slightly faster than newspaper reading in the last ten years but there hasn't been any significant change.
Popular in the Community