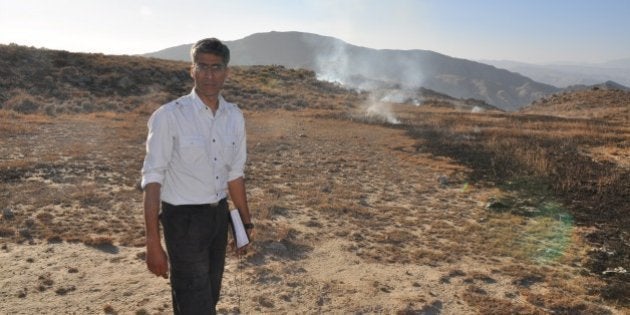 Zee Media Corporation Limited (ZMCL) is all set to enter English news broadcasting, and has hired television journalist Rohit Gandhi as the editor-in-chief for the new venture. The channel initially used to broadcast most of its news programs in English when it first launched in 1999. However, it switched to Hindi in 2003-04.
Zee's announcement comes after its owners stayed away from English news broadcasting for over two decades. Gandhi will be in charge of all operations and will hire the entire editorial and technical teams. He will report to Zee Entertainment MD & CEO Punit Goenka. He is an Emmy-Award winning documentary filmmaker and journalist who has worked for over 20 years across 40 countries.
"It's an honour to be leading this initiative of the Zee family," Gandhi told HuffPost India. "I hope to make the best efforts in putting my global experiences to run this network. I have great support from Punit Goenka and the rest of the Zee group who have successfully been in the market for over two decades."
Zee's new offering will enter a crowded fray, and will face-off against NDTV 24x7, Times Now, CNN-IBN, Headlines Today and NewsX.
Goenka told HuffPost India in response to an emailed questionnaire these were "still early days" and that all decisions on hiring, the name of the channel, and the date of launch would be all made "in good time".
While he did not rule out partnering for growth with a global broadcast organisation, he said they were looking at all available options. The Zee Group is financially backing the effort with all its resources, he said. It has been speculated for a while that Zee is in talks with CNN to collaborate when the Atlanta, US-based network's branding deal with the Reliance-owned IBN Group comes to an end.
"It is a dream project for the Zee family and we will leave no stone unturned," Goenka said.
According to Goenka, Zee is now entering the English news market since they don't want to miss an opportunity.
"The English news market is quite diversified and not only does South Asia look at itself through this but the world looks at South Asia through news, that is the first draft of history," he said. "For us to miss this opportunity as India continues to push barriers of the globalized expanding world is not a possibility."
While it is as yet unclear how the Zee English channel will be different from existing English news channels in India, Goenka explained their aim was to "create a textured channel that will cover India like its never been done before".
"The TV news equipment will be the highest end possible," he said. "The editor that we have hired comes with background with news and documentaries which means that creating a look."
ZMCL (formerly known as Zee News) is a network of 10 channels, including two national channels Zee News and Zee Business. It has regional news channels such as Zee 24 Taas, Zee Sangam, Zee Madhya Pradesh Chhattisgarh, Zee Marudhara (Rajasthan), Zee Punjab Haryana Himachal and Zee Kalinga (Odisha).
The Subhash Chandra-owned Essel Corp, of which Zee is a part, also has interests in print (DNA newspaper), direct-to-home (Dish TV) and satellites (Essel Shyam).



Popular in the Community