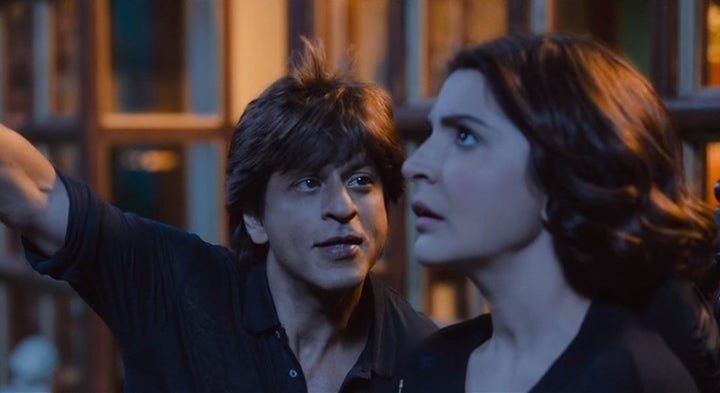 He has a thing for stars. Whether it's the celestial objects in the sky or Bollywood star Babita Kumari (Katrina Kaif), he desires both with equal zeal. Vertically challenged, Shah Rukh Khan's Bauua Singh of Aanand L Rai's Zero overcompensates for his shortness with his acidic tongue and razor-sharp wit, best reflected in his raging banter with his father, played by Tigmanshu Dhulia, who he calls by his first name.
While disability is either used as a sympathy-prop or a punching bag in Hindi cinema, Khan's Bauua is well-nuanced in Zero – he's not shown as a character feeling bad about his 'condition' but as someone who's able to laugh at his limitations without allowing them to interrupt his dreams. In fact if anything, Bauua's height issues actually encourage him to dream fearlessly.
Khan's Bauua, unlike Anushka Sharma's Aafiya, is extremely self-centred, entitled and bratty, someone who romances the idea of romance for personal fulfilment and not because he can genuinely empathise. For the Meerut-bred Bauua, winning a woman's heart is a thrill, a way of affirming his masculinity, a way of him telling himself, 'oh even I can.' He's that guy who likes the chase, not the catch.
Mounted on an ambitious scale, Zero takes the viewer into a fantasy land, a near-impossible adventure of a dwarf who (sort of) has a brief romance with a movie star before traversing a bizarre territory that'll involve outer space.
Right from the first scene (a dream sequence), it's clear that this is a movie which inhabits a movie-like universe, where lovers who promise each other the moon actually reach for the sky, where a star's real-life romance is a proper sub-plot (super-meta), where old Bollywood songs are used in earnest wooing, and one where underdogs invariably win.
It's a movie that borrows from movies. There's no promise of realism, no slice-of-life moments. Everything is heightened and exaggerated and hyper-glamorised. It works. At least for most parts.
The movie's aesthetics carry a dream-like, otherworldly quality and sequences involving sweeping romantic gestures are shot by cinematographer Manu Anand with a sense of celebratory spectacle, high flare and all.
Shah Rukh Khan, who occupies every frame of the movie, owns this performance, easily outshining roles he's attempted in the recent past. As Bauua, he's terrific as the restless little man, always having a nastier comeback, a clever rejoinder, a cheesy one-liner that impresses simply because it's cheesy by design. Himanshu Sharma, writer of films such as Raanjhanaa and the Tanu Weds Manu films, gets the rustic wit of North India, a milieu he has monopolised, perfectly right.
Equally outstanding is Rai's frequent collaborator Mohammed Zeeshan Ayyub, who plays Bauua's best-friend. Although a template sidekick, Ayyub makes this character his own, dropping several ironical lines that mock the stereotypes associated with Muslims while being consistently funny.
However, the ease with which the film's first half flows, all with laugh-a-minute one liners tossed around by Dhulia, Ayyub, and Khan, is disappointingly offset by the curse of the second half. The latter half of Zero reflects tonal inconsistency as Rai goes for scale and ambition over coherence and logic. The starkly different, strange visual language of the second half hampers the overall experience of the movie.
As Zero helplessly sinks into melodramatic territory, Khan's atonement for a past folly feels forced and fails to evoke empathy. To ensure that his character isn't given a convenient redemptive arc, Rai and Himanshu Sharma go on the other extreme. In a bid to make Bauua repent, they corner him into taking up a challenge that defies comprehension and believability. Out of nowhere, R Madhavan pops up as a high-profile scientist and stock husband, who is heard telling Anushka Sharma's Aafiya lines such as, "Maths to theek hai na," while she struggles between hating, forgiving, and loving Khan.
The initial hour of the movie is so tightly written that the last hour sticks out like a sore thumb. However, despite its obvious shortcomings and an over-the-top finale, Khan powers the movie with an electric energy, infusing the smug and entitled Bauua with a likability and an endearing quality.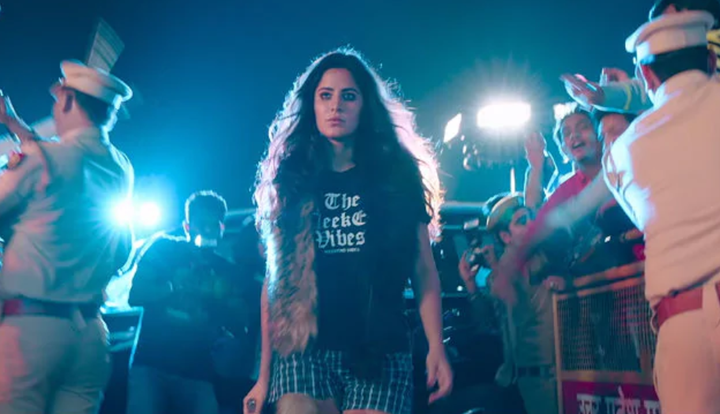 Katrina Kaif is a huge revelation, owning up the part of an unhinged superstar, who has lost all will to care about societal conventions or superstar protocols. As the smoky-eyed Babita, Kaif brings a sense of complex realness, delving deep into the contradicting, messed up head of a movie star on the verge of a nervous breakdown. It almost feels as if, in this role, Kaif found an outlet to externalise her frustrations with the media, the industry, and her past relationships (her ex-boyfriend in the movie is a Kapoor who cheats on her).
As for Anushka Sharma, the gifted actress hits all the right notes, revealing a mix of vulnerability and determination and maintaining remarkable consistency in her character, which suffers from cerebral palsy.
But ultimately, Zero is a Shah Rukh Khan vehicle and although this ride has a few breakdowns, overall, one comes out smiling, hoping to go on yet-another adventure with Bauua Singh, simply for his witty wisecracks.
It's a film that's self-aware and needs to be looked and evaluated in the broader context of loud, larger-than-life Bollywood spectacles that make no bones about being realistic. It makes interesting points about the selfishness that precedes love before it becomes selfless and tells you that you're never too small to dream big.
Popular in the Community