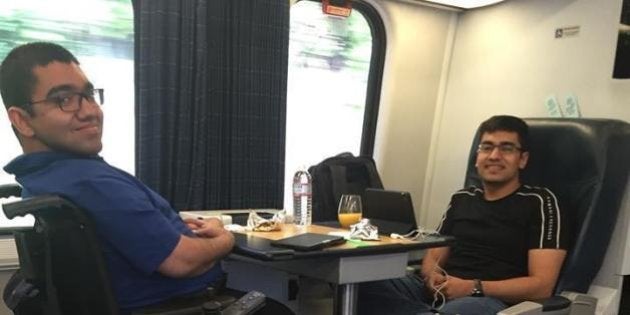 NEW DELHI—When Nipun Malhotra, a 27-year-old, was denied entry in an upscale restaurant in Delhi in March, because he was 'disabled', he didn't know he would become the voice of many five months down the line.
The disability rights activist has been able to accomplish a rare feat. From now on, Zomato, the popular restaurant-search website, will feature an added filter: 'Disabled-friendly', thanks to Nipun's efforts.
In March this year, Nipun had gone out with his friends to have dinner at Keya, located in DLF Promenade Mall in Vasant Kunj. However, while his friends were allowed in, he was reportedly told by the restaurant manager that, "as a 'policy', the restaurant did not allow entry to disabled persons".
Nipun was born with arthrogryposis — a rare congenital disorder due to which the joints of a person's body does not move as normal and may even be stuck in one position and often the muscles around these joints are thin, weak, stiff or missing.
Was declined entry at Keya Delhi, DLF Promenade because they don't allow 'disabled' inside!

— Nipun Malhotra (@nipunmalhotra) March 6, 2015
Five months after the incident, Nipun has managed to get Zomato list the 'disabled-friendly' restaurants so that people can choose food outlets which are accessible to them.
"After the incident, a number of people came to me and shared similar experiences," Nipun told HuffPost India over a phone conversation.
"On several occasions, I was asked, if a particular restaurant would allow a disable person to enter. However, most of the times, I didn't have the answer," Nipun said.
It was on a recent visit to the US to attend a week-long course at the Kellogg School of Management that the idea of including the 'disabled-friendly' feature in the Zomato App struck him.
"Yelp that is popular in the West, had a feature to ascertain if a particular restaurant had ramps and other facilities for disabled persons. So, I thought, why not emulate this in India?," Nipun said.
He got in touch with the Zomato officials, who welcomed the move, immediately.
The disabled-friendly feature will be implemented in six metros within two weeks – in Delhi, Mumbai, Bangalore, Hyderabad, Kolkata and Chennai.
Social media has been busy congratulating Nipun. MP Shashi Tharoor had a word of praise: