La réaction a été si immédiate que la société a supprimé le tweet à la fin de la journée.
Le compte Twitter d'Amazon Pay a tenté de profiter du buzz autour du mème de Sanders les mitaines aux mains, assis seul à l'extérieur lors de l'investiture mercredi. Dans l'étrange publicité d'Amazon, la phrase «How to register for Amazon Pay» («Comment s'inscrire à Amazon Pay») était apposée sur l'image de Sanders, avec le tweet: «It's that easy. Thanks #BernieSandersMittens.» («C'est aussi simple que ça. Merci #MitainesDeBernieSanders.»).
Non seulement l'annonce était déroutante, étrange et présomptueuse, mais le choix d'utiliser l'image de M. Sanders était particulièrement risqué, car le sénateur déteste les politiques de travail d'Amazon.
En fait, il a critiqué Amazon dans un tweet – le jour de l'investiture – pour avoir tenté de bloquer les efforts des travailleurs à se syndiquer. Il ne semble donc pas nécessairement la meilleure personne pour augmenter encore plus les profits d'Amazon.
M. Sanders a également critiqué Jeff Bezos, PDG d'Amazon, pour ses conditions de travail dangereuses, les licenciements de lanceurs d'alerte et la «cupidité de l'entreprise».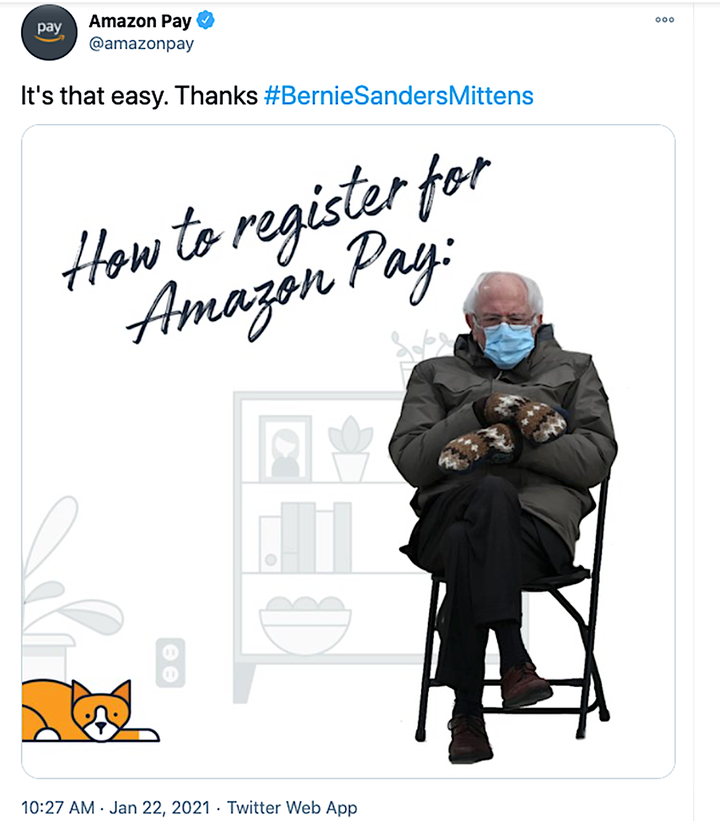 «Amazon ne veut pas que ses travailleurs forment un syndicat parce que les travailleurs syndiqués ont:
- De meilleurs salaires
- De meilleurs avantages sociaux
- Plus de contrôle sur leur vie
Si les travailleurs d'Amazon en Alabama votent pour former un syndicat, cela profitera à tous les travailleurs américains.»
«Jeff Bezos, l'homme le plus riche du monde, est devenu encore plus riche de 83 milliards de dollars au cours des 9 derniers mois, tandis qu'Amazon a généré des profits records. Pendant ce temps, les travailleurs d'Amazon risquent leur vie pour remplir les commandes des Fêtes et se voient refuser un congé de maladie payé et une prime de risque. Cette vilaine cupidité d'entreprise doit cesser.»
Vendredi soir, Sanders n'avait pas encore commenté directement l'appropriation de son image par Amazon pour vendre ses propres produits. Alors ses partisans ont répondu pour lui – et ont décrié la campagne de l'entreprise.
«En tant que personne qui a beaucoup de mauvaises idées, je peux honnêtement dire que c'était une très mauvaise idée.»
«Donc, @amazonpay a supprimé ce tweet parce que les gens se sont souvenus qu'Amazon ne paie pas d'impôts fédéraux, ne paie pas de salaire décent et n'autorise pas les syndicats.
Hey @Amazon - passez peut-être moins de temps à utiliser les mèmes de Bernie et plus de temps à appliquer les politique de Bernie et à payer vos employés.»
«Vous devez maintenant un syndicat à vos travailleurs, merci»
«Amazon qui utilise l'image de Bernie pour du marketing me rappelle le moment où Trump a brandi une Bible alors qu'il ordonnait que des militants des droits humains soient frappés et gazés.»
«c'est un mauvais mème et vous êtes une entreprise encore pire. laissez les travailleurs se syndiquer.»
«Amazon: Payez, c'est juste»
«Je veux une vidéo en direct du visage de @SenSanders lorsqu'un membre du personnel lui dit qu'une image de lui est utilisée pour promouvoir Amazon Pay.»