Eminem en a surpris plus d'un avec une nouvelle pièce lancée mercredi, Campaign Speech. Vous vous en doutez déjà: la chanson s'inspire fortement de la campagne présidentielle qui oppose Hillary Clinton et Donald Trump.
Sur Twitter, Eminem a annoncé la sortie de cet extrait en indiquant qu'il travaille sur un nouvel album.
«Ne vous inquiétez pas, je travaille sur un album! Voici quelque chose en attendant.»
Pendant plus de 7 minutes, le rappeur ne mâche pas ses mots. Et clairement, il en a contre Trump et ses supporters.
«Run the faucet / I'm a dunk a bunch of Trump supporters underwater»

(«Ouvrez les robinets Je vais pousser des supporters de Trump sous l'eau»)
«Consider me a dangerous man but you should be afraid of this dang candidate/ You say Trump don't kiss ass like a puppet/ 'Cause he runs his campaign with his own cash for the fundin'/ And that's what you wanted/ A fuckin' loose cannon who's blunt with his hand on the button/ Who doesn't have to answer to no one

(«Considérez-moi comme un homme dangereux mais vous devriez être terrifié par ce maudit candidat/ Vous dites que Trump n'est pas un lèche-cul comme une marionnette/ Parce qu'il finance sa campagne lui-même/ Et c'est ce que vous vouliez/ Un maudit imprévisible qui a la main sur la gâchette/ Qui n'a pas à répondre à personne»)
Étonnamment, Eminem et Donald Trump n'ont pas toujours été ennemis. Au lancement de son album Encore en 2004, Eminem avait invité Trump à parler avant son discours.
Frappant, n'est-ce pas? On donnerait beaucoup pour voir la tête de Trump lorsqu'il entendra cette chanson!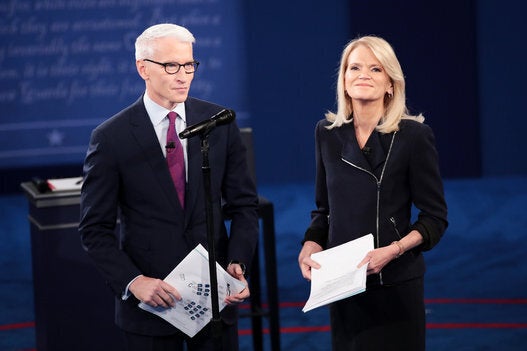 Le second débat présidentiel Trump Clinton (9 octobre 2016)