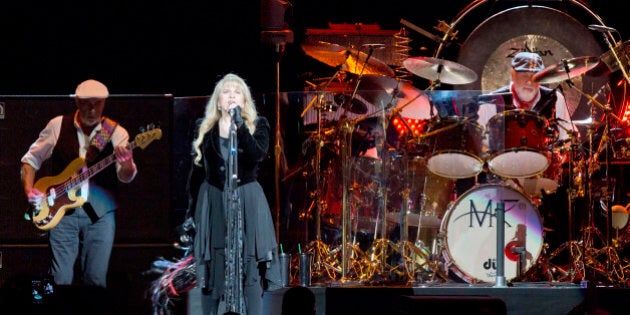 NEW YORK, États-Unis - Fleetwood Mac reprendra la route avec tous ses membres, y compris Christine McVie, absente depuis 16 ans.
Le groupe a annoncé jeudi une tournée nord-américaine qui s'arrêtera dans 33 villes, dont Toronto (18 octobre), Ottawa (26 octobre), Winnipeg, Calgary et Vancouver. Aucune date n'est prévue pour l'instant à l'est d'Ottawa.
Mick Fleetwood, Lindsey Buckingham et Stevie Nicks retrouveront non seulement leur chanteuse, mais aussi leur bassiste. Il s'agira des premières performances avec John McVie depuis son traitement contre le cancer, l'an dernier. Le groupe avait annulé 14 concerts en Australie et en Nouvelle-Zélande en raison de sa maladie. Le porte-parole du groupe n'a jamais précisé de quel type de cancer a souffert le bassiste.
La chanteuse Christine McVie retrouve aussi le micro, elle qui avait quitté le groupe après la tournée «The Dance» en 1998. Elle a rejoint le groupe l'an dernier, le temps d'un concert à Londres.
La tournée «On With the Show» démarrera le 30 septembre à Minneapolis pour se terminer le 20 décembre à Tampa, en Floride. Les billets seront mis en vente le 7 avril.