Vendredi, un de ces mystères a été résolu. La mini-série en quatre épisodes produite par Netflix s'intitulera Gilmore Girls: A Year in the Life.
Netflix en a fait l'annonce sur Twitter, grâce à un GIF qui fait office de premier teaser à la série très attendue.
Le tournage de la mini-série a pris fin ce mois-ci. On a même eu droit à quelques images, qui ont vite fait de faire frémir d'excitation les amoureux de Stars Hollow: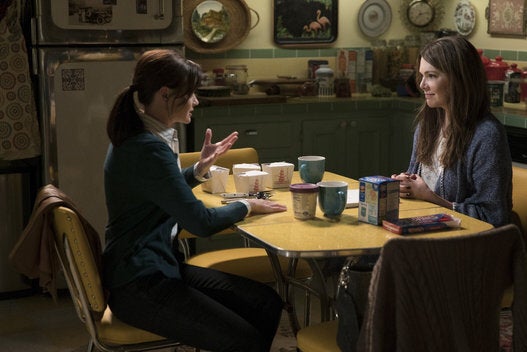 'Gilmore Girls: A Year in the Life'
Malheureusement, aucune date de sortie n'a été annoncée pour l'instant, Netflix se contentant de dire que la série devrait débuter en 2016. Mais on espère que Scott Patterson s'échappera, comme il l'a fait à propos de la grossesse de sa collègue Alexis Bledel.