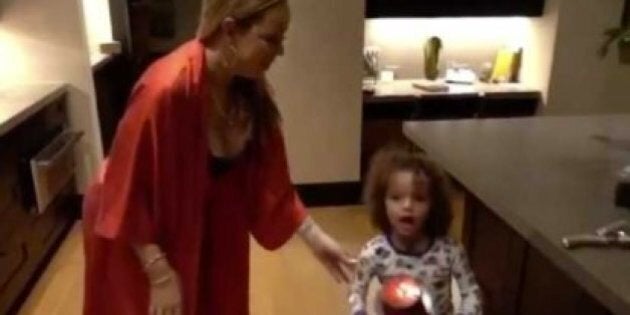 Indice: il n'a pas eu à chercher très loin.
Qui n'a jamais dansé dans sa cuisine, en chantant à tue-tête le dernier tube à la mode? Mais quand on s'appelle Moroccan, et qu'on a pour maman Mariah Carey, forcément, on est un peu influencé.
Jeudi 22 décembre, l'interprète de "All I want for Christmas is You" a publié sur son compte Instagram une vidéo de son fils de 5 ans, virevoltant en pyjama au rythme du morceau culte de maman. Pendant ce temps, Mariah Carey s'affaire aux fourneaux, tout en poussant la chansonnette.
"Joyeux Noël tout le monde! Je cuisine ma sauce préférée et j'espère que vous profitez de l'esprit de Yule", a légendé la chanteuse, en faisant une allusion à la célébration du Solstice d'hiver, également appelé "Fête de Yule", qui s'est déroulée le 21 décembre dernier.
Reprise par Mariah Carey en 1994, la chanson "All I want for Christmas is You" est sortie en 1989, interprétée par le groupe américain Vince Vance and The Valiants.