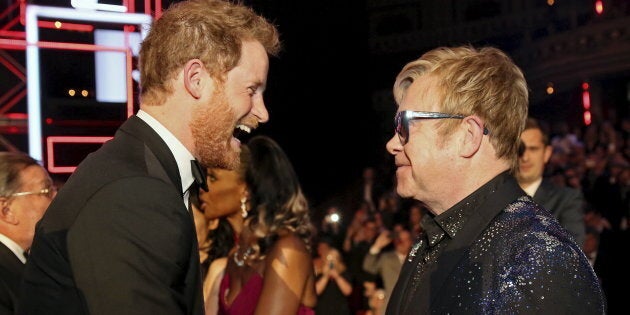 Le site d'informations people de référence "TMZ" a révélé ce mercredi 16 mai que Sir Elton John sera présent pour chanter au mariage du prince Harry et de Meghan Markle. Il n'est cependant pas précisé si la star britannique de 71 ans chantera lors de la cérémonie ou à la réception privée au château de Windsor.
Ce n'est pas la première fois que l'interpète de Blue Eyes chante pour la famille royale. En 1997, il avait interprété "Candle in the Wind 1997"en hommage à la défunte Princesse Diana. Très proche de Lady Di, il avait fait un remake de la musique "Candle in the Wind", qu'il n'a chanté qu'une seule fois, lors des funérailles.
Les Spice Girls, Whitney Houston et Coldplay..
Les Spice Girls et Coldplay devraient aussi jouer pour les jeunes mariés le 19 mai. Selon le journal britannique Dailymail, la première danse des mariés sera le titre "I Wanna Dance With Somebody" de Whitney Houston.
Mais on n'oublie pas le côté classique
Pour le côté plus traditionnel, les mariés ont choisi de confier la direction de la musique à James Vivian, directeur musical de la chapelle St George. Comme annoncé sur le compte Twitter du Kensington Palace le 24 avril 2018, le directeur musical dirigera une chorale composée de 23 garçons et 12 chanteurs pour la cérémonie à l'église.
Sheku Kanneh-Mason, un violoncelliste de 19 ans repéré par le Prince Harry en juin dernier -aux cours de la fondation Halo, qui soutient les enfants-, a été choisi pour accompagner la chorale. Étudiant à la Royal Academy of Music, il partage son temps entre ses études et une carrière internationale (en 2016, il a remporté le BC Young Musician).
Enfin, Karen Gibson et sa chorale gospel "The Kingdom Choir" ont été choisis par Meghan Markle et le Prince Harry. La chorale est composée d'un groupe d'artistes britanniques et se produit à l'échelle nationale et internationale depuis plus de 20 ans.
Par ailleurs, ce jeudi 17 mai, le compte Twitter de la famille royale a publié les photos de répétition de la chorale, comme vous pouvez le voir ci-dessous:
Une occasion pour eux de présenter deux de ses choristes: Leo Mills (11 ans) et Nathan Mcharo (12 ans).