La La Land, du réalisateur Damian Chazelle, a obtenu sept Golden Globes, dont celui de la meilleure comédie ou comédie musicale, dimanche soir à Los Angeles.
Le film, qui a remporté toutes les catégories dans lesquelles il était en lice, a établi du même coup un nouveau record. One Flew Over the Cuckoo's Nest (1975) et Midnight Express (1978) partageaient le précédent record de six statuettes.
Voyez la liste complète des gagnants ci-bas.
Le Canadien Ryan Gosling, qui tient un des deux rôles principaux, a remporté le Golden Globe du meilleur acteur dans une comédie ou comédie musicale. Ce prix représente la plus importante récompense de la carrière de l'acteur natif de London en Ontario. Il s'agissait de sa cinquième nomination aux Golden Globes. Emma Stone, qui partage l'écran avec Gosling, a aussi obtenu le prix de la meilleure actrice dans une comédie ou comédie musicale pour son travail.
À seulement 31 ans, le cinéaste Damien Chazelle, qui avait offert Whiplash en 2014, a été récompensé pour son travail à la réalisation et à la scénarisation de La La Land. Le long métrage a également reçu les statuettes de la meilleure chanson originale (City of Stars) et de la meilleure musique.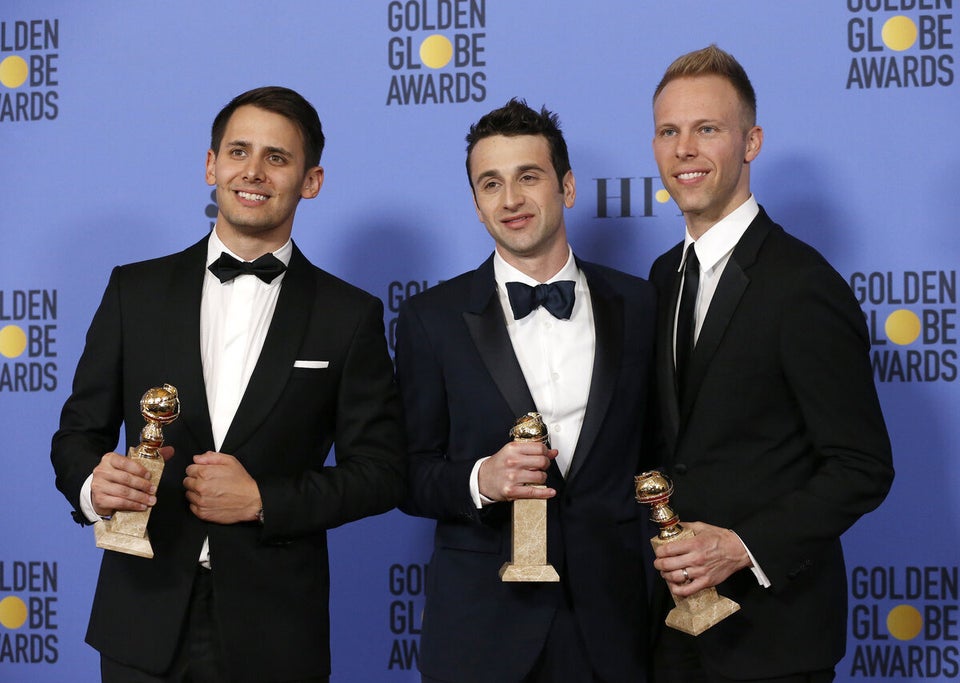 Golden Globes 2017
La La Land raconte le parcours d'une actrice en début de carrière et d'un musicien de jazz qui peinent à boucler leurs fins de mois à Los Angeles.
Le cinéma français pouvait compter sur deux films dans la catégorie du meilleur film en langue étrangère, en plus d'une coproduction. Un de ses représentants, Elle, qui met en vedette Isabelle Huppert, a finalement été récompensé. L'actrice française a également obtenu le Golden Globe de la meilleure actrice dans un film dramatique, une catégorie qui comprenait Natalie Portman (Jackie) et Amy Adams (Arrival).
Zootopia, qui a engrangé plus d'un milliard de dollars en salle dans le monde, a pour sa part été nommé meilleur film d'animation, devant Moana notamment.
Un nouveau président sur toutes les lèvres
Un hommage à Debbie Reynolds et à sa fille Carrie Fisher, décédées à quelques heures d'intervalle à la fin décembre, a été rendu.
L'actrice Meryl Streep a quant à elle obtenu du prix Cecil B. DeMille pour l'ensemble de sa carrière. L'interprète a livré un discours touchant, dans lequel elle a dit craindre les conséquences de l'élection de Donald Trump à la présidence américaine pour la liberté de presse et la contribution des créateurs étrangers à Hollywood.
Photo : AP/Paul Drinkwate
L'animateur Jimmy Fallon a également effleuré à quelques reprises la dernière élection présidentielle, lançant d'entrée de jeu que les Golden Globes « étaient un des derniers endroits où le vote populaire compte toujours. »
Après House of Cards, The Crown
Du côté de la télévision, l'impressionnante série de Netflix The Crown, sur la vie d'Élisabeth II des années 40 à aujourd'hui, a été nommée meilleure série dramatique, étant préférée à Game of Thrones et Westworld. Claire Foy, qui prend les traits de la reine, a vu sa performance récompensée du Golden Globe de la meilleure actrice dans une série dramatique.
Photo : AP/Paul Drinkwate
La nouvelle série Atlanta, dont la diffusion a débuté en septembre dernier, a également frappé un grand coup en remportant le Golden Globe de la meilleure série humoristique, devant les populaires émissions Veep et Transparent. The People v. O. J. Simpson : American Crime Story, qui revient sur le procès médiatisé d'O.J. Simpson, a également obtenu deux statuettes, dont celle de la meilleure minisérie ou un film pour la télévision.
La série anglo-américaine The Night Manager, qui explore l'univers du trafic d'armes, a monopolisé les catégories d'interprétation avec trois prix, remis à Tom Hiddleston, Olivia Colman et Hugh Laurie.
Remis par l'Association de la presse étrangère d'Hollywood (HFPA), les Golden Globes s'avèrent les plus prestigieux prix remis dans l'industrie du cinéma et de la télévision aux États-Unis après les Oscars.
Tu ne tueras point, de Mel Gibson
Comancheria, de David Mackenzie
Manchester by the Sea, de Kenneth Lonergan
Moonlight, de Barry Jenkins
Meilleur film - comédie ou comédie musicale
20th Century Women, de Mike Mills
Florence Foster Jenkins, de Stephen Frears
La La Land, de Damien Chazelle
Sing Street, de John Carney
Damien Chazelle, La La Land
Tom Ford, Nocturnal Animals
Mel Gibson, Tu ne tueras point
Kenneth Lonergan, Manchester by the Sea
Meilleur acteur dans un drame
Casey Affleck, Manchester by the Sea
Andrew Garfield, Hacksaw Ridge
Viggo Mortensen, Captain Fantastic
Denzel Washington, Fences
Meilleure actrice dans un drame
Jessica Chastain, Miss Sloane
Meilleur acteur dans une comédie
Colin Farrell, The Lobster
Hugh Grant, Florence Foster Jenkins
Meilleure actrice dans une comédie
Annette Bening, 20th Century Women
Lily Collins, L'exception à la règle
Hailee Steinfeld, The Edge of Seventeen
Meryl Streep, Florence Foster Jenkins
Meilleur acteur dans un second rôle
Mahershala Ali, Moonlight
Jeff Bridges, Hell or High Water
Simon Helberg, Florence Foster Jenkins
Aaron Taylor Johnson, Nocturnal Animals
Meilleure actrice dans un second rôle
Octavia Spencer, Les figures de l'ombre
Michelle Williams, Manchester by the Sea
Damien Chazelle, La La Land
Tom Ford, Nocturnal Animals
Kenneth Lonergan, Manchester by the Sea
Taylor Sheridan, Hell or High Water
Meilleure musique originale
Meilleur film d'animation
Meilleur film en langue étrangère
Divines, de Houda Benyamina
The Salesman, d'Asghar Farhadi
Toni Erdmann, de Maren Ade
Meilleure série dramatique
Stranger Things (Netflix)
Meilleur acteur dans une série dramatique
Bob Odenkirk, Better Call Saul
Matthew Rhys, The Americans
Liev Schreiber, Ray Donovan
Billy Bob Thornton, Goliath
Meilleure actrice dans une série dramatique
Caitriona Balfe, Outlander
Keri Russell, The Americans
Winona Ryder, Stranger Things
Evan Rachel Wood, Westworld
Meilleure série comique ou comédie musicale
Meilleur acteur dans une série comique
Anthony Anderson, Black-ish
Gael Garcia Bernal, Mozart in the Jungle
Jeffrey Tambor, Transparent
Meilleure actrice dans une série comique
Rachel Bloom, Crazy Ex-Girlfriend
Julia Louis-Dreyfus, Veep
Sarah Jessica Parker, Divorce
Gina Rodriguez, Jane the Virgin
Tracee Ellis Ross, Black-ish
Meilleure mini-série ou téléfilm
The People vs. O.J. Simpson : American Crime Story
Meilleur acteur dans une mini-série ou un téléfilm
Bryan Cranston, All the Way
Tom Hiddleston, The Night Manager
John Turturro, The Night Of
Courtney B. Vance, The People vs. O.J. Simpson
Meilleure actrice dans une mini-série ou un téléfilm
Felicity Huffman, American Crime
Riley Keough, The Girlfriend Experience
Sarah Paulson, The People vs. O.J. Simpson
Charlotte Rampling, London Spy
Kerry Washington, Confirmation
Meilleur second rôle masculin
Sterling K. Brown, The People vs. O.J. Simpson
Hugh Laurie, The Night Manager
Christian Slater, Mr. Robot
John Travolta, The People vs. O.J. Simpson
Meilleur second rôle féminin
Olivia Colman, The Night Manager
Lena Headey, Game of Thrones
Thandie Newton, Westworld
Popular in the Community