Les nominations aux Oscars ont eu lieu ce matin. Le film Le revenant, qui met en vedette Leonardo DiCaprio, domine la sélection avec 12 mentions, dont celle de meilleur film.
La production canado-irlandaise Room, avec Brie Larson et Jacob Tremblay, est pour sa part en nomination pour meilleur film, meilleur scénario adapté et meilleur réalisateur.
Le casse du siècle, Le pont des espions, Brooklyn, Mad Max : la route du chaos, Seul sur Mars et Spotlight sont aussi en nomination dans la catégorie meilleur film.
Le thriller Sicario, de Denis Villeneuve, qui avait été bien accueilli au dernier Festival de Cannes, est enfin dans la course dans trois catégories.
Rappelons que les films de Jean-Marc Vallée Dallas Buyers Club et Wild, en 2014 et 2015, se sont fait remarquer aux Oscars ces années-là.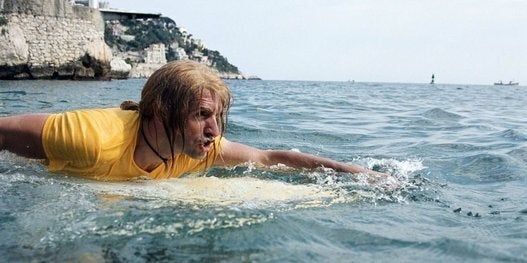 Les 30 films qui feront l'année 2016
La présidente de l'Académie des arts et sciences et du cinéma Cheryl Boone Isaacs, le comédien John Krasinski et les cinéastes Guillermo Del Toro et Ang Lee ont présenté les principales nominations.
La 88e cérémonie des Oscars aura lieu le 28 février et sera à nouveau animée par l'acteur Chris Rock, qui était également présent en 2005.
Meilleur film:

The Big Short,
Bridge of Spies,
Brooklyn,
Mad Max :Fury Road,
The Martian,
The Revenant ,
Room
Spotlight.
Meilleur acteur

Bryan Cranston, Dalton Trumbo
Matt Damon, Seul sur Mars
Leonardo DiCaprio, The Revenant
Michael Fassbender, Steve Jobs
Eddie Redmayne, The Danish Girl
Meilleure actrice

Cate Blanchett, Carol
Brie Larson, Room
Jennifer Lawrence, Joy
Charlotte Rampling, 45 ans
Saoirse Ronan, Brooklyn
Meilleur acteur dans un second rôle

Christian Bale, The Big Short
Tom Hardy, The Revenant
Mark Ruffalo, Spotlight
Mark Rylance, Bridge of Spies
Sylvester Stallone, Creed
Meilleure actrice dans un second rôle

Jennifer Jason Leigh, The Hateful Eight
Rooney Mara, Carol
Rachel McAdams, Spotlight
Alicia Vikander, The Danish Girl
Kate Winslet, Steve Jobs
Meilleur réalisateur

Adam McKay, The Big Short
George Miller, Mad Max: Fury Road
Alejandro Gonzalez Inarritu, The Revenant
Lenny Abrahamson, Room
Tom McCarthy, Spotlight
Meilleur film étranger

Mustang (France)
L'étreinte du serpent (Colombie)
Le fils de Saul (Hongrie)
Theeb (Jordanie)
A War (Danemark)