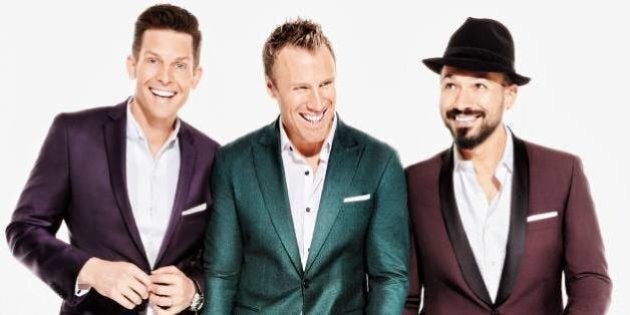 Le groupe canadien The Tenors, qui avait défrayé les manchettes lors de leur prestation au match des étoiles du Baseball majeur, chantera l'hymne national à la finale de la Coupe Grey, dimanche, à Toronto.
L'ancien membre controversé du groupe, Remigio Pereira, ne sera toutefois pas de la partie.
Lors du match des étoiles en juillet à San Diego, Pereira a remplacé quelques paroles de l'hymne national canadien et a brandi une pancarte sur laquelle on pouvait lire "Toutes les vies comptent" pendant la prestation du groupe.
Pereira a chanté de façon inattendue: "Nous sommes tous frères et soeurs. Toutes les vies comptent." Les paroles originales de l'hymne national sont plutôt "With glowing hearts we see thee rise, the true north strong and free" (Car ton bras sait porter l'épée, il sait porter la croix).
Pereira, originaire de Boston mais qui a grandi à Gatineau, avait écrit "Nous restons unis" au dos de sa pancarte.
Les autres membres du groupe _ Victor Micallef, Clifton Murray et Fraser Walters _ ont qualifié son initiative d'irrespectueuse et honteuse. Il a plus tard été exclu du groupe.
Le Rouge et Noir d'Ottawa affrontera les Stampeders de Calgary au BMO Field de Toronto pour la 104e édition de la finale de la Ligue canadienne de football.
La groupe pop américain OneRepublic animera le spectacle de la mi-temps et la chanteuse canadienne Alessia Cara sera l'artiste responsable de l'animation avant le botté d'envoi.
Ce sera la deuxième fois que le groupe The Tenors chante l'hymne national à la Coupe Grey.
"Clifton, Fraser et Victor de The Tenors sont non seulement Canadiens, mais ils sont aussi très talentueux. Nous sommes heureux qu'ils aient accepté de chanter l'hymne national canadien lors du plus gros événement sportif du pays", a déclaré le commissaire de la LCF, Jeffrey L. Orridge.