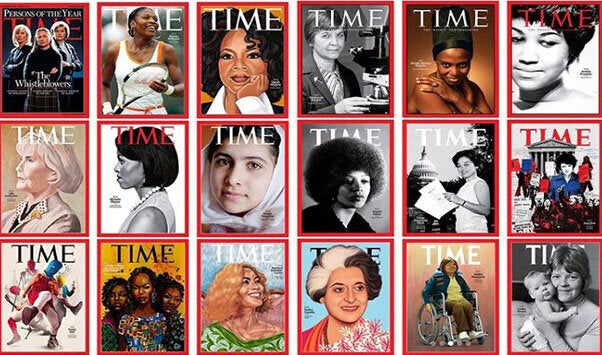 Mettre à l'honneur 100 femmes qui ont fait l'histoire de ce dernier siècle, c'est ce qu'a décidé de faire le magazine TIME à l'occasion de la journée internationale des droits de la femme ce dimanche 8 mars.
Chaque année, TIME décide de mettre à l'honneur une personnalité grâce à sa célèbre édition du "Person of The Year". Grands hommes d'affaires, présidents ou sportifs... La grande majorité des célébrités qui font la "une" du magazine sont des hommes. Mais cette année le magazine américain a décidé de publier l'édition "100 Women of the Year", honorant les plus grandes femmes de ces 100 dernières années.
Sur la centaine de portraits, seulement 11 avaient déjà été réellement publiés, les 89 autres ont été créés par des artistes pour l'occasion. Tous les portraits sont retrouvables sur le site du TIME.
Depuis la création du journal en 1923, il n'y avait donc que 11 femmes qui avaient été élues personnalité de l'année par le magazine. Mais le magazine a décidé de remédier à cela en publiant cette flopée de portrait.
La difficile mission de choisir les femmes lauréate a été confiée à des experts dans le domaine, à la partenaire créative du magazine: la cinéaste Alma Ha'rel ainsi qu'à un comité de "femmes notables de divers horizons".
Ce jury a dû choisir parmi plus de 600 nominations soumises par les équipes du TIME.
À VOIR AUSSI: Greta Thunberg et Malala Yousafzai, deux héroïnes modernes