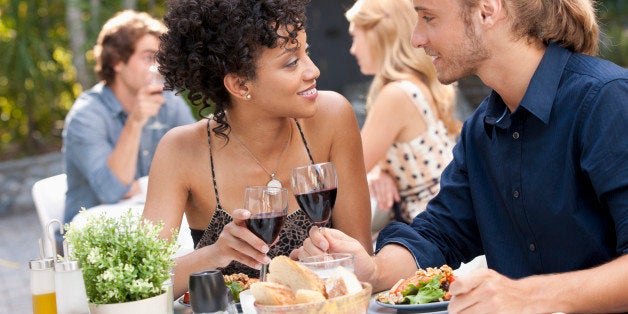 This story was originally published on Citizine.tv
Ever dreamed of dating the very dreamy celeb chef Curtis Stone? Yeah, me too. If unicorns were real and he wasn't married, here's where he would take you on a dinner date in Los Angeles...
The Quiet Terminator. Young gun chef. Hottest cook in the kitchen. Yes, this Aussie chef has a slew of nicknames. (That last one might be our own.) You might know Curtis Stone for his reality TV stardom on shows like All-Star Academy and Celebrity Apprentice, but newsflash: he's also made some mondo waves for becoming the one-trick-pony boy wonder.

"Huh?" you ask.

Maude, the expat's first solo restaurant in Beverly Hills, serves nine-course dinners using one seasonal ingredient throughout. If asparagus, for instance, is the theme of the month, you're going to get asparagus in nine different forms -- even dessert. (Children, beware!)
And this singular focus is paying off. Adorably named after his grandma, Maude has been deemed "Best Restaurant in Los Angeles" by LA Weekly and more. Good luck scoring a reservation though or be prepared to call 392 times in a row.

Despite all the fame and awards, coming up with 720 unique dishes over the course of 24 months can get kind of nutty. So we asked Curtis: are you really going to keep this one-ingredient thing up?

"It's giving me an ulcer, but it's fun. So, yeah, we're going to keep doing that,'" says Curtis with an ah-bugger-me intonation.

And now he's bringing out the big knives, literally, for his second LA concept: Gwen--an open-grill restaurant + butcher shop opening mid-2016 in Hollywood.

The real kicker is that while Curtis juggles all of these projects, he still finds time to date ... his wife Lindsay Price (sorry, ladies--but who can argue with how adorable they are?).
And if the man behind one of LA's best restaurant thinks a restaurant is bonza--translation: Aussie slang for awesome--enough for his lady, then it's bonza enough for me. From super spendy sushi to thrifty taco trucks, Curtis Stone talks his favorite date night spots:

Sushi Park
West Hollywood, $$$$

Curtis Stone: Before I moved to LA, I hadn't really had good sushi. I thought I had, but then I got here and I was like, "Oh shit! What have they been giving me all this time? That wasn't sushi. This is sushi." One of my favorites is Sushi Park--a great date spot because it's kind of dive-y but with a great omakase. I don't know how he manipulates the fish in so many different ways to achieve it but there is real mastery in the seafood preparation. And I love that it is so simple. It's not cheap. Not that it should be--it's great fish. But you know, it's not fancy. As long as you don't dip the wrong sushi in soy sauce, you're OK.
El Chato Taco Truck
Mid-City, $

CS: When I head down to east LA, I have a few spots I like to stop along the way. One is El Chato taco truck, which has dollar tacos. Carnitas. But know in advance that you're literally eating out in the street. After a taco truck stop, we like to check out a comedy club, like Upright Citizens Brigade.
The Varnish
DTLA, $$

CS: Linds is a singer and she's a piano bar kind of girl. Like Varnish is her vibe-- a good spot for drinks and it's sexy.
chi SPACCA
Hancock Park, $$$

CS: Sometimes I crave a giant piece of meat cooked over a fire, not all the time, but once in awhile when I do, chi SPACCA is where I like to go to for a meaty date.

Orsa & Winston
DTLA, $$$

CS: It has a little tasty menu in a tight little spot--a bit like Trois Mec in the way it handles itself. It doesn't take itself too seriously, in a good way. The food is really delicious. They put a lot of detail into the food. It's kind of like what we've tried to do with Maude. At the start, I was like let's do fine dining without all the fluff, take out all that bullshit that makes you feel uncomfortable. That stiff service and whatever and even the food, like, there is nothing worse than those little tasting plates of food where you have to wait 45 minutes for it to come out.
For FOUR more of Curtis Stone's favorite date night restaurants, read on HERE.
For more LA restaurant recommends by some of the city's top culinary tastemakers, check out: