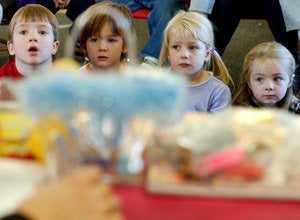 Feb. 28 was "Adoption Day" in the Kurlander residence, and we held a celebration to mark the date that our daughter Hannah joined our family.
We commemorate the day in 1999, when, after an exhaustive 24 hour trip from New York City to Phnom Penh, through Germany and Singapore, my wife Jodi and I deplaned and were immediately taken to a shabby orphanage outside the city.
There, we saw for the first time a girl known as "Sovannary." She hung in a filthy hammock above a dirt floor, weighing only 8 pounds -- at 3 months old -- and with flies hovering around her slight head of red hair (a sign of malnutrition) and dressed in a tiny soiled smock hiding a herniated bellybutton and a smelly body caked in dirt.
It was a day before my birthday, and about a month after my mother had died. Holding Hannah in my lap on the trip back to our hotel, I felt blessed to receive such a birthday gift and experienced a special, poignant sense of renewal for both myself and our family. Days later, she officially became our daughter, Hannah Rachel Sovannary Kurlander, named under Jewish tradition for my mother and grandmother.
Any adoptive mother or father will tell you that the memory of the first day they held, hugged and began bonding with their adopted child is the strongest remembrance of fulfillment in a lifetime.
Now a healthy, smart, almost six-feet-tall, obsessively texting seventh grader and avid hockey fan, Hannah asks and receives more expensive gifts for Adoption Day as she grows older. It's very hard to say no to her on this day -- this year we got her an autographed Cornell hockey jersey.
Sad to say, not enough potential U.S. parents have their own Adoption Day to celebrate.
Adopting a child in the United States is still not socially a fundamental aspect of our national psyche. The word "adoption" is sorely missing from the social lexicon of our contentious reproductive politics. It is not on the center stage in American political discourse or public policy like birth control, abortion and the explosion of single-parent homes in the United States, which are always argued in hyperventilated social and religious contexts.
Instead, adopting children stays under the national radar and remains a quiet, personal matter. It continues a topic traditionally considered in terms as a means of allowing parents who can't have children of their own to begin families by enduring a very hard, emotional, and expensive adoption process.
Since it is not a critical issue, adoptions have remained stagnant in the United States. International adoptions have declined significantly, by over two-thirds, since a high in 2004, with only 9,300 children being adopted overseas in 2010. The number of children being adopted out of foster care has vacillated between 115,000 and 135,000 a year since 2002.
There are certainly enough children to adopt. According to a report issued by July 2010 by the Children's Bureau's Administration for Children and Family (AFCARS), there are almost half a million children awaiting adoption in the U.S. foster care system. Millions of orphans languish in orphanages world-wide.
At the same time, while some state legislatures are consumed with circumventing Roe v. Wade, diligently work year after year to wear down both the legal protections of that case as well as the will and privacy rights of women seeking abortions, none are ratcheting up the rhetoric about getting abandoned children adopted and out of foster homes.
In Virginia, legislators idiotically fight to grant embryos "personhood" rights as individuals, but no news is made about legislation seeking to promote adoptions of over 1600 "individual" little persons languishing in the state's foster home system year after year.
A new, bold social dialogue needs to be initiated and popularized -- whether it be on the presidential campaign trail, A&E or MTV, Fox or CNN, or in sermons emanating from pulpits in our nation's churches -- which promotes both the religious virtues and social liberal righteousness of adopting children languishing in sickness, poverty and despair.
Every nurturing American family that can afford it and is ready to make the lifetime parental commitment should adopt a child -- and celebrate an Adoption Day once a year.