Two-thirds of the 5 million Americans living with Alzheimer's disease are female. A woman at age 60 is twice as likely to be diagnosed with Alzheimer's as with breast cancer. Even after factoring in that women on average live longer than men, scientists don't fully understand why this most common form of dementia strikes women more often than men.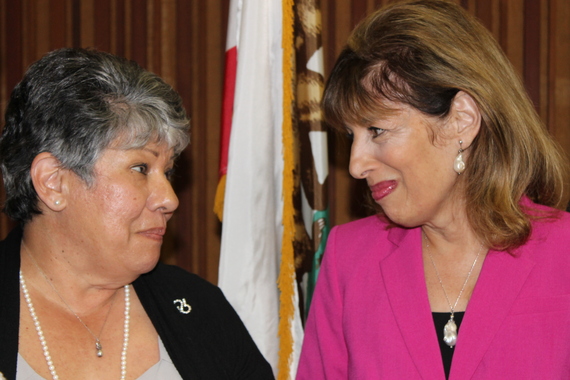 Congresswoman Speier and Cynthia Guzman, who was diagnosed with early-onset Alzheimer's on her 63rd birthday, exchanged a smile after they participated in a panel discussion about the disease in San Mateo on March 30.
Perhaps worse is that many don't know they have the disease. The Alzheimer's Association just uncovered that only 45 percent of those with the disease or their caretakers are told by their doctors of the diagnosis. There is no known cure for this cruel, unforgiving disease that kills nerve cells in the brain and robs a person of the ability to function without round-the-clock care.
We need to increase the national dialogue and change the stigma associated with Alzheimer's.
Alzheimer's disease takes a toll on families and our health care system. It could turn us into a nation of caregivers. Here again, the disease falls hardest on women, who make up more than 60 percent of all caregivers. I was a caregiver for my aging parents until they died. Their frailties were not cognitive and my role was part time, although the worry was full time. Data on a disease may be a powerful motivator, but statistics don't rival the personal hardships of caring for someone you love. I can only imagine that this strain is multiplied when the loved one no longer knows who you are.
The caregiving burden placed on women, led by emotional and physical stress, strains family relationships and financial security. Caregivers who stay on the job get less support for elder care than they do for child care. As a result, female caregivers are 2½ times more likely to end up living in poverty and often suffer their own health crises related to stress from providing Alzheimer's care.
Alzheimer's disease could bankrupt Medicare and Medicaid if we don't find new ways to treat and hopefully prevent the disease. The $586 million we invested in 2015 for the National Institutes of Health research funding pales in comparison with the cost of caring for Americans with Alzheimer's and other dementia -- a cost the Alzheimer's Association estimates will reach $226 billion this year and $1.1 trillion in 2050. By contrast, last year we invested more than $5.5 billion in cancer research, and we have seen much improvement in cancer treatment and care over the past decade because of this continued investment. We need to do the same for Alzheimer's.
While finding a cure is the ultimate goal, delaying the disease onset is our best hope. The Alzheimer's Association points to new research that may lead to treatments to extend healthy cognition and delay the onset of Alzheimer's.
With the help of federal investments, there have been tremendous advances in early detection and treatment of breast cancer, heart disease and HIV/AIDS in the past 20 years. Comparable investments in Alzheimer's are now needed to realize the same successes -- to buy quality time for individuals living with the disease, ease the burden on families, and save billions in health care costs.
Alzheimer's disease is the fifth leading cause of death in California.
It claims almost 11,000 lives in our state each year, a number expected to double in the next 15 years.
Deaths increased nationwide by 68 percent from 2000 to 2010, compared with deaths from heart disease (down 16 percent) and HIV/AIDS (down 12 percent).
Alzheimer's places the burden of care disproportionately on women. Almost 1 in 5 female Alzheimer's caregivers has had to quit work because of the burden imposed by caring for her loved one.
Calling all HuffPost superfans!
Sign up for membership to become a founding member and help shape HuffPost's next chapter