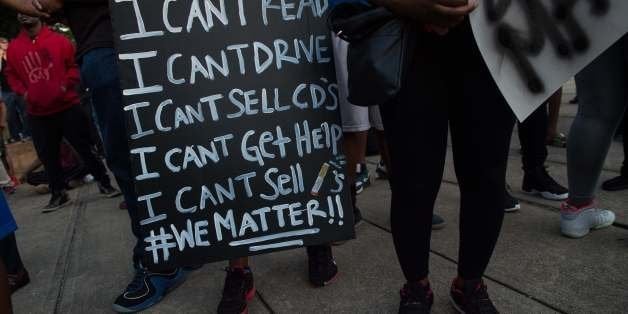 As I stood on a platform at National Action Network (NAN) with the father and twin sister of Terence Crutcher, a man who was fatally wounded by law enforcement after his car broke down in Tulsa, OK and was no apparent imminent threat to police as he was walking with his hands up (as we've seen on videotape), I was also monitoring protests and subsequent violence in Charlotte, NC after another Black man was killed by officers there. All of this taking place as the nation prepares for what is predicted to be one of the most watched Presidential debates in modern history between Hillary Clinton and Donald Trump on Monday. As they make their case to the country and battle it out over a host of issues, one key area they must -- must -- address is race and criminal justice reform. In fact, it needs to be the center of the presidential debate.

This week, as a precursor to what we can expect, Trump came out and actually proposed nationalizing the use of stop-and-frisk, which I found both interesting and absurd. Interesting that in his hometown of N.Y.C., I was among the leadership that helped end stop-and-frisk. Even the courts ruled it unconstitutional and believed the practice violated people's civil rights. Mayor Bill de Blasio beat a Black candidate in the primaries because he stood with us against stop-and-frisk. Trump's latest suggestion is absurd because I think he has no clue as to how to implement a national police policy that would have to be interpreted and fixed to every locality from coast-to-coast. And as multiple studies have shown, stop-and-frisk did not combat crime, as most of those stopped were found with no weaponry. It instead furthered the divide between communities and those who are supposed to serve and protect them.

The fundamental question as the long-awaited debate takes place however is will these important matters be reduced to sound bites and quick phrases, or are these two candidates going to be really tested and will they truly deal with questions of policing, criminalization, reform and the Black community? There is currently a pending sentencing reform bill stalled in the House of Representatives. NAN is beginning an email and phone drive initiative to contact Speaker Paul Ryan and force him to put the bill on the floor. This has bipartisan support and answers some of the grievances that are part of the frustration in our communities with the current criminal justice system. As Speaker of a house that is supposed to represent the people's will, he must bring this bill to the floor without delay.

The White House Task Force on 21st Century Policing was created after the president met with civil rights leaders, top law enforcement officials, young activists and more. Many of its recommendations have been picked up, but will the 2016 presidential candidates endorse those recommendations? Will he or she appoint an Attorney General that will implement those recommendations? Who we elect as our next leader is a critical decision and we must know where they stand on the issues -- especially those issues that have a direct impact on our lives and on the society we want to live in.

Whether America likes it or not, we are again in the middle of serious questions around race, and specifically around law enforcement and criminal justice. It is imperative that the next president, who will also have the burden of being the first White president taking office after a Black president, must give clear legislative and executive branch vision as to how he/she will deal with these challenges and obvious injustices. If Monday's debate fails to press the candidates for specifics on this, it will not aid the country and will in fact appear more bogus than informative.

And that is something none of us can afford during these crucial times.
Calling all HuffPost superfans!
Sign up for membership to become a founding member and help shape HuffPost's next chapter