There is a noticeable surge in the number of foreign companies desiring to conduct business with the Islamic Republic. This surge comes primarily from many European countries and EU companies.
These short-sighted and business-driven moves by European countries and companies might bring short term benefit and profit for them, however, it will lead to long-term severe economic and geopolitical consequences that will impact not only other countries and citizens in the region but also have a grave affect on EU economic, national, and geopolitical interests.
Russia and China have already been conducting business with Iran. However when it comes to the United States it is less likely to initiate any business deals with Iran anytime soon due to domestic political opposition, the lifting of embargo, and the Congressional efforts to reject the deal.
Nevertheless, after the nuclear agreement was struck between the six world powers (known as P5+1) and Iran, EU countries and companies are in a clear rush to conduct business with the Islamic Republic without contemplating the repercussions of these actions.
Three crucial avenues that will be used to elevate the economic status of Iran's Islamic Revolutionary Guards Corps (IRGC) will be indirectly provided by the EU governments and companies. These avenues are Iran's access to over $100 billion which gives financial freedom, removal of sanctions on oil and gas industries which increases their profit, regional and global influence, and relations with companies tied to IRGC.
Lifting Sanctions on IRGC and Connected Companies: The powerful Iranian Industrial Empire
IRGC is the most powerful industrial and business empire in Iran controlling all variations of conglomerates and industries ranging from transportation, mobile, arms, as well as engineering, and financial.
European governments and companies were cognizant of the fact that if they would like to reap business benefits from Iran's nuclear deal, they have to go through Iran's Guards to get the business deals signed. Aware of this desire, Iranian leaders were politically shrewd enough to capitalize on EU's economic ambitions. As a result, they put the plan of removing sanctions on IRGC senior officials, financial institutions and affiliated companies on the table. Iranian leaders were confident that EU members would agree with the condition for the purpose of benefiting their economy.
Secondly, EU countries were most likely attempting to appease Iran's hardliners (the Supreme Leader, Ayatollah Ali Khamenei and senior guard of IRGC) so that IRGC would not hinder the signing of the nuclear deal.
The lifting of sanctions on IRGC officials will have significant impact by strengthening the IRGC stranglehold in the region. According to Iran's Deputy Foreign Minister Seyed Abbas Araqchi, in the first phase- which can occur as early as October of this year- "In the initial step, 800 Iranian institutions, organizations and individuals will be taken off the list on the day the agreement is put into practice".
Since the lifting of sanctions occurs "on the day the agreement is put into practice", then the removal of these institutions and individuals who are mostly tied to IRGC, does not need to be contingent on whether Iran is complying with the nuclear deal or not.
European Union and United Nations' sanctions on some of IRGC officials will be lifted as part of the nuclear pact. One of these figures is General Qassem Suleimani, the head of IRGC elite branch--Qods Force, who is the mastermind behind managing Shiite proxies in the region and implementing Iran's foreign policy in foreign countries through hard power. He oversees the training, financing, and arming of Tehran's proxies.
The sanctions will be lifted on various industries including engineering, transportations and arms which are directly controlled by the IRGC business empire. Except for three Iranian banks (Ansar, Mehr and Saderat), the sanctions on all other banks and financial institutions will be lifted on the day of implementation. Sanctions of Ansar, Mehr and Saderat banks will be lifted in the second phase.
In the second phase, sanctions on IRGC three main arms-The IRGC Cooperative Foundation (its investment arm), the Basij Cooperative Foundation, and Khatam al-Anbiya Construction Headquarters- will be lifted whether IAEA reaches a conclusion that Iran's nuclear program is peaceful or not.
The Threat and Vicious Circle
Although the United States was the major influence behind the lifting of economic sanctions against Iran - by diplomatically pushing for the nuclear deal- it is the EU that is now assisting the Islamic Republic and IRGC in enjoying and harvesting the economic fruit.
In order to immediately profit from conducting business with Iran, at the expense of the regional stability and citizens' life and security in the Middle East, EU countries and companies are prepared to remove sanctions on Iranian individuals and companies linked to Iran's Islamic Guards without concern for the fallout.
These types of policies are short sighted as they focus only on the short term financial benefits while ignoring the long-term severe outcomes. EU ought to be cautious of its business-driven policies. The same IRGC institutions and individuals- that EU is attempting to lift the sanctions against- will be conducting the same interventionist activities or repressive domestic policies that they are fulfilling now in Iran and throughout the region.
Such policies- of lifting sanctions on companies and individuals affiliated with IRGC and Qod force- will further solidify and empower the IRGC's economic, military and geopolitical stranglehold in the Middle East and beyond. Tehran's military activities- support for the Syrian government, and other Shiite proxies- which will ratchet up, endangering the stability in the region and increasing militarization and violence throughout. Domestic repression in Iran will also increase as IRGC gains unlimited economic and political power.
Sooner or later, EU policies will have backlashes and unintended consequences which will more than likely drain the business profits they are gaining from conducting business with Iran. Nevertheless, although some activities of the IRGC and its proxies are indeed detrimental to the EU political and economic interests, the aforementioned repercussions do not seem to halt EU from lifting the sanctions on IRGC individuals and its associated companies, or from EU rushing to do business with Tehran.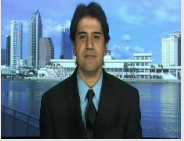 Dr. Majid Rafizadeh, an American scholar and political scientist, is the president of the International American Council on the Middle East. Harvard-educated, Rafizadeh serves on the advisory board of Harvard International Review. He is originally from Iran and Syria. You can contact him at Dr.rafizadeh@post.harvard.edu or follow him at @majidrafizadeh
This post first appeared on Al Arabiya.
REAL LIFE. REAL NEWS. REAL VOICES.
Help us tell more of the stories that matter from voices that too often remain unheard.