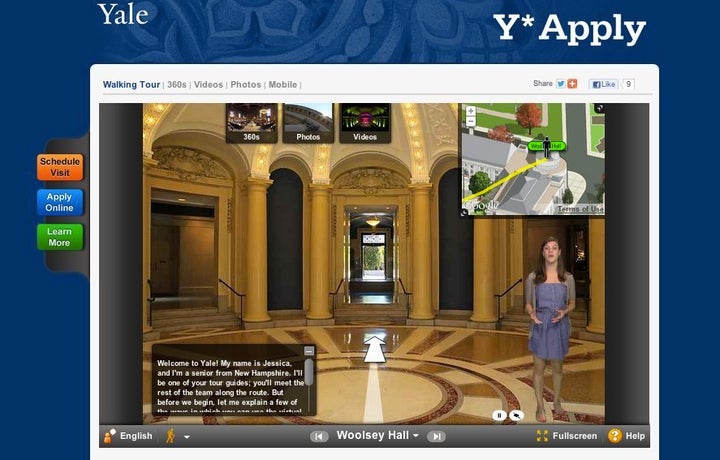 As more colleges feature virtual campus tours online, prospective students can explore a school's grounds without ever setting foot on campus.
It's no secret students want to check out the lay of a school's land prior to applying. However increasingly, parents and students posses less money and time to pile into the family car and drive cross country for physical visits to a lengthy list of schools.
Colleges are seeing the potential pay-offs online tour services can have for their recruitment efforts. Digital formats eliminate the restraints time, cost and attention spans present.
The growing popularity of colleges' virtual tours is relieving some of the financial burden prospective students face when planning visits to distant college campuses.
Abi Mandelbaum, whose company, YouVisit, creates virtual walking tours for universities, said about 80 percent of applicants would visit no more than four college campuses physically. Students indicated that campus visits were a major factor in their decision making.
According to the Los Angeles Times, YouVisit has partnered with 150 universities since its inception in 2008 and gives a tour resembling a "souped-up Google Street View with an undergraduate narrator." The tours showcase major landmarks on the schools' campuses likely to be covered by in-person tours.
Yale University's virtual tour takes visitors through the campus' grounds with a student tour guide explaining each area from the screen's bottom right corner. Visitors can pause the tour and enhance their insight into campus life by clicking on photos, panoramic views and videos of each area supplied at the top of the screen.
In recent times however, campus tours have gotten even more technologically advanced.
Andrew Hughes, President of Designing Digitally, Inc., says he offers a unique product to universities looking to develop virtual campus tours that surpasses existing models' attempts to personalize visitors' experiences.
In a phone interview with HuffPost, Hughes said his company's products, called 3D Virtual Campus Tours, were modeled for a generation coming of age on video games.
"This is much different than other virtual campus tours," he said.
Hughes argues that today's high schoolers are acclimated to the 3D space of a video game and thus these students would be more engaged in the virtual campus designed like a video game than they would just clicking around and looking at buildings.
Indeed, 3D Virtual Campus Tours looks nothing like the well-photographed images and video footage most college campus tours host.
The promotional sample on the company's website looks like a version of "The Sims" computer video game. In order to tour the campus, students must first create avatars, which are cyber versions of themselves. Hughes compares the roaming mode offered by the virtual tour to the style of movement featured in the video game "Grand Theft Auto."
The tour's developers also keep the colleges' dorms, buildings and facilities to scale so, as an avatar, students may gain a similar dimensional perspective of the college as they would if they were on-site. The campus tour's design is heavily detailed, according to Hughes. Developers photograph the buildings' actual floorings, then match those images to the virtual floors' grounds.
Student must fill out a profile of their academic interests before being allowed to explore the school grounds. This information is shot over to the school's admission's office, where a live admissions representative is available to offer suggestions to the student via headset (like in "World of Warcraft," according to Hughes) or instant messaging based on the students' interests. The student can also fire back questions to the admissions representative about the school, a feature Hughes says makes the virtual tour unlike others.
Like most video games, the campus tours also asks students to complete small, often sports-related tasks, for points.
A 3D Virtual Campus Tour of the United States Air Force Academy is available, and Hughes says the school's enrollment increased by 10 to 15 percent since the launch of its virtual campus tour.
"It's the closest thing you can get to an on-ground campus tour," said Hughes.
Related
Popular in the Community