So much for best laid plans! Just before I was to leave for the 32nd Ecological Farming Conference in gorgeous Pacific Grove, CA, an unseasonable heatwave hit County Line Harvest Farm in Thermal, CA, where I'm conducting a bio-nutrient field study. There was an emergency cauliflower harvest -- we had to get to it before it bolted in the heat. So from 7:30 am until 3:30 the next morning, I collected pages of data, soil samples, tissue samples, dehydrated roots and flowers, and sent my samples off to multiple labs for tissue analyses.

Then I jumped in the car. Exhausted and anxious about the long drive north on Interstate Highway 5, I found that the road relaxed me and my stress dissolved... a native Californian, I've driven this highway countless times. It follows the great Central Valley, one of the world's most intensively farmed regions. It's the route you take when you need to "just get there," whereas Highway 1 -- Pacific Coast Highway -- is "the scenic route." This time I saw 5 with fresh eyes. The seamless continuum of the agricultural landscape was exquisite. I kept pulling off the side of the road to take pictures.
Eight hours later, I finally arrived. I met up with Jillian Steinberger, my cousin, who owns The Garden Artisan in the SF Bay Area. She is also a journalist on eco-landscaping, organic gardening and farm-to-table issues. We shared the cornucopia of workshops and lectures lead by the crème de la crème of the organic farm industry. The program was so diverse that it was difficult to choose what to attend! So we cast our nets together to discuss a few inspirational topics...
Jillian: Overall, what was powerful for me was observing organic farm culture and farm family values. I saw a parallel America, with an authentic democratic culture based on integrity. I witnessed a tradition of fine oratory, which was reminiscent of America's founders like Farmer Thomas Jefferson, who extolled the virtues of the agrarian life and promoted soil conservation, and Farmer John Adams, who wrote a recipe for compost in 1771. It's like this: Organic family farmers produce food that is a reflection of their moral character. Food that is wholesome and nutrient dense comes from farmers with integrity.
Julie: In this utopian America, ecological farmers are saving the earth's "skin" -- its soil and water. They are reestablishing the legacy of natural seed, spearheaded by the Organic Seed Alliance, which was founded by Matthew Dillon, who is also the "Cultivator" of Seed Matters, which is making research grants through the Clif Family Foundation.
Jillian: Meanwhile in America, industrial growers invest the cheapest inputs and inexpensive labor to create processed foods with empty calories. But it's not necessary to farm a nightmare to make a buck.
Julie: Most seed companies now are held by a few large conglomerates with chemical and biotech interests. I interviewed Matt Dillon at EcoFarm and he relayed that only 20 percent of organic farmers use organic seed! EcoFarm showcased stories of a few key farmers who are turning the tide of conventional farming. They are challenging the conventional practices of using artificial and toxic inducements introduced by chemical companies following WWI and II.
Jillian: Indicative of the growing strength of what started as a grass roots movement, issues have advanced to the courts. For example, there is a brand new video documenting a case in Manhattan called Organic Seed Growers and Trade Association (OSGATA) vs. Monsanto. 83 plaintiffs - organic farmers, seed growers and seed businesses, representing 300,000 farmers and supporters - filed suit against Monsanto's practice of suing small farmers whose fields have been inadvertently contaminated by Monsanto's genetically modified seeds in adjacent farms, through cross-pollination. This impacts the DNA of the organic farmer's future crops by genetically modifying their own seed. The video is called Occupy Wall St. Farmers March on January 31
Julie: Exactly. Dave Henson of Occidental Arts & Ecology Center, who spoke at a plenary, was brilliant. He said: "Most federal, state and local agricultural subsidies and tax structures... enable wrong action over right action, favoring giant scale, industrial agriculture over appropriate scale ecological agriculture. Why? Because this country is governed to support a resource exhausting, labor exploitative, and short-term profit-taking economy... instead of supporting a resource sustainable and restorative, labor equitable, and long-term wealth building economy."
Jillian: The conference closed powerfully for me with speaker Tom Philpott, food and ag blogger for Mother Jones. Journalism once was a noble field: editorial was strictly separate from advertising. Philpott challenged us to believe in the power of activist media to organize against the Farm Bill. He challenged journalists to practice rigor and fact-checking. As a journalist, I felt proud and inspired as I left the final plenary.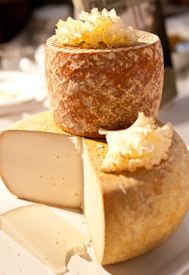 Julie: Like usual, let's end with my favorite topic -- food! EcoFarm's catering for 1,700 people was exceptional. Most food was donated by local farmers. Riverdog Farms donated 300 lbs. of organic pork for the BBQ Pulled Pork Dinner, one of my favorite meals. Happy crowds enjoyed an organic wine tasting, and an organic beer and artisan cheese tasting. Coming off a farming internship from Rainbeau Ridge, known for its award-winning young farmstead goat cheese, my taste buds were groomed for a well-heeled goat cheese. Pholia Farm's raw aged goat cheeses were superb. Their recipes and aging process made for a complexity only found in handcrafted cheeses such as the Takelma and Hillis Peak rounds featured here.
So in closing... as you can see, my cousin Jillian and I were inspired! And, I hope our discussion inspired you. And if you are inspired, perhaps you would like some ideas on how to support this movement to support a food supply that is fresh, organic and wholesome -- and non-GMO?
Yes? Then let's circle back to the food on our tables. Open your pantry doors and take a really good look at what's on the shelves. Who made the products? What companies are you supporting with your wallet? Re-occupy your kitchen by purchasing from your local farmers, and from sources that are building solidarity driven by a culture throwing a fit to survive by creating a sustainable future. Here's a starter kit to get you on your way.......
Related