Walking into the Brooklyn Museum's Gravity and Grace: Monumental Works by El Anatsui, it would be enough to see the tapestries hanging from the 5th floor rotunda, delicate and poised, as purely abstract. A 21st century sculptural child of Alma Thomas and Mark Rothko. The sudden rebirth of a movement (Abstract Expressionism) pronounced dead long ago. But the real excitement surrounding El Anatsui's tapestries - surrounding all of his work - has to do with the belief that they are much more than offshoots or pretty objects.
As the museum puts it, there are two concepts that have become absolutely central to El Anatsui's art: the idea of a "nomadic aesthetic" and "the nonfixed form." Both of these sound more complicated than they are: by calling Anatsui's aesthetic "nomadic," Gravity and Grace highlights the artist's seemingly wide and wandering interest in all kinds of topics and subjects (historical, intellectual, local, global); "the nonfixed form," on the other hand, is a term applied to art that can be altered or re-arranged exponentially (usually by the curator or the artist himself). If you choose to engage the exhibition's wall texts, placards and videos, these are the two qualities you will hear hammered home during your visit to the Brooklyn Museum, the first of New York's museums to stage a solo-exhibition of the celebrated Ghana-born, Nigeria-based artist.
Outside of some supporting paintings and drawings, Gravity and Grace devotes its time to Anatsui's tapestries, floor-works and early wood pieces. In all three, the spirit of "the non-fixed form" is alive and well. Here, the wood pieces, which first allowed Anatsui to experiment with variability back in the 1980's, are arranged to suggest more coherent and whole images - a river is seen in one example, while figures are carefully willed to emerge in "Conspirators," shown below.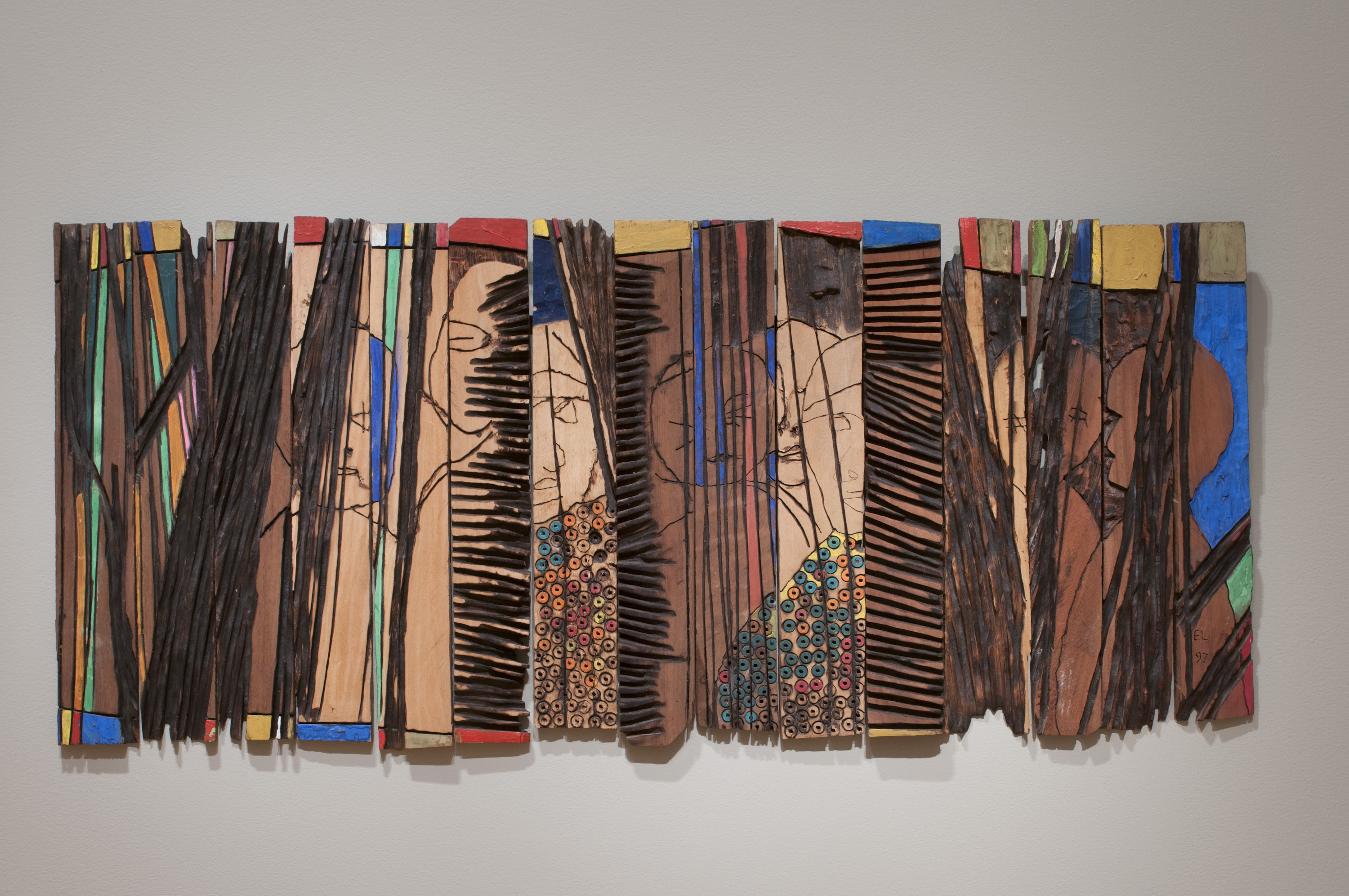 El Anatsui (Ghanaian, born 1944). Conspirators, 1997. Wooden relief with paint, 24 x 55 3/4 x 7/8 in. (61 x 141.6 x 2.2 cm). Courtesy of the artist and Jack Shainman Gallery, New York. Photograph by Andrew McAllister, courtesy of the Akron Art Museum
In a similar fashion, the tapestries and floor-works on view have been contracted and expanded, widened and narrowed, and what's intriguing about this is that the pieces you see in Gravity and Grace may never look the same. At MoMA, which will one day have its own blockbuster Anatsui exhibition, the curators might arrange the various parts of "Conspirators" so that no faces are formed and every nascent image aggressively broken. Imagine how it would look then. Anatsui is particularly fond of this - he is quoted as saying something to the effect of "Artists are not dictators" - and art historians love the idea. This viewer thinks it's neat, giving the show an air of newness, curiosity and freedom as you stroll through the galleries.
But for an artist so open to the ever-evolving look of his work, you would think Anatsui, who stars in each of the show's videos and is quoted often in its texts, would have less to say about the meaning of his work. Which brings us to the second quality Gravity and Graces preaches: his "nomadic aesthetic." While hoards of art history students indict the label as a further exoticizer of the African continent and its artistic tradition, there may be equally compelling and risky implications for the work itself.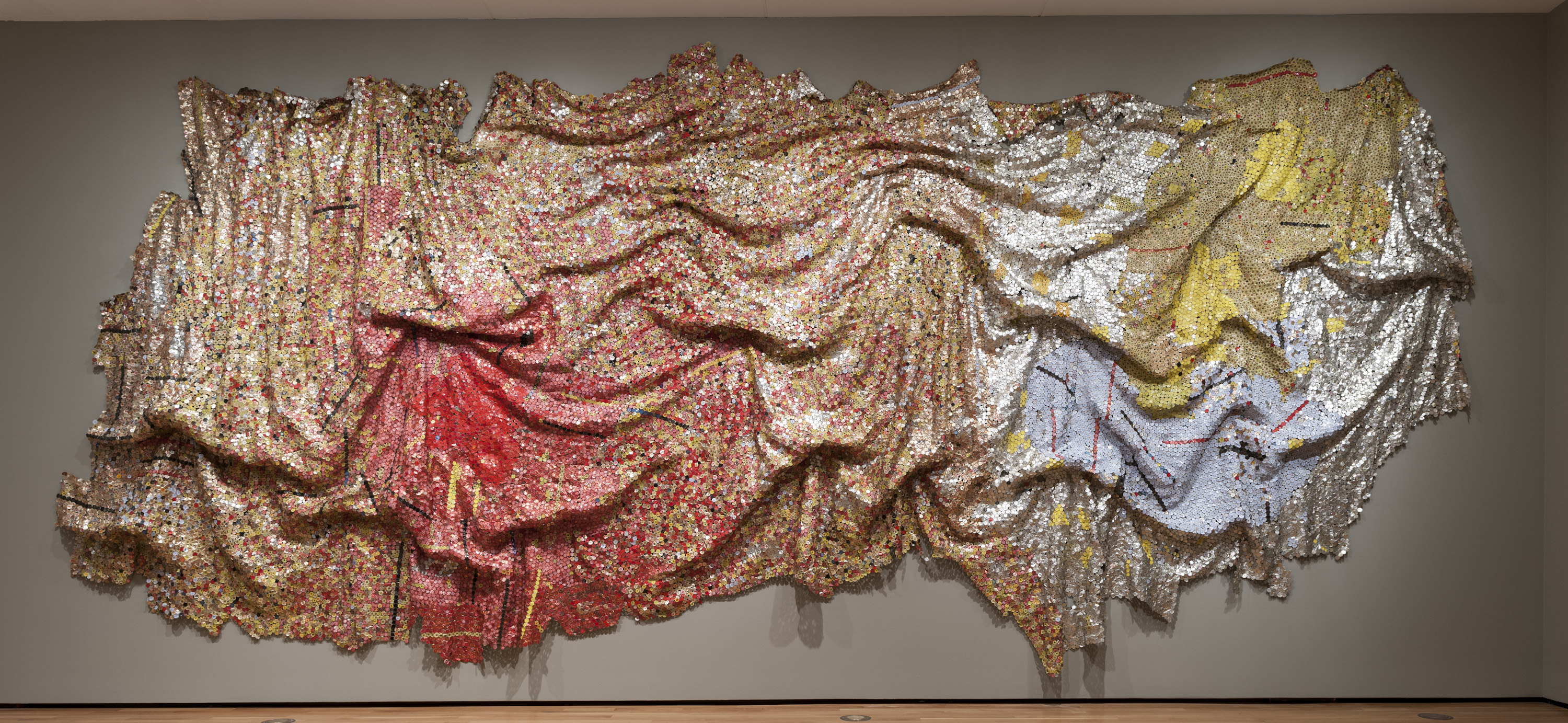 El Anatsui (Ghanaian, born 1944). Gravity and Grace, 2010. Aluminum and copper wire, 145 5/8 x 441 in. (369.9 x 1120.1 cm). Courtesy of the artist and Jack Shainman Gallery, New York. Photograph by Andrew McAllister, courtesy of the Akron Art Museum
As has been told and re-told about as many times as Anatsui's work has been shaped and re-shaped for exhibitions around the world, the 2007 Venice Biennale was a landmark moment in Anatsui's career. When viewers realized that his mesmerizing and intricate tapestries were actually made from recycled bottle-caps Anatsui had salvaged from a Nigerian liquor distillery, he became the overnight star of Venice. Echoing both Abstract Expressionism and the long history of patchwork in global culture and in fine art, the tapestries suddenly bore connections to globalism and the environmental crisis - not to mention their titularly ties to intellectual and world history. Although it shouldn't have, it came as a shock to many in the art world that an African artist working in Nsukka, Nigeria was not only talking and thinking about the same things New York artists were, but leading the charge.
Gravity and Grace, not surprisingly, is all about this recognition of Anatsui's potency on a global scale. The placard for "Drifting Continents," a wall tapestry appearing in the first room of the show, explains that the piece is a musing on "how the world is interconnected...[and more specifically] how the historical trade of alcohol links to the continents of Africa, Europe and the Americas." Elsewhere, Anatsui links his wood pieces and their fractured quality to the Berlin Conference, "when [a map of] the continent of Africa was put on a table and divided up," while "Waste Paper Bags," a series of six free-standing and immense bags, "resemble[s] [the] large woven bags that became known as 'Ghana Must Go' bags in the early 1980's, when Nigerians hostile toward Ghanaian refugees [...] suggested they pack their belongings in such sacks and return home." Associations both local and grand abound in a show named after Simone Weil's 1939 book, but its clearest truth comes in describing 2007's "Earth's Skin" - shown below, followed by an excerpt from the corresponding wall-text.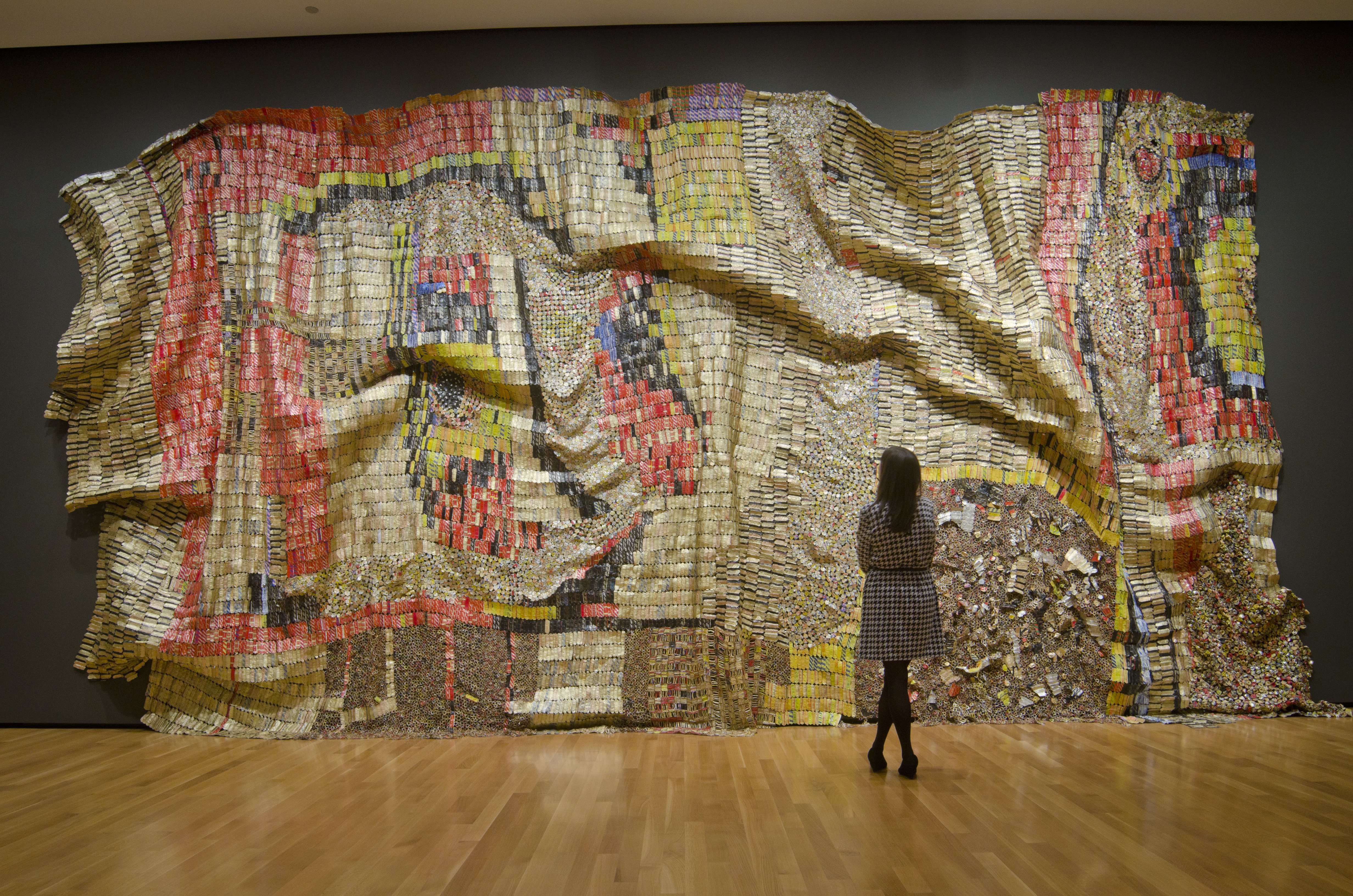 El Anatsui (Ghanaian, born 1944). Earth's Skin, 2007. Aluminum and copper wire, 177 x 394 in. (449.6 x 1000.8 cm). Courtesy of the artist and Jack Shainman Gallery, New York. Photograph by Joe Levack, courtesy of the Guggenheim Abu Dhabi
"Anatsui tends to use poetic and evocative titles for his works that open a range of possible interpretations while also inviting an emotional response. He is interested in provoking thought but not in providing answers."
Somewhere along the way, probably in attempting to honor and praise El Anatsui, this insight was conveniently set aside. But in Gravity and Grace you meet an artist who does not "provide answers." While the museum and Anatsui are eager to point to the importance of the greater allusions in the work, those allusions - sometimes evoked, sometimes cajoled - are approximate, not unequivocal. A close reading of even the great bottle-cap tapestries on view, said to remind us of "the history of liquor trade which links Africa, Europe and the Americas," indentifies the "BOSOTEX INTERNATIONAL" caps threaded to "KP BEVERAGES NIGERIA LIMITED" caps, but does not yield much more. The same can be said for the rest of the work - up close, they are resilient to conclusions. The popular "Waste Paper Bags" carries a fainter association with its supposed subject ('Ghana Must Go' bags) than the tapestries do; the wood pieces would never make me think of the Berlin Conference without the video nearby.
None of this, however, is back-breaking for Anatsui - as Gravity and Grace gets right with "Earth's Crust," this is who he truly is, an artist and thinker interested in allusions but not resolutions. Just as the "non-fixed form" is a nice addition, these "nomadic" interests of Anatsui, particularly in recycling materials, are not to be brushed aside. They tie him to the contemporary scene here and all over the world and the Brooklyn Museum is right to call our attention to their value. But like the Abstract Expressionists before him, the greatest joy in seeing Anatsui's work in Gravity and Grace will always have to do with its sheer visual allure. Despite what the museum or artist may tell you, this is what has made Anatsui indispensible today - the allusions or suggestions would be nothing if it weren't for the shimmering reality of the things he has made and that's perfectly okay. In fact, in an art world only now re-awaking to the importance of craftsmanship, it's a guiding light all its own.
So, as unpopular as this is to suggest, enjoy Gravity and Grace: Monumental Works by El Anatsui for what it is. If you visit hoping to understand the global trade of alcohol you may be better off going to the Brooklyn Public Library, just a short walk from the Brooklyn Museum. Gravity and Grace has nothing to prove - El Anatsui hasn't spent his life painting flowers from his backyard. He is indeed an adept and global contemporary artist, actively working through a series of issues important to him and to many today. From the first hanging tapestries to the last wood pieces, they are more than pretty objects, this much the inaugural New York exhibition makes clear - just don't forget to realize how pretty they are first.
Related
Popular in the Community