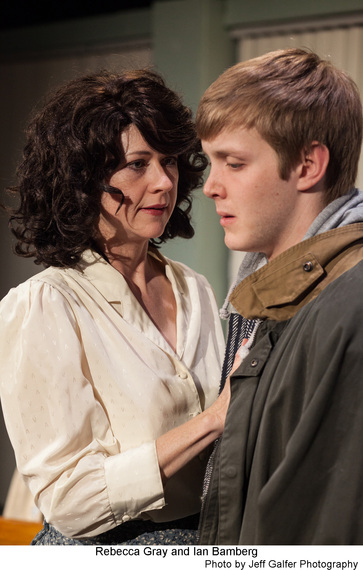 Beginning with the trial and conviction of schoolteacher Mary Kay Letourneau for having an affair with an underage student, the national media have taken a predictably salacious view of affairs between female teachers and male students. But in his world premiere play, Firemen at the Echo Theater in Los Angeles, playwright Tommy Smith paints a more nuanced and penetrating portrait of the tragic dynamics of this illicit and illegal liaison.
Smith, who hails from Washington state, where the Letourneau case was a front page headline, spins a compelling tale of Susan (Rebecca Gray), a middle school secretary, a single divorced mom and Ben (Ian Bamberg), a troubled student. When Ben develops a crush on Susan, sending her notes with sexual overtones, Susan reciprocates by beginning an affair with the boy.
Ben falls quickly in love with Susan -- and she with him -- and this begins a descent for both of them, but most especially Ben, into a maelstrom of confusion and self-hatred. Ben gets no help from his own divorced mom (Amanda Saunders), who is self-involved and overwhelmed. The only bright light is substitute teacher Gary (Jud Williford), who offers some man-to-man advice to the struggling young man.
Smith writes with an easy and natural touch, but seizes on the painful and dramatic truth of this dangerous affair. He penetrates deep into the psyche of the adolescent Ben, as well as the stunted and narcissistic personality of Susan. Perhaps the most poignant scene is when Ben takes out his rage and sexual confusion on Susan's young son Kyle (Zach Callison).
This production is favored with a marvelous cast. Gray brings a harsh truth to her character, and Bamberg explores Ben's inner struggle with great scope and perception. Saunders and Williford are excellent as they portray two lost characters with real empathy and pathos. Callison also gives a wonderful performance as Susan's bewildered son. Director Chris Fields is peerless in guiding the performers through the tricky shoals of this material. In the end, Firemen offers a haunting and even inspiring perspective on a controversial and challenging subject.
Related
Popular in the Community