If you haven't heard of Caleb Caudle, just wait. You will. The recent success of alt-country darling Jason Isbell's rock-folk-country-chart topping album, "Something More Than Free," gives similar artists like Caudle hope that they too can break out and that their genre-defying music can be heard by the masses.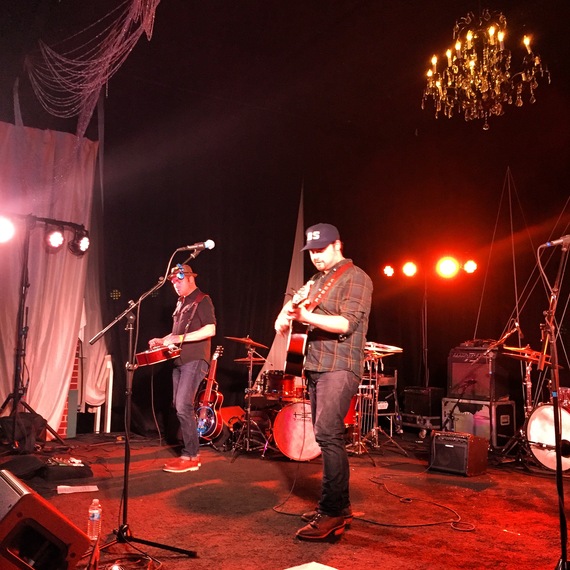 A native of Stokes County, North Carolina, Caudle weaves the richness of the tobacco leaves he grew up between into the flavor of his songs. The singer-songwriter plays acoustic guitar and harmonica, rockin' it out one minute and switching to a haunting ballad the next. Think Steve Earle pre-heroin.
After playing Phuzz Phest 2015 in Winston-Salem in April, Caudle headed to Wilmington to lay down some voice tracks to wrap up his newest album, which Caudle describes as "very" country. Think Merle Haggard NOT Luke Bryan. Caudle assures fans that the yet-to-be-released "Carolina Ghost" is coming soon.
In the meantime, if you haven't heard Caudle play, don't take my word for how talented he is. I'll let his music speak for itself. He's playing twice today at the Mile of Music Festival in Appleton, Wisconsin. And he's currently out on a quick tour with Brian Wright that started at The Bluebird Cafe in Nashville with previous stops in Kentucky, Indiana, Illinois. The tour wraps ups with shows on Tuesday in St. Louis and Wednesday in Oklahoma City. Caudle will return to Winston-Salem on Sept. 11 with his full band and Eliot Bronson to The Garage.
Can't find a way to see him live? The following tracks are from Caudle's first two albums, "Paint Another Layer On My Heart" and 2012's "Tobacco Town." Enjoy!
"How'd You Learn" (featuring Lydia Loveless)
Would love to hear what you think.
Popular in the Community