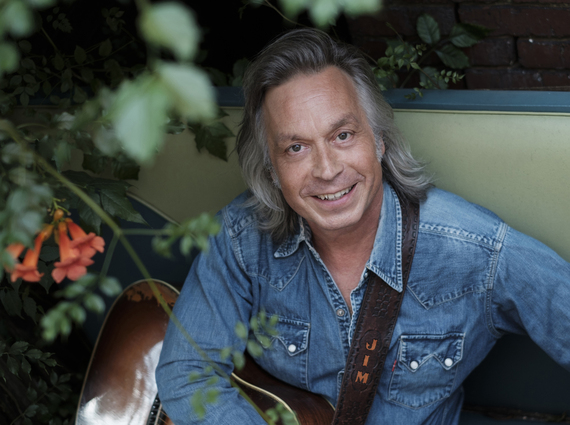 Jim Lauderdale broke out in 2016. An overnight success? Hardly. It's taken nearly three decades and about as many albums to receive the recognition that the Americana icon cleary deserves.
The album, which was largely recorded during a single day in Austin while on a break from his summertime tour, presents Lauderdale's unique version of the traditional Texas dancehall sound. It's filled with shuffles, rave-ups, plenty of sharp songwriting and appearances by a handful of genuine Texas legends, including producer and pedal steel player Tommy Detamore, drummer Tom Lewis (Heybale, Whitney Rose), pianist Floyd Domino (an original member of Asleep at the Wheel), Bobby Flores (Ray Price's longtime fiddle player), Kevin Smith (bass player for Willie Nelson), Chris Masterson (one-half of the Mastersons, as well as Steve Earle's electric guitarist), vocalists Brennen Leigh, Noel McKay and Sunny Sweeney.
Earlier in September, Lauderdale played his 125th show at the Grand Ole Opry and received the WagonMaster Lifetime Achievement Award, presented by one of his musical heroes, George Strait, as part of the 15th annual Americana Honors & Awards.
The WagonMaster award recognizes an Americana pioneer whose career continues to roll ahead, leaving a large legacy in its wake. Strait and Lauderdale performed "The King of Broken Hearts,", which Strait recorded on 1992's "Pure Country" soundtrack. A documentary of the same name, "Jim Lauderdale: The King Of The Broken Hearts," was released in 2014, celebrating Lauderdale's unconventional career.
"Receiving the WagonMaster award presented by George Strait is probably one of the greatest experiences of my life," Lauderdale says. "Having George sing 'The King of Broken Hearts' and standing next to him singing harmony was a thrill beyond words."
This weekend Lauderdale will take on a new role as MC of The Festy, the Infamous Stringdusters seventh annual music festival set for Oct. 7-9 in Arrington, Virginia, which features a stellar lineup including Robert Earl Keen, Lyle Lovett, Mary Chapin Carpenter, Lee Ann Womack, Sam Bush, Steep Canyon Rangers, Sara Watkins, North Mississippi Allstars, Elephant Revival, among many others. Proceeds go in part to the CAN'd Aid Foundation and tickets are still available here.
"I'm just ready to do what ever they need me to do," Lauderdale said in a phone interview from his home in Nashville. "I have only played there once but I've been wanting to go back. They have a great lineup and I of course am looking forward to playing but at the same time I just enjoy listening. It gives me a lot of pleasure to listen to live music. I love seeing new artists come up and grow and develop."
The two-time Grammy-winning singer and master songwriter is both a "songwriter's songwriter," who's written/co-written many modern classics for iconic artists including Womack, as well as an intuitive sideman, who's enhanced the music of a bevy of esteemed musicians such as late, great Dr. Ralph Stanley. As a solo artist, he's been creating a body of work since 1986. spanning albums of imaginative roots music, encompassing country, bluegrass, soul, blues and rock.
As a longtime ambassador of Americana music, you might even say he's the face of the genre. Lauderdale has helped pave the way for the current Americana movement.
And while you may know him for one of his famous tunes -- "I Met Jesus in a Bar," comes immediately to mind; a perennial festival performer at venues such as MerleFest; or even as the longtime host of the Americana Music Awards, I am betting that there are still a few things you don't know about this icon.
1. He was a drama major at University of North Carolina School of the Arts (UNCSA). A North Carolina native, Lauderdale was born in Statesville, lived in Troutman and Charlotte and the graduated from the UNCSA in 1979. He spent his last two years of high school in Chapel Hill, where "I really focused on my banjo. I started wrting songs in college and spent a lot of time on playing. It was very rigorous."
2. He shelved an album he was working on after opening for Lucinda Williams on the "Car Wheels on a Grave Road" tour. "It felt like I had to dig deeper because the bar was set really high and it gets higher and higher as new artists of really high quality keep coming up."
3. He's changed his tune about IBMA leaving Nashville for Raleigh. "At first I was sad when IBMA movied from Nashville to Raleigh. I went the first year they moved it and I was so pleased with how it has come together I realized it was the perfect place for it. Raleigh really wanted it and I think it's a great experience for attendees, performers and listeners."
4. Hosting the Americana Music Awards just sort of happened. "It was something I didn't really plan,. I've always been kind of afraid that people would pigeon hole me as the 'host guy' and they wouldn't listen to my music. But I feel like in a lot of ways I am a new artiist on the same level playing field because I keep working for better things."
5. He's the Bruce Springsteen of Americana music. Lauderdale says he doesn't mind driving 23 hours to play for an hour. "It's all worth it. The travel can be difficult but sometimes I get to play a realy long show -- 2 ½ hours or 3 even 4, say if I am headlining at Pappy and Harriet's, this place I love to play in Yucca Valley, Calif. You spend so much time getting somewhere, you just want to play as long as as the venue will let you."
Popular in the Community