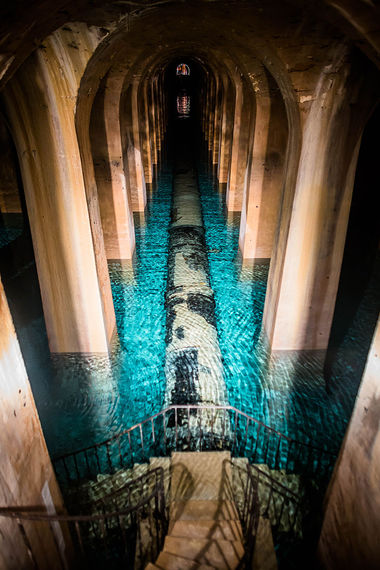 The magnificent fresh water reservoir of Montsouris (Le réservoir de Montsouris), inside the belly of Paris, is one of the several receptacles the large city keeps under check to make sure all Parisians and visitors alike can get a glass of clean water.
The Réservoir, sometimes also called Le Réservoir de la Vanne, is one of the five main water cisterns of the city of Paris, located in the 14th arrondissement (district), it was finished in 1873 and is now providing water for the south part of the city.
The reservoirs were meant to stop citizens from drinking and using the waters of the river Seine, which were slowly becoming too polluted to be safe to use and for human consumption. Fresh and clean water is considered a service, rendered by the city to its residents.
In the two-story high monument, the water is collected from rain, but also from various spring sources as far as 50 miles away from the capital if necessary.
Built on a former quarry, the massive undertaking was the largest underground work ever built at the time. Some 1,800 concrete pillars support the 300,000 m3 (79251615.7 US liquid gallon) of water, aided by five support bells.
From the outside approach to the reservoir, nothing indicates the masterful architecture of the place. The surroundings are simple hilly spreads of green grass and a large stone wall runs alongside the entire perimeter of the reservoir.
The entrance on the Voie Verte street is inside a small courtyard where a stone staircase leads directly to the platform where you can finally view the immense spread of transparent water. Several levels can be seen from the ledge. Nowhere, of course, can anyone touch the water.
At some point, you can even take a small flat boat and slowly navigate the quiet stream for an eerie experience. Until 1996, trout were kept in the waters, to test its purity, but nowadays, this is done by lab analysis - a lot less charming.
Nicknamed the cathedral of water, the reservoir's basins are certainly of the most admirable architecture. The site is sometimes open for visits, during special days not really announced much in advance - the best way if you are interested is to contact the City of Paris, or go the water company's website to check for the next openings: http://www.eaudeparis.fr/. Reservations are necessary.
Details: Le réservoir de Montsouris
Place Jules Hénaffe - 75014 Paris
Check the events column on the website, starting in September.
Visits are by groups of 25, and are held Saturdays and Sundays only; walking shoes are recommended; not equipped for handicapped access; not recommended for claustrophobic persons; minors must be supervised by an adult.
One more secret of Paris unveiled.