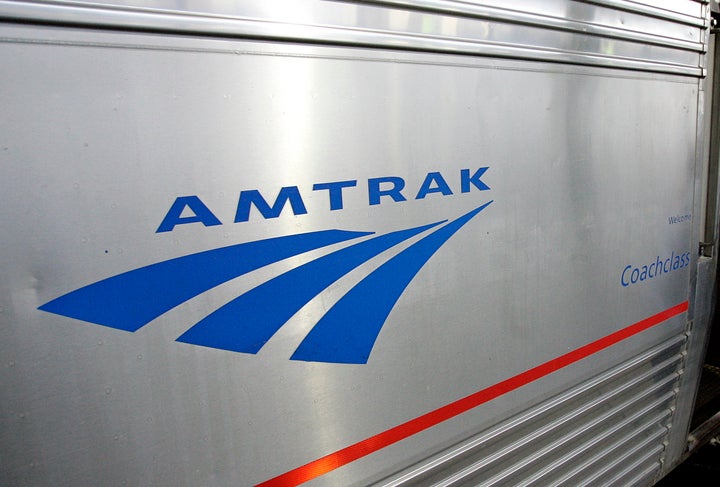 Amtrak celebrated 40 years as "America's Railroad" on Sunday, May 1, 2011, a celebration that continues on National Train Day this Saturday, May 7th.
Transportation will stay in the limelight as the country celebrates National Transportation Week 2011, May 16th through the 22nd. In the meantime, Congress struggles to hammer out a six-year Surface Transportation Authorization bill.
This seems the perfect opportunity to re-think the kind of jobs that would be created supporting green transportation infrastructure projects. And no mode of transportation uses less energy and creates less climate-changing emissions than rail, especially high-speed rail (HSR).
Amtrak's 40-year anniversary also marks the end of a year-long trial run of an Amtrak green transportation experiment that uses biodiesel in their passenger line that runs between Oklahoma City and Fort Worth, a program Time magazine listed as one of "The 50 Best Inventions of 2010."
Amtrak officials recently outlined their five priorities for the next surface transportation bill. At the top of the list is to "provide dedicated, multi-year funding for intercity and high-speed rail."
During his State of the Union speech in January 2011, President Obama announced plans to give 80 percent of Americans HSR within 25 years.
The president also touted the Chinese HSR system.
In the six years since establishing its first high-speed rail line, China has become the world leader in HSR development. By the end of 2010, China had 17 HSR lines totaling about 5,219 miles -- the longest worldwide. And on December 3, 2010, China broke the HSR world speed record by reaching 298.9 miles per hour. China plans to more than double its HSR by 2020. Worldwatch Institute estimates that more than $168 billion in investment will be needed to accomplish that goal, but could create an average of 630,000 jobs per year through 2020.
In FY 2010, Congress appropriated $2.5 billion for high-speed and passenger rail improvements on top of the $8 billion in 2009 stimulus funds. Florida and California were the only two projects nationwide to receive initial federal grant funding under the stimulus for a HSR project.
Ironically, Florida's Governor Rick Scott -- in the wake BP's oil washing up on Florida beaches -- turned down the $2 billion in federal money the state was awarded even though Japan's HSR company was considering investing in the project as well.
Japan has been operating HSR since October 1, 1964 and announced in February 2011 it will build a $64 billion "maglev" rail line -- to be the fastest train the world -- linking Tokyo and Nagoya at speeds up 310 miles per hour.

South Korea also plans to upgrade its HSR by 2020 to drastically reduce the time it takes to travel between the country's major cities of Seoul, Busan and Daegu. The project will increase the number of high-speed lines within Korea from 230 miles to 1,648 miles by 2020.
The number of jobs these projects will create is staggering. But HSR is not the only green transportation options to consider.
President Obama must understand the benefits of such green transportation projects. After all, he promoted the use of green transportation and alternative fuels to lessen America's dependence on foreign oil on April 1, 2011 when he rolled-out the "National Clean Fleets Partnership."
That partnership is billed as a call to action for private sector transportation fleets to reduce diesel and gasoline use by switching to alternative fuels such as electric, natural gas, biodiesel and hydrogen. In turn, the companies receive technical assistance from the Department of Energy on research and development regarding DOE's "Clean Cities" initiative.
China invested $1.3 billion in its electric vehicle industry in 2010 alone, according to Worldwatch which estimates that "if the government continues to prioritize alternative fuel vehicles through 2020, domestic production of these vehicles could reach 16.6 million -- 15 percent of total vehicle production -- and create an average of 1.2 million jobs annually."
Upgrading the infrastructure for more high-speed rail, and transitioning America's private and commercial vehicles to a "green fuel," should be just the start of a total make-over on the level of the National Interstate Highway System project authorized in 1956. The initial cost estimate for that project was $25 billion over 12 years, but ended up costing $114 billion (roughly $500 billion in today's dollars) over 35 years.
The jobs that could be created by such a vision focused on green transportation are worth noting as Congress considers a new transportation bill.

Popular in the Community