Much of the scripts had been written, the characters formed ― and then America voted in a leader who supports the kinds of oppressive, totalitarian policies that seem better suited for fictional Gilead than present-day U.S.
Neither has the cast and creative team behind the series.
"[Joseph Fiennes and I] are the villains," Yvonne Strahovski, who plays the commander's wife Serena Joy, explained to THR. "Suddenly Trump is elected, and all this negative behavior comes to light. I start seeing these parallels between [my character's] actions and what Trump's doing. It's in a weird way an inspiration but also a horrid parallel."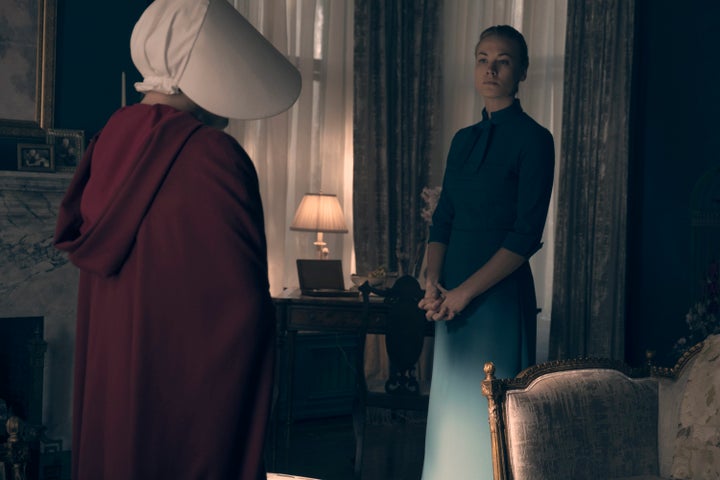 "People were all of a sudden saying the venomous things that they had always thought out loud — things I didn't think people thought anymore in my little bubble," Miller added. "It made me change one or two things [in the show], but I'm not going to tell you what they are."
Of course, in countless other interviews, series star Elisabeth Moss (who plays Offred) and director Reed Morano have reiterated that the story would be effective regardless of Trump's position at the White House.
"The whole message that Margaret was sending in the book is that big changes like this don't happen overnight," Morano told audiences at 92Y in early May, "they happen very slowly over time, almost so that you don't know that they're happening until it's too late."
And yet, as Miller makes clear, the election had its effect. "I think that I definitely had personal feelings about [the election]," Moss told HuffPost in April. "All of a sudden I felt like [the story] was much more personal, much more relevant. It wasn't so crazy. And this whole idea of 'it couldn't happen here' kind of started to fade away. And that's kind of what everyone else has felt as well."
The parallels might be tough to stomach, but there's hope, Samira Wiley (who plays Offred's friend, Moira) told THR:
One of the things that's so interesting about this show is the caste system, specifically within the women. It is, I think, a false sense of authority. We have Serena Joy and Offred, who are of two totally different statuses in the society, but how different it would be and how amazing it would be if they could see that banding together could be a revolution? Pitting women against each other is something that also happens in our world today. I hope people have conversations that they wouldn't be having otherwise.
Miller agrees. In a previous interview with HuffPost, he said he wants the series to encourage people to "appreciate the freedoms that we have, and see little ways that they're chipped away and what that can lead to."
"There's been just an unrelenting assault on [...] women's sovereignty over their own bodies," he added, "that's been happening at the state level and the national level, that's been head-spinning."
Moss put it best to THR. When asked which women's right she thought was the most vulnerable in our current political climate, she responded:
Damn. How much time do you have? The easy one that comes to mind is sort of a blanket: the right to do with your own body what you want to do. Which covers a lot of things, frankly. It doesn't just cover the right to have a child or not have a child.
Popular in the Community