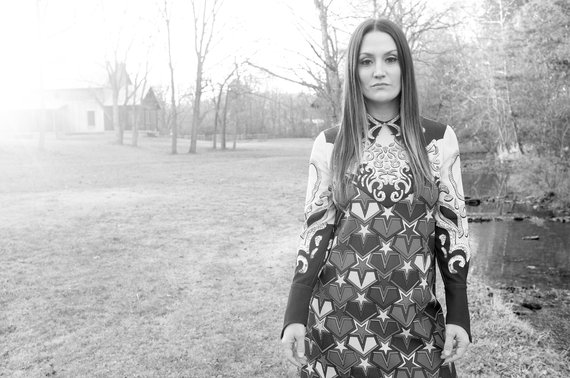 You may not have heard of Natalie Hemby, but you have heard her songs. Call her a 19-year overnight success.
Miranda Lambert's "White Liar" was co-written with Hemby, who also co-wrote Lady Antebellum's hit "Downtown" with Luke Laird and Shane McAnally and Little Big Town's "Pontoon" with Laird and Barry Dean. She's also sung backup with Lambert and written songs with Kacey Musgraves and Lori Mckenna.
A Nashville native (a bit of a rarity these days) and country music writing staple, Hemby finally released her first solo album, "Puxico," earlier this month. It's already receiving a lot of buzz, including on NPR here. And this week "Puxico" hit the Top 10 on the Billboard Americana/Folk Albums chart making Hemby the only female solo artist on the list.
Puxico, population 871, is the name of her father's hometown in Missouri and the place where Hemby spent her childhood summers playing on her grandparent's farm, spending time with people who loved her and establishing her musical roots on her grandfather's piano as well as listening to him play bluegrass at the VFW Post 7822. It's the same VFW that began sponsoring the "Homecoming" in 1947 on the second Tuesday in August as a way to bring residents of Puxico, past and present, together.
It's that annual event that served as the inspiration for Hemby's album that evolved from the documentary film Hemby created and released two years ago. The film starring George Hemby, who is now 87, is an intimate peek into life in a small town and proof that despite Thomas Wolfe's pronouncement, you can go home again.
"My whole intention was not to put myself in it originally," she said in a recent phone interview from her surbanan Nashville home she shares with her 5-year-old daughter and husband, Mike Wrucke, who produced her album and introduced her to Lambert.
"Then I realized the documentary was really about my love for Puxico, it's 'Homecoming' and my love for my grandfather. It's a big long story told in that sort of circle, songs about Puxico, about me. It became this evolution.
"I wanted to put this album out because this is the deepest roots of who I am and the kind of music I like. I wanted this to be about when you go home. I want you to go love on your people. That's what I want out of this."
And while the lyrics and the melodies evoke memories of warm, quiet evenings in small town America, don't expect to find any mention of drinking beer in the back of a pickup truck with girls wearing Daisy Dukes. Instead, you'll find upbeat tunes complete with the strains of steel-pedal guitar such as "Time Honored Tradition," and the chorus, "Looking for time honored tradition, where the memories are made an the stories don't change."
Living in a small town gets kind of misconstrued in different ways and it gets picked a part and homogenized, Hemby says. "One year I went to Homecoming and attendance was down. I started noticing things were becoming older and it was kind of dying off and I didn't want it to go away."
That's when she got the idea to try to capture it on film. For posterity.
"The documentary took me forever to finish it," she says. "I'm not a filmmaker but I am story teller."
Trent Dabs, who co-wrote a number of the songs on Puxico, encouraged Hemby along with fellow singer-songwriter Maren Morris to put the music on the documentary on an album.
A quick glance at her family tree and it's no wonder Hemby has made a career out of music. Her father, Tom Hemby, was a touring and studio guitarist for Amy Grant, whom Hemby's mom, Deanna, worked for as a personal assistant.
"I grew up around the music business and I knew I always wanted to do music."
Hemby, however, dreamed of being in a rock band rather than country. "I always loved rock, Tom Petty and Sheryl Crow (who has also recorded one of Hemby's songs)," she says. "I always thought my first record would be more of a Sheryl Crow rocker, a sort of 'here I am world.' I am about to turn 40 in March and I have already done that through other people. I thought that with my first record everyone will see I am bad ass. The truth is I am a big sap."
She was just 19 when she signed her first publishing deal. It took Hemby a decade's worth of close calls and aborted deals with major labels in New York and L.A. to conclude that she didn't, in fact, want to be a touring, singing celebrity. Instead she started writing songs for other people like Lambert.
Hemby came full-circle on Wednesday, Jan. 24, when she opened to rave social media reviews for her songwriting partner Lambert in Chicago at Joe's Bar on Weed Street for the first time.
Hemby will make her Grand Ole Opry debut on March 18 but it's not the first time she has crossed the storied stage. The first time she appeared there was to collect her high school diploma, she says with a laugh.
Songwriting can be difficult, she says, unlike it is portrayed on the CMT hit TV show, "Nashville."
"We don't make out in writing rooms, at least I don't, or have lunch at Tootsie's," Hemby says laughing again. "We usually get lunch brough into us. If you are gettting on a good song, it's almost like a drug and we don't want to stop."
The album is filled with rich lyrics and longing magnified by Hemby's haunting voice that has a familiar ring but also a sound that is uniquely her own. One of my favorite tunes is "I'll Remember How You Loved Me," which happens to be the first song in the documentary.
"Like bells on a drugstore door
Some things just disappear
When I'm sure that I knew exactly
When the details turn to dust
And the words get worn and frayed
When the past is trapped in photographs
I'll remember how you loved me."
Hemby says: "You know when you hear a song and it takes you back to a memory? That's what I want. I want to give people moments to remember."
And on "Puxico" she does exactly that. I can't stop listening to this album and I am betting you won't be able to either. Can't wait to hear what you think.
Popular in the Community