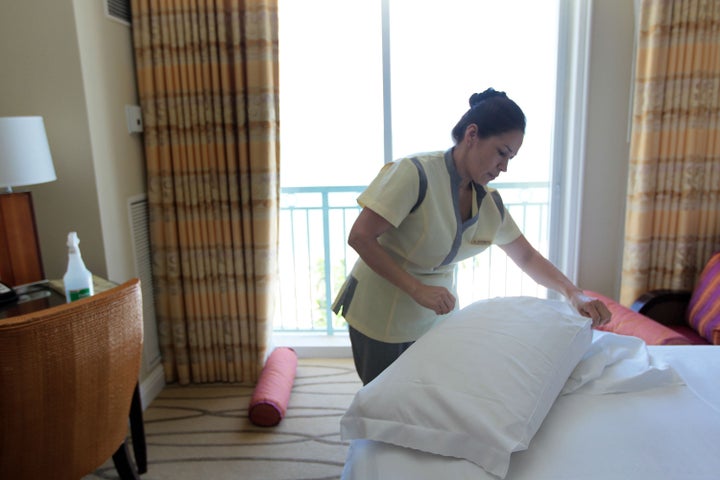 INDIANAPOLIS -- Maria Fajardo has been working as a housekeeper and janitor in Indianapolis hotels since 1987. The job has changed a lot in 24 years, but not for the better. The work is much more difficult than it used to be, and the pay comparatively much less.
"It's really sad," the 62-year-old grandmother from Mexico said in Spanish through a translator. "We're hurting our bodies more and more, and we're not getting any closer to getting out of poverty."
Hotel workers in this town say their workloads have increased in recent years while their wages have remained flat or even fallen. In some cases, the housekeepers are expected to clean roughly twice as many rooms as they were just a few years ago, often working off the clock to meet their quota and avoid being disciplined. As the cost of living has climbed, they find themselves worse off than they were a decade ago.
When they consider their worsening lot, they often blame a growing trend at many hotels here: The outsourcing of in-house jobs.
"It's everywhere now," Fajardo, who works at the Hyatt Regency Indianapolis, said of the outsourcing around town. "The housekeepers, the restaurant, the stewards, laundry, room service ..."
The jobs don't go offshore to India -- they go to little-seen labor agencies that provide hotel chains like Hyatt and Marriott with large pools of bottom-rung workers, who are often Latino. As some hotels increasingly rely on these middlemen agencies, the economic effects for blue-collar workers are significant. Wages tend to be lower, and employees often end up working full-time without health insurance, vacation or sick days. Although they're considered temps, they sometimes work at the same hotel for years on end.
Hospitality work, largely thanks to organized labor, was once a path to middle-class life in America. But downward wage pressures have left many workers in poverty, relying on government subsidies, local charities, and second and third jobs to get by. And despite a jobs crisis and a presidential campaign that ostensibly focuses on the economy, none of the proposals coming out of Washington are aimed at stemming the systematic subcontracting that's squeezing the country's working class.
HuffPost readers: Has outsourcing affected your line of work? Tell us about it -- email dave.jamieson@huffingtonpost.com. Please include your name and phone number if you are willing to do an interview.
With little union presence, the hotel industry in Indianapolis has been particularly vulnerable to outsourcing. Long-time workers say it's played a significant role in the disappearance of African American workers from hotel staffs in recent years, as well as in the establishment of a Latino underclass in the city's service industry.
"It's demoralizing," said 57-year-old William Selm, who had been a bellman for 14 years at the Westin Indianapolis when his position was farmed out in 2008. Although he used to make $8.40 per hour plus tips, after the switch Selm lost all his seniority and soon wound up at another hotel making $3.50 per hour, he said. (Labor laws allow lower minimum wages for tipped employees.)
Just a few years ago, the vast majority of workers toiling in Indianapolis hotels worked directly for the hotels. But now, at the Hyatt where Fajardo works, for instance, a considerable chunk of the housekeeping staff is employed by an agency called Hospitality Staffing Solutions, or HSS. The Georgia-based firm has become the beast in hospitality labor outsourcing, supplying workers to companies in more than 30 cities across the country.
When staffers at the Hyatt Regency Indianapolis leave their jobs, workers there say they tend to be replaced with HSS workers, usually at a few bucks less per hour and without benefits. The outsourcing has even hit skilled jobs such as kitchen cooks.
"They've been replacing Hyatt workers by attrition," said Karl Frederiksen, a 56-year-old telephone operator who's been at the Hyatt for 12 years. "It saves them money and that's the bottom line. They've found ways to increase their profit margins at our expense."
Although the workers may perform identical duties, the outsourcing has created two distinct classes within hotels -- the lesser-paid agency laborers, who consider themselves second-class, and the direct hires, many of whom feel threatened by the growing presence of cheaper labor.
"It's poor and poorer," said Eric Gomez, a 25-year-old front-desk agent working for Hyatt.
A hotel chain could certainly save a few dollars by shifting some of its workforce to an outside agency -- an arrangement that benefits both the hotel and the labor supplier. Freed of the duties that go with being an employer, the hotel would no longer need to provide a full-time worker with costly benefits, nor would it be responsible for how much the worker gets paid. It would simply pay a fee for each hour of work supplied by the agency.
Joseph McInerney, the president of the American Hotel & Lodging Association, the industry's foremost trade group, insists that hotels like Hyatt don't outsource to get cheaper labor. He says that when you add in the agency's fees, it's usually a wash.
"Saving money is the last part of this," McInerney said. "It's about the ability to have the employees when you need them."
But in an advertisement that ran in a hotel trade magazine, HSS declares themselves "experts at saving clients money." The ad features a picture of Lilliputian workers inside a vending machine, apparently ready for purchase. On its website, the company said it shaves 12 percent of its clients' costs on average.
The one losing party in this arrangement seems to be the worker, as the subcontractor has every incentive to keep wages low, and the lines of accountability within the hotel become blurred.
In interviews, a half-dozen HSS employees in Indianapolis claimed the agency often failed to pay them wages they were owed. Many of them are full-time workers earning $7.25 per hour, the federal minimum wage, and taking home between $10,000 and $15,000 per year. The current HSS workers asked that their names not be used, for fear that they would no longer get work through the agency.
Hyatt declined to discuss its use of HSS workers within Hyatt hotels. In a statement, a Hyatt spokesperson wrote, "Using contractors is a common practice within the hospitality industry that provides hotels the flexibility to manage the ebb and flow of the tourism and convention business. There are times when we choose to partner with third party service providers to provide certain services within our hotels."
A Hyatt spokesperson said that only 10 percent of work hours performed in its Indianapolis hotel are done by HSS. But organizers with UNITE HERE, a service workers' union that is trying to unionize employees at the Hyatt, say that the outsourcing has fallen disproportionately on lower-paying, back-of-the-house jobs. They estimate that roughly a third of the menial work done in the hotel -- cleaning rooms, washing dishes -- is now handled by agency laborers.
The HSS workforce in Indianapolis includes a lot of single mothers from Mexico and Central America, many of them with children on government-funded health care and daycare programs, current and former HSS employees said. (Marriott gave HSS its international "Diversity Supplier of the Year" award for 2009, according to the Marriott website.) One of the company's advertisements promises potential housekeepers and dishwashers a "gran oportunidad," but the Mexican workers here have a little saying: Working for the hotels is "mal;" working for the agency that staffs the hotels is "mas mal."
"I feel like HSS is impoverishing our community," said 28-year-old Eva Sanchez, a single mother who says she worked for the agency for around eight years before a final falling out several months ago. "I used to send single mothers I knew to HSS, but eventually I stopped because it was so horrible," Sanchez went on. "If they had paid me everything they owed me, I would have finished school and I wouldn't have accumulated all this debt."
In an interview, HSS CEO Rick Holliday said that any instances of wages not being paid were honest mistakes, and that he would personally look into any such allegations. As for many workers' lack of benefits, Holliday said it's ultimately up to the workers whether or not they opt into the company's plans. He said many workers come to the agency because they prefer temp-style work to a typical 9-to-5 job.
"These are entry-level positions," Holliday said. "Part of the reason people work for staffing companies is they want the flexibility. ... What's important to them is the flexibility and working the hours they want to work."
Some workers may enjoy the flexibility, but others have filed lawsuits accusing HSS of allegedly violating labor laws and failing to pay its employees. One Pittsburgh housekeeper who worked in a Hyatt said she often worked 80-hour weeks but would only be paid for 40 by HSS, according to one lawsuit. Her fellow claimant said he was paid for just 8 hours a day even though he often worked much more. An HSS supervisor in Pittsburgh also sued the company for illegal termination, claiming the company fired him because he stood up for housekeepers who weren't being paid what they were owed. Both of those cases were settled.
The only city where HSS has received much attention is Boston. In 2009, Hyatt carried out a mass layoff off 100 housekeepers at three of its hotels in the area, replacing them with workers from HSS. The wages for housekeepers dropped from about $15 per hour with benefits to around $8 without benefits, according to press reports. Hyatt staffers claimed they had unwittingly trained their replacements thinking they were just supplemental help. At the time, Hyatt attributed the move to "challenging economic conditions."
The story created a small stir in Boston, with Massachusetts Gov. Deval Patrick calling for a boycott of Hyatt. In a letter, he urged the chain to rehire the housekeepers "rather than tossing them out unceremoniously to fend for themselves, while the people they trained take their jobs at barely livable wages." The City of Cambridge has since moved to bar hotels from outsourcing jobs to labor agencies. The law would force hotels to be direct employers of the staff as a condition of doing business in the city.
The news out of Boston alarmed hotel staffers in Indianapolis, and many were reassured by their bosses at the time that their jobs wouldn't be outsourced. While no such mass layoffs have occurred, the shift to agency workers has continued incrementally, workers say.
Members of UNITE HERE claim that the outsourcing has devalued certain hotel jobs in the city. They also believe it puts the city and state on the hook for unseen costs, such as the taxpayer-funded health care that many agency workers' families end up using.
"We've subsidized these hotels once by giving them incentives to develop their hotels here," said Becky Smith, a UNITE HERE organizer. "But we're subsidizing them again by giving their workers health insurance. I don't think the taxpayers of Indianapolis should be the ones to subsidize these workers because these corporations don't want to [provide] living wages and benefits."
Several HSS housekeepers said they have room quotas to fill, and if they can't get to them all in eight hours, they sometimes end up clocking out to finish their work, for fear they'll get written up. HSS CEO Holliday, however, said that nobody should be clocking out if they're still working. "That's absolutely against our rules," he said.
Some workers also claimed they have the cost of lunch deducted from their earnings, but they often end up working through their breaks and don't get to eat what they're required to pay for.
They all say they would rather work for the hotels in which they work, as opposed to an outside agency.
"If they would give us the opportunity to work directly for the hotel, of course we would do that," one said. "But it's very difficult."
Current and former HSS workers said that when they try to get jobs working directly for the hotels in town, they're often told they can't be hired because they work or recently worked for HSS. Several workers claim they've been told to wait a year after parting ways with HSS before applying.
But Holliday insisted that HSS workers are free to work anywhere they want. "This is America," he said.
An HSS housekeeping gig doesn't sound like the kind of job that city politicians hype when they're trying to lure big hotels with public money and tax incentives, like the sprawling new JW Marriott in Indianapolis, considered the "crown jewel" of the $450 million Marriott Place complex near the convention center. That 1,005-room luxe hotel opened earlier this year, with developers making a big bet that the city's growing convention industry will be able to fill it. The city reportedly chipped in $48 million to the Marriott project. When it opened, the JW Marriott was staffed partly by HSS workers, according to one HSS employee who was among them.
Ed Mahern, a former Democratic state representative, said the downtown Indianapolis hotel-and-convention boom has certainly brought a lot of jobs. It just hasn't brought a lot of good ones.
"We spend a lot of public money to attract out-of-town people," said Mahern. "Everybody's coming out of this okay except for the people working 9-to-5 jobs."
Indeed, many hotel workers feel like they've been left behind as a new downtown has blossomed.
One housekeeper said that over the last ten years her wage has risen just $1.50, to $9 an hour, and that she now relies on a local pastor for cooking oil. Her last vacation was in 2001, when she took a couple of days to visit the shops at Carmel, a tony suburb north of the city.
"I used to make enough money to go shopping once a while. Now, it's all shopping at Goodwill," the woman said in Spanish. "There are many times when I cannot give my kids what they want. I cannot give them the shoes they want or take them to McDonald's or Burger King."
Another HSS worker says he came to Indianapolis two decades ago, back when the city seemed ripe with opportunity. He earned more than $10 an hour and had full-time work in the 90's. But for the last few years, he's been earning the minimum wage of $7.25, unsure how much work he'll have from week to week. He tries to pick up odd jobs on the side to make ends meet.
After a recent long shift at one of the hotels downtown, the man slumped in a chair at a friend's apartment, sipping water from a glass, and considered his lost decade.
"It's pretty awful that all the jobs we've created are so crappy," the man said, thumbing his glass. "We've helped build the city. They got a lot of profits from our jobs. We got nothing."
Related
Popular in the Community