The government of Mexico is deploying a start-up, open data and a wildly popular group of comedians to force itself to become more accountable to citizens.
The comedians are called Los Supercivicos and for ten years they have been waging a laugh campaign in Mexico City that shames the government when it fails to do its job. Instead of complaining about enormous pot-holes, for instance, they fill them with water, add some mermaid barbies and thank the authorities for the lovely new pool.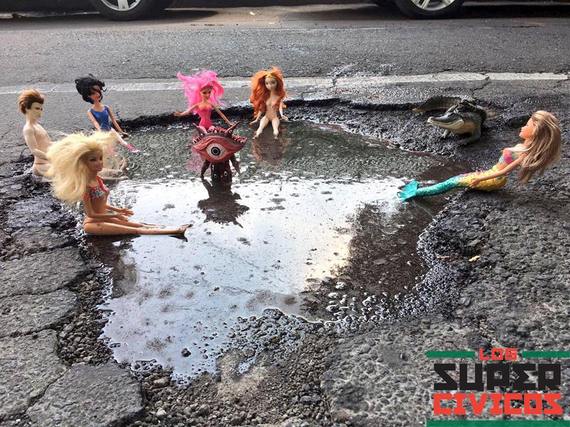 'They're huge YouTube and Facebook stars,' said Diego Mendiburu, CEO of the start-up working with them, Fáctico. 'These guys have really created a movement. They've been doing this for more than ten years and people really love them.'
Los Supercivicos and Fáctico have now jointly launched an app in which ordinary people make 30-second videos about problems with infrastructure or public services, and have them geo-tagged. Some ten thousand signed up in the first two weeks. 'We want to make a huge army of Supercivicos reporters and empower all Mexico City citizens to do what the Supercivicos do,' said Mendiburu. 'And at the same time create a huge database of all the problems that Mexico City has.'
This database can be used by government bodies to see what's going wrong in the areas they're responsible for, and also works as a goad to action, pushing them to do something about it. This project is being furthered by the Mexican government itself. Specifically, it is part of a scheme called Labora, which supports entrepreneurs using government data for a social purpose. It helps give them the data they require for their business and shows them how to navigate the bureaucracy to make the most of it.
In the case of Fáctico and Supercivicos, Labora provide advice on which of a confusing hotchpotch of federal, city and borough authorities are responsible for the particular problems reported. Labora may also pass on data about specific government projects or funding allocations so the citizen reporters can check up on them.
'We're basically looking to accelerate the impact of entrepreneurs that use open data to create social good,' said Ania Calderón Mariscal, Mexico's director general of open data.
Labora is currently reaching the end of its first generation of the program, with eight start-ups. Alongside Fáctico, they include a cyber-security system, Bayonet; a program for using smartphones to track the movement of crowds and so redesign public space, called Klustera; and an app that connects people with depression to sources of help, called Yana, an acronym for You Are Not Alone.
As well as the data, the scheme provides mentoring, introductions to investors and help expanding the business to neighbouring countries - something crucial for attracting big investment. The program may also in future directly fund the start-ups, either by providing grants or by becoming an investor with an equity share.
Andrea Colin, the official who looks after Labora, said, 'It's a very tailored, custom-made suit for them. It's not like school, where you go and have to take all the classes. We do weekly presentations on the things they need, for example, user experience or programming, coding, marketing.'
The scheme is a collaboration with the British Foreign Office, which provides funding, the Open Data Institute, which provides data expertise and a global network, and Demos, a Mexican initiative that provides access to local entrepreneurs and coders and runs the programme day to day.
'To me part of why it's such a special program is because it's genuinely unusual to have such a successful partnership between government, a local NGO and an international institute,' said Emma Truswell, who looks after the project for the ODI [full disclosure: Apolitical collaborates with the ODI]. 'It really strengthens what we can offer start-ups. Getting real about what is actually useful for entrepreneurs is really hard and this program found a way to do it.'
A vital aspect of that usefulness is its internationalism. 'We spoke to investors before we launched Labora,' said Ania Calderón, 'and one of the things they mentioned was that they're more willing to invest in companies that have the potential to access similar data in other countries, so they can also grow their product there. But there's a lot of lack of knowledge among investors; we have a lot to do to inform people about the economic potential of companies using open data.'
Via the ODI, Labora is in contact with similar schemes in the UK and Malaysia, so that the start-ups can learn from each other. And Labora is separately in contact with governments in the region, such as Argentina, which wants to copy the scheme, as well as Colombia and Chile. The plan is ultimately to make Labora a regional hub, allowing exchange of help and expertise throughout Latin America.
To achieve that, it will need to build enthusiasm for open data throughout government. 'It's not easy for people to connect with the abstract case for open data,' said Emma Truswell. 'But connecting government with start-ups who have the model ready to go and just need the last piece of the puzzle is really powerful. One of the things I love about it is that, as officials become internal advocates for change, it equips them with the stories they need to do that.'
Popular in the Community