Law and Justice ruling party in Poland has recently introduced the so called "500+" program in Poland. For every second and next child under eighteen years of age a family receives 500 PLN per month (approx. 110 EUR). At first glance, the extra cash may seem to be helpful for Polish families, but when you get a closer look, you will find out that the devil hides in the details. I think this money could be spent better: for professional activation and improving availability of kindergartens and nurseries.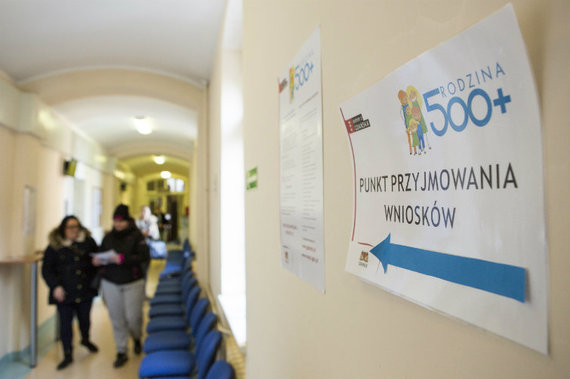 Local governments were tasked with the implementation of "500+". Gdansk did an excellent job and the program started smoothly in our city. Photo: J. Pinkas
Direct financial support may, at least short-term, improve the quality of life of poor families with many kids. The market demand will also probably increase, but as for today, it cannot be estimated to what extent. The birthrate may grow, but experts are quite divided on this. And the fact is, that the support for large families wasn't adequate in Poland.
However, there are flaws in the program that concern me and many other responsible mayors and politicians. First of all, there is a lack of strategic thinking about social policy on the part of central government, and there is a threat that "500+" may promote passivity. For some people this money may be an incentive to leave the job market, which isn't good for a developing economy. The other thing is, that almost every city in Poland is struggling to finance kindergartens and nurseries and we get insufficient support from the national government, despite the fact that preschools are excellent work places for women and help fight their exclusion from the job market.
For some people this money may be an incentive to leave the labor market. I have already heard about such cases. There is no need to explain how dangerous it can be for the society. When a kid turns 18 and the money stops coming, the unemployed parent will have no means and no experience needed to get any job. This way, instead of solving social problems, the country will face new ones. What then?
There is also much hype about "500+" allegedly bringing back dignity to Polish families. The reality check shows other things: there is increasingly less money for families with only one child, and support for a single parent is very hard to get. This mostly hits struggling single mothers with little income.
As a mayor, responsible for the city budget since 1998, I know how hard it is to keep budgetary discipline, and how hard it is to balance incomes and expenses. Overall cost of "500+" to the national budget is estimated at over 4 billion EUR per year. And there are many other ways of smart social programs spending.
We need to rethink social policy in Poland and make it an efficient tool for increasing inclusion, and social and professional activation, encouraging independent people to actively shape their future.
Supporting nurseries and daycare centers
The previous government made some serious steps in this direction, just to mention a very efficient "Maluch" (Little kid) program. For 34 million EUR, 32 000 places in nurseries and daycare centers were supported, greatly improving accessibility to this kind of social support. It is hard to find more effective ways of spending public money on social policy. Another example of smart social policy of the previous government was extending the parental leave to at least 1 year, which helps working parents to decide to have a baby.
Every new preschool, built by Gdansk for about 200 children, costs approximately 2 - 3 million EUR. Providing care for 200 children means that their parents get more flexibility on labor market. I would love to see a program supporting local governments in developing new preschools and decreasing exclusion from labor market.
It would also be a good idea to develop further programs of professional activation, supporting parents in obtaining new skills valued on the market. Our labor office has already been teaching people how to code or get other useful skills, but the scope of these projects would be much broader, if only the national government supported them better.
Introducing programs like "500+" should never be a spontaneous decision. There should be an extended process of consultation with experts, including deep analysis of social and economic impact. On March, 14 Prime Minister Beata Szydło met with representatives of local governments and promised that "500+" will be evaluated in the nearest future. I believe this can happen soon and we will be able to find out more about the true impact of "500+" program on Polish society.
Calling all HuffPost superfans!
Sign up for membership to become a founding member and help shape HuffPost's next chapter