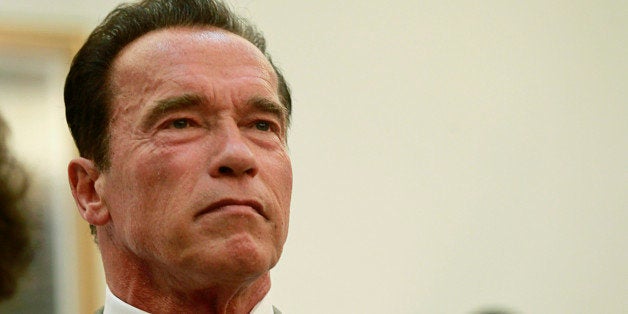 Will California Republicans' "Last Action Hero," Governor Arnold Schwarzenegger, rally behind his party's presumptive nominee? That's the head scratching question most viewers who watched Meet The Press on NBC yesterday were pondering after the governor dodged the issue of whether or not he'll endorse the Republican Party's presumptive nominee, Donald Trump, before California's June 7 primary.
The governor's hesitancy underscores Trump's continued challenges when it comes to coalescing support and developing synergy with GOP leaders as he pivots to the general election. Just last week Trump was grappling with the issue of why New Mexico's Republican Governor and chair of the Republican Governors Association, Susana Martinez, hadn't backed his candidacy. By evading repeated inquiries on Meet The Press yesterday, it also raised questions of whether or not Governor Schwarzenegger, like Martinez, will ever even endorse Trump.
After all, Schwarzenegger is a California Republican. He came out in support of gay marriage, calling the U.S. Supreme Court's move "the right decision." Schwarzenegger also broke with party orthodoxy to recognize climate change and signed arguably one of the most sweeping environmental laws in the nation, AB32 the Global Warming Solutions Act, which taxed carbon in an effort to reduce greenhouse gases.
There's no doubt that Schwarzenegger and Trump have many similarities. They were cut from the same political cloth in terms of taking the Republican Party by storm and starting their campaigns with sky-high name identification which stemmed from their celebrity status. Both Republicans also come from big coastal cities, and they share a shoot from the hip approach when it comes to campaigns and attacking their opponents. Beyond these optical elements, however, there's not much else they share.
In the Republican primary, Schwarzenegger enthusiastically endorsed and campaigned for Ohio Governor John Kasich. The move made sense given his deep ties to Ohio, the hub of the yearly bodybuilding competition called Arnold Classic Worldwide. And because of his relationship with Kasich, who has refused to endorse Trump or even contemplate serving as his Vice Presidential running mate, Schwarzenegger may be reluctant to side with Trump.
Furthermore, since leaving office, Schwarzenegger has spent much of his time establishing and promoting the Schwarzenegger Institute for State and Global Policy at the University of California (USC). There, he's advanced a dialogue around many of the ideas he worked to champion as Governor. One issue in particular that has gobbled up a significant portion of his post Governorship time is addressing climate change.
Saying climate change is "the issue of our time," Schwarzenegger has frequently debated its deniers. In 2015, he spent a week with California's Democratic Governor Jerry Brown in Paris, working to advocate for the United Nations Paris Agreement. He's even founded organization's like R20 Regions of Climate Action that are laser focused on combatting global warming.
Schwarzenegger's work and passion surrounding reducing greenhouse gases and curbing the impacts of climate change stand in sharp contrast with the philosophy of the Republican Party's new standard bearer. Notably, the day Trump announced that he clinched the 1,237 delegate threshold to become the Party's official nominee, he was in North Dakota to give a speech on his vision for energy policy at an oil conference.
During his remarks, Trump vowed to scrap the Paris climate change agreement, increase fossil fuel drilling, slash environmental regulations and advance the Keystone XL pipeline. Even worse, in 2012 he tweeted, "The concept of global warming was created by and for the Chinese in order to make U.S. manufacturing non-competitive." Back in March, Trump said that as President, he would eliminate the Environmental Protection Agency (EPA). Last week, he denied that there was a drought crisis in California.
In light of Trump's plans to obliterate all the recent progress that both the nation and California have made in recognizing and dealing with climate change, clearly a life calling issue for Schwarzenegger, how does the former governor figure all this into his political calculation when it comes to making an endorsement?
Does Schwarzenegger line up behind his Party's new leader or does he embrace the mission statement at the USC Schwarzenegger Institute, which reads, "is committed to advancing post-partisanship, where leaders put people over political parties and work together to find the best ideas and solutions to benefit the people they serve."
In 2008, former Secretary of State and U.S. General Colin Powell bucked his own Republican Party and endorsed Barack Obama for president. The question is, will Schwarzenegger pull a Powell in 2016 by putting people over political party and back a candidate who recognizes global warming and is determined to tackle it head on, rather than a candidate who clearly still denies it.
And if so, will it even make a difference?
With one week left before California's primary, many eyes will begin turning towards Schwarzenegger to see if his eagerness to address climate change outweighs his allegiance to the Republican Party.
Calling all HuffPost superfans!
Sign up for membership to become a founding member and help shape HuffPost's next chapter