Maine, the way life should be. As an out lesbian, my home state of Maine is a place where I can marry, live and work without fear in most regards and Portland, Maine has been an ultra friendly community for long enough now that LGBT owned and operated businesses are out of the closet in very real ways. Unlike my newest home state of Texas, where being out isn't often a safe thing to do and staying employed or even being served in a restaurant or place of business can still be denied to me because I prefer women to men.
One of my regular adventures is bringing you inside the businesses of LGBT people who have both a message of equality and live their lives out loud in the world. Out-ness is a power statement. How each of us decides to use that power varies and Jack Tar 207 has created a unique and visually beautiful voice that bends the rules of gender and fashion norms.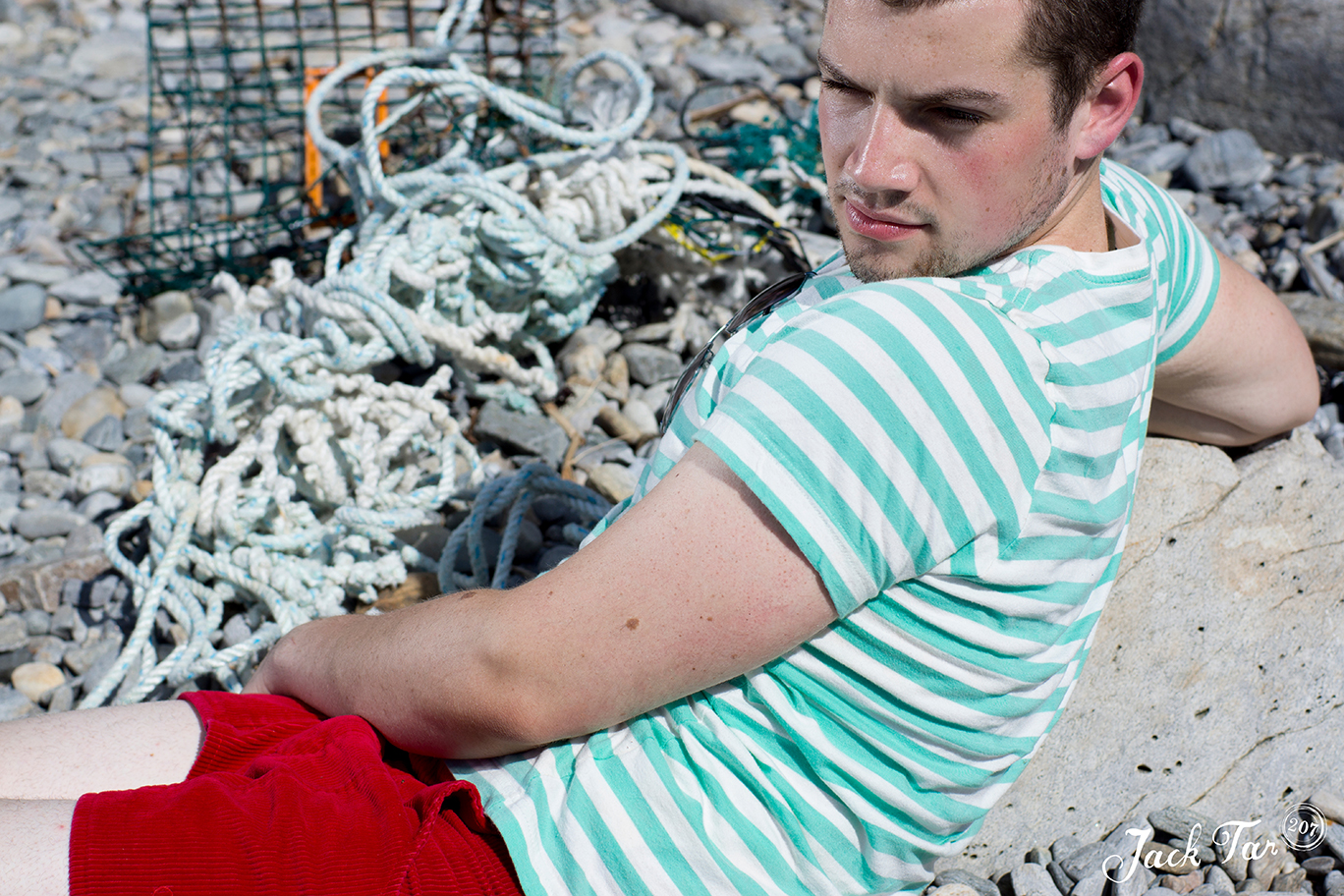 Model: Jack Tyler Michaud
Jack Tar 207 caught my attention for a few reasons. The founder, LK Weiss, is a person I've watched evolve and develop her own unique life path in the last 6 years. She's founded two businesses and with the birth of Jack Tar 207, she's stepped out to own her voice and view of the world in a very public way. Her other business The Portland Designer, focuses on graphic design and folds over and blends into Jack Tar 207 in very obvious ways.
Jack Tar 207 (207 is the area code for Maine and Jack Tar was lingo for a sailor many years ago) offers style and product photography showcasing the gritty authenticity of people and places in Maine; along with offering branding and graphic design services there is also a blog showcasing images from their product shoots. They use this to keep their audience up to date on their latest projects and its become a popular platform for featuring local people and their unique style.
I was able to get some time with LK recently to ask her a few questions about Jack Tar 207 and her vision. I'm enraptured with the intensity of color, imagery and consistent ability to capture the essence of Maine in so many different images whether it's a product or person. Her vision inspires me and I know it will inspire you.
LK shared that her blog already has a worldwide following that encompasses a range of ages, ethnicities, sexualities and genders. One of the blog's main messages is that fashion models do not have to be conventionally beautiful, nor "straight" not only with regard to sexuality, but also size, ethnicity and other socially promoted ideas of physical appeal. Jack Tar 207 provides a space that allows people that don't fit our cultural definition of beauty to show off their style and confidence.
Shooting products for businesses in Maine using these authentic models allows both promotion of a businesses wares and desire to broaden society's perception of beauty and appeal.
Models for Jack Tar 207 are sometimes found walking down a street or sitting in a coffee shop. Other times strangers will introduce themselves to LK and ask for the chance to be part of a shoot. When choosing models for product shoots, LK looks at the style of each individual, pairs that with the products on hand, and then couples that aesthetic with a location and other individuals. Each shoot is carefully curated to create a cohesive batch of photographs that show the person, the place, and the products in a way that street and studio photography fall short.
LK is living out her love of design that has been informed by her growing up along the coast of Maine. From the wharves near her father's law offices in Portland that she played on as a kid to the rich historical and nautical vernacular of of this seaport city, it all plays a part in the design and inspiration for Jack Tar 207.
The people that show up in Jack Tar 207 shoots aren't strictly queer, they do shoot straight folk too, but LK notes they are intentionally leveraging the stunning style of the queer community in the Portland area. With a mission to use non-traditional models they are attracting a wide variety of clients who love what they create and the visual voice it creates for their products and brands.
A model recently said after a photoshoot, "I have you (LK Weiss) to thank for the Femme representation. I have been craving Femme community since I moved here over two years ago and it was thanks to the Jack Tar 207 shoot that I was finally able to find it. I don't know how I would be getting through this time of transition in my life it it weren't for the community I connected with during and after the photo shoot. What you have created in Portland is really incredible and you have no idea how grateful I am to you for it."
The models for Jack Tar 207 shoots portray their own style; something they'd wear on a first date, for a day at the beach or spending a day with friends. A recent shoot for The Grunion Run Groomsmen Shop which makes ties, ties clips, suspenders and pocket squares included models bringing their own button up shirts, dress slacks, a pencil skirt and dress shirts. This unique approach to both style and photoshoots keeps LK's team inspired and on the creative edge in order to leverage both the products being highlighted and the uniqueness of each model.
LK's team has evolved in the last year but the chemistry and playfulness of the atmosphere for each shoot shows up in the end product - visually stunning and unique photography. Her team currently includes Tee Tappan - photographer, LuzMarina Serrano handles styling and along with Shana Natelson scouts locations and helps with lighting. David Jon Timm is stepping in to handle styling while LuzMarina is in New Mexico for a couple of years.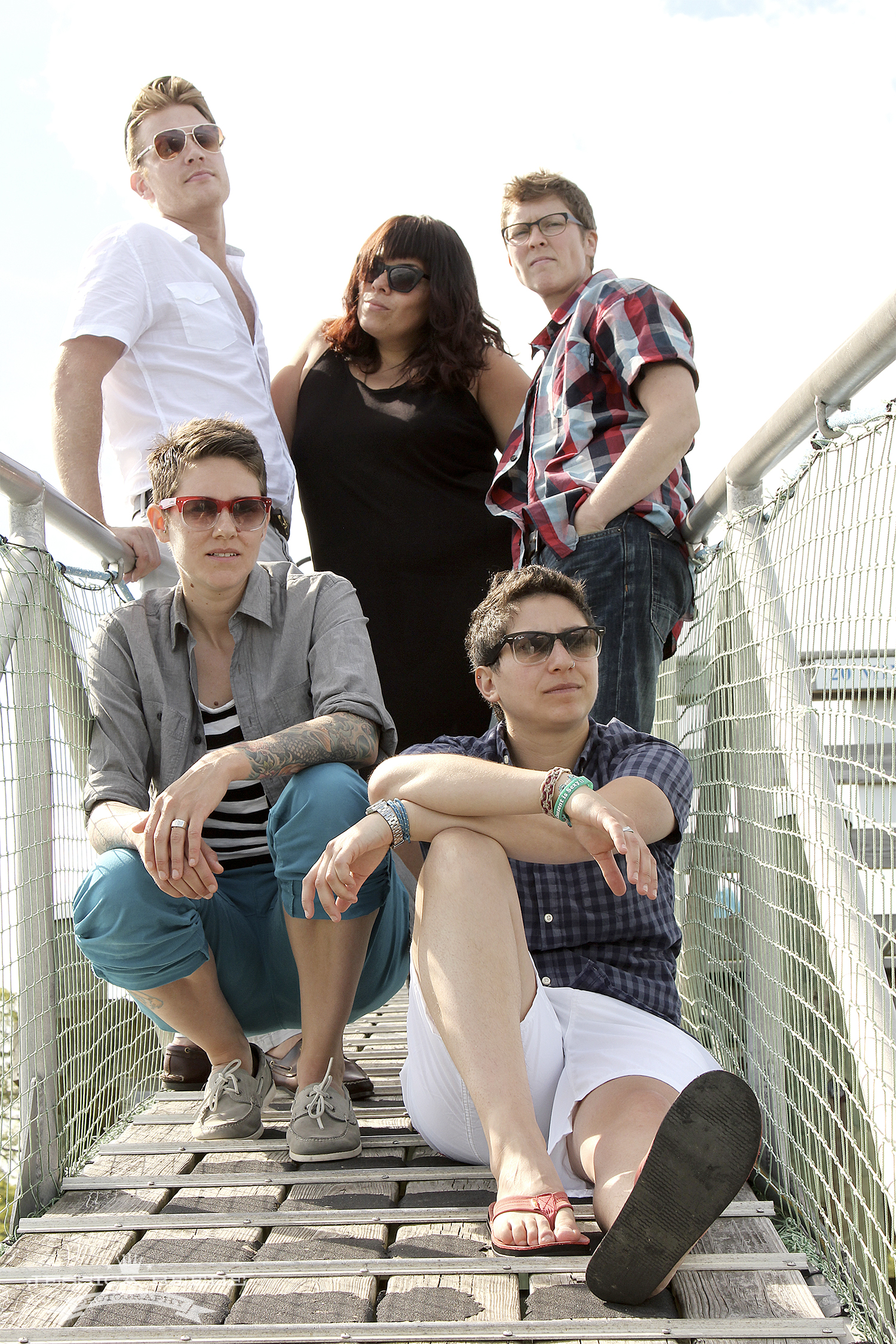 Group left to right is David Timm, LK Weiss, LuzMarina Serrano, Shana Natelson and Tee Tappan
Here's the final point. Check out what's happening here. Original view points reshaping old paradigms about appeal and what's sexy, hot, trendy and desirable. LK's vision is going to grow and we are going to hear more from this amazing person. She gives enormous credit to her team for creativity, ideas and of course the energy to keep it all moving forward with incredibly high standards.
As my own business, Gay Girl Dating Coach, continues to evolve it's people like LK that inspire and motivate me to own my unique voice and insist that being different or queer and living outside the box of gender norms and accepted fashions rules is both important and necessary to push back the box of conformity and live our best lives out loud and in the open.
Personally I think this is the hottest and sexiest stuff I've seen in fashion in years. Keep breaking the mold LK, Tee, LuzMarina, Shana and David. We need more people who want to rock the world with different and beautiful ideas. I am grateful. You will be too.
Popular in the Community