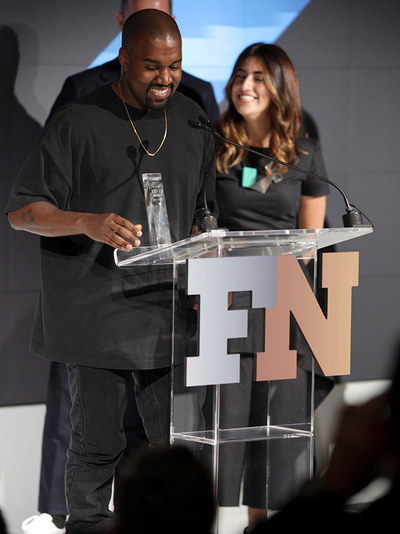 (photo: Patrick Macleod/ REX)
It's been a big year for Kanye West. He announced his plans to run for president, his two year old daughter stood up to the paparazzi, his second child (a boy) is due to arrive any day, and, as of last night, his Yeezy Boost 350 was anointed Shoe of the Year at the Footwear News 29th Annual Achievement Awards ceremony. Dubbed the "Shoe Oscars", West accepted the honor in a very Kanye West speech. Some particularly memorable quotes:
"I have absolutely no plans for what I'm going to say, so this could land completely wrong, but it doesn't really fucking matter, does it? If you don't like 10-minute profanity-ridden speeches that end with a presidential bid, you can go to the bathroom."
"I want to fucking draw shoes, and it doesn't matter if someone thinks that I'm supposed to be doing something that's more important."
"As a creator, it doesn't matter how big your house is, how big your name is, how much money you have, your job is to create while you're here and if anyone is in the way of that, if anything gets in the way of that, you got to burn it to the fucking ground."
"I'm trying to take a full 'Will Ferrell drunk brother at the wedding' vibe. Have I reached that level yet? Here's to fucking everything up!" (footwearnews.com)
Congrats, Kanye. With all this good news, it's no wonder the rapper/producer/style god was breaking his own rule of not smiling in pictures yesterday. Check him out during a shopping trip in Soho, NYC.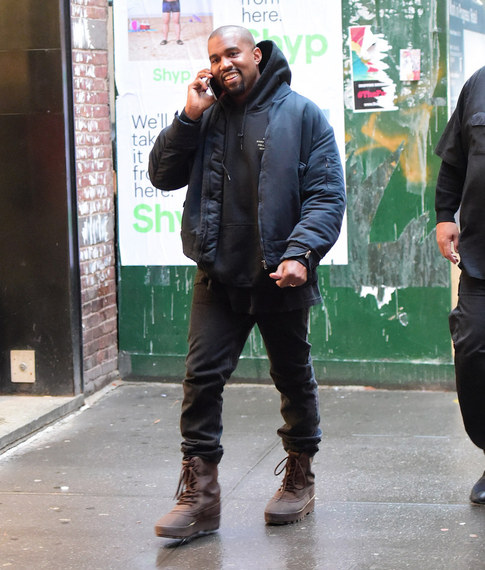 (photo: Splash News)
Who says smiling isn't cool? Well, West, who has gone on the record saying he doesn't like to smile for cameras because it doesn't look cool. But seeing him happy makes us happy. Just like seeing how good he looks in drape-y tees and sweatpants makes us want to wear the same thing. It's just contagious.
Related