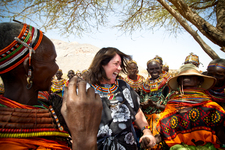 This is a guest post by Kathleen Colson, founder and CEO of The BOMA Project, a partner of Segal Family Foundation.
On September 19, Ntiriswa Lesurkukwa rose at 5 a.m. to milk her camel and prepare a frugal breakfast--a mug of hot tea--for her husband and four young children. Then she walked 20 kilometers across the arid scrubland of Northern Kenya with her friend and business partner, Ntitoya Arbele.
"We had to walk slowly, slowly, because we feared elephants and wild animals," she said later that day. "And as we walked, we talked about how to run our new business, and how to achieve success."
Ntiriswa had been chosen to enroll in a high-impact income and savings program that helps women to "graduate" out of extreme poverty in the arid lands of Africa. Implemented by The BOMA Project, a U.S. nonprofit and Kenyan NGO, the program targets ultra-poor women--many of whom live on just 33 cents per day.
After a lengthy selection process, BOMA assembles participants into business groups of three women, and helps each group to start a small, sustainable enterprise. The women are given a cash grant to get their business up and running, and then receive two years of hands-on training and mentoring by local BOMA Village Mentors. The program also includes a structured savings program for additional training, credit and loans.
Over two weeks in mid-September, BOMA enrolled 948 women, like Ntiriswa, in this life-changing program. BOMA held training sessions and grant disbursements in 24 villages across a remote, rural region the size of Ireland. Women gathered in cinder-block community halls or open-air pavilions to learn about basic business skills like bookkeeping and making a profit from the BOMA field staff.
After the training sessions end, the women will trek or catch a lorry (a truck typically used to transport goods) to the nearest large town, where they'll buy wholesale supplies, like bags of rice and tins of cooking oil, to sell at a slight mark-up in their home village.
It's the Northern Kenya version of a mini-mart, but it's much more than that: With income and savings from their new BOMA business, these women can now feed their families, pay for school fees and medical care, and build up savings to cope with emergencies and survive drought.
Drought--the deadly result of climate change--is devastating a centuries-old way of life across the arid lands of Sub-Saharan Africa, where pastoralist communities have long relied on livestock as the sole source of food and income. In 2011, the worst drought in 60 years hit the Horn of Africa. It triggered a hunger crisis that impacted 13 million people and left an estimated 100,000 people dead--mostly women and children.
When the next severe drought descends, the international community will respond with life-saving food aid and emergency relief. Meanwhile, BOMA is working on a long-term solution by helping the very poorest women to develop a diversified livelihood--a small business that doesn't rely on drought-threatened livestock. These businesses generate income to support the family now and savings to help them survive the next drought.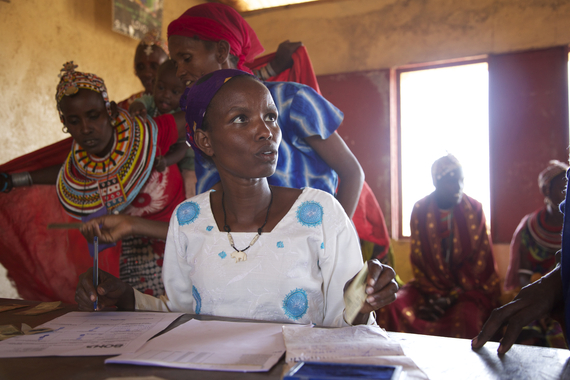 Jane, a BOMA mentor, training participants in Loglogo, Kenya. Photo credit: BOMA/Christina Goldbaum.
In a region where others see disaster, we see success every day: After two years in the BOMA program, 98 percent of these small businesses are still in operation, the average household income has doubled, and 95 percent of women have "graduated" from extreme poverty by our strict statistical criteria. That means they can demonstrate a sustainable livelihood and have access to savings that can feed their families for months. Graduates also meet additional criteria, such as eating two meals daily, spending a threshold amount on education and medical care for their families, and owning basic items like a blanket or a lantern.
Since 2009, BOMA has lifted more than 44,000 women and children out of extreme poverty across Northern Kenya. Our goal is to reach 100,000 women and children by 2018, and to scale this program across the arid lands of Africa--a region that spans 40 percent of the continent.
Though we're inspired by our statistical success rates, numbers can't really describe the impact of the BOMA program on women like Ntiriswa. She lives in a traditional hut made of sticks, skins and cardboard; her husband is a herder who makes a small income by guarding a nearby water tank. "We will identify what goods our village needs," she says. "Then we will buy the items and make a profit. We are so excited."
Today is the International Day of Rural Women--a day when we honor the role of rural women in enhancing development, improving food security and alleviating poverty around the world. At BOMA, we honor Ntiriswa and the 7,400 women we've enrolled over the past five years. These women have been offered the tools and resources they need to change their own lives and pave a pathway out of poverty for themselves and their children. They are putting these tools to remarkable use.
"Most of my life, I have had nothing," says Alice Learoma, an experienced BOMA business owner from the remote village of Gatab. "Now I have a little for myself and for my children. My children to do not go to bed hungry and I can pay the secondary school fees for my oldest child. For the first time in my life, I am OK."
The BOMA Project is a U.S. nonprofit and Kenyan NGO that implements an innovative poverty-graduation program for ultra-poor women in the arid lands of Africa. For more information, go to www.bomaproject.org.
Related
Popular in the Community