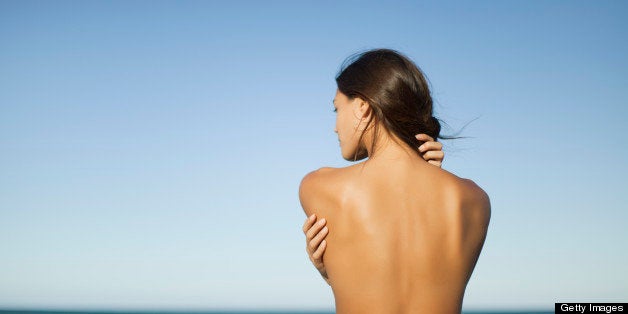 Mention you want to go to a nudist colony to friends and right away everyone starts giggling and nervously laughing. Say you want to try "European style" sunbathing or go to a clothing optional resort or beach, however, and right away your friends picture sipping cool drinks while relaxing in the South of France or Spain.
Americans naturally think Europeans are more sophisticated when it comes to sunbathing "au naturel." The reality is, however, that the U.S. has some of nicest, most popular, well managed, and friendliest nude sunbathing resorts in the world.
Thinking about whether you should finally get an all over tan this summer? Make this the year you finally check it off your bucket list. Now is the perfect time, as the Memorial Day Holiday is the unofficial start of nude sunbathing season.
Don't know where to go? Check out the American Association for Nude Recreation's website. From Palm Springs, California to Florida, from Washington State to New York State, there are nudist resorts and clubs in 44 of the 50 states. Find the one that's right for you.
Most nudists resorts will be having traditional BBQ's over the holiday. First timers will feel very comfortable and will have an enjoyable experience. Just be careful around the "weanie roast."
All summer long, there will be lots of fun nude recreation activities happening through out the U.S. and Canada.
May 31st to June 2nd is the second annual Nudist Expo in Las Vegas California. It's the perfect place to learn all about nude recreation. Lots of resorts will be at this show giving away free prizes.
Want to break a world record? On July 13th, 2013, "Wearing Zip, Let's Skinny Dip" is the theme. The American Association for Nude Recreation and The Naturist Society are jointly sponsoring a skinny dipping event where they try to beat the Guinness World Record for skinny dipping set in 2010. Join in the fun and help set a new record.
Finally, Washington, D.C. isn't the only place for naked politics. This August 12th to 19th, join over 1,000 nudists at the DeAnza Springs nudist resort in Jacumba, CA about one hour outside of San Diego for their annual fun convention. First timers are gladly welcomed.
Nude recreation is a world of fun. You meet the nicest people. Try skinny dipping this summer and say good bye to those funny tan lines forever.
Correction: A previous version of this post incorrectly indicated that Lighthouse beach is clothing optional, while it is, in fact, no longer clothing optional.