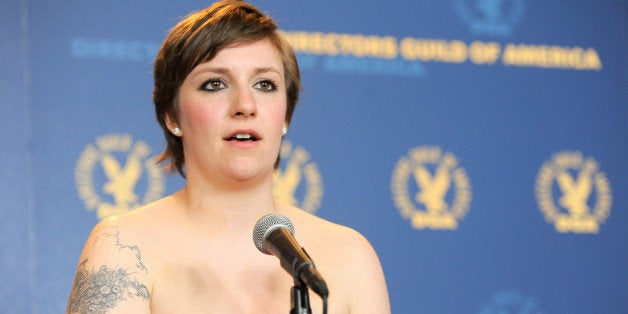 Actress and Girls creator Lena Dunham has been one of the more tireless celebrity advocates for openness around the subject of mental illness, frequently talking about her own struggles with anxiety, depression and obsessive compulsive disorder in the press and on social media. Most recently, she posted to Instagram a widely-circulated shot of her open mouth, prescription meds on her tongue, with the caption "Can I live?" It's not the first time she's talked about how medication, in particular, has saved her life.

On her website, Dunham writes that she hopes she can send "hopeful dispatches from the frontlines of [the] struggle" with mental illness, and dispatch she does. Back in 2014, Dunham's memoir, Not That Kind of Girl, included a list of things that keep her up at night, including but not limited to: "appendicitis, typhoid, leprosy, unclean meat, foods I haven't seen emerge from their packaging, foods my mother hasn't tasted first so that if we die we die together, homeless people, headaches, rape, kidnapping, milk, the subway, sleep." Meanwhile, a realistic, yet not overly dramatized, depiction of OCD gets a good amount of screen time on Girls in the form of Hannah, Dunham's character.
But is there such a thing as too much talk? Such a thing as too revealing? Many have praised Dunham for her propensity for over-sharing about any number of topics -- sex, her family -- but many have criticized her, too. In a review of Not That Kind of Girl, Guardian columnist Jessica Valenti argued that Dunham's "willingness to shock" has the "unfortunate side effect of nullifying the idea that she has something important to say," while others have suggested that Dunham's openness about her struggles -- be they with her weight or her critics or her anxiety -- rings hollow, given an upbringing that may have set her up as "too privileged" to actually let any of these struggles let her fail. Or that she's, above all, only interested in promoting herself.
But, well, so what if she is? She's doing a pretty great job promoting mental illness openness at the same time, and that's invaluable, because too few do. The stigmas surrounding mental health are too many, and too pervasive and, as a result, they're too impactful. Dunham may be a celebrity from whom we've grown accustomed to sharing and revelation, but that's a huge plus when it comes to mental health. For one thing, she's right that we don't talk nearly enough about mental illness, despite the high numbers of people who suffer from it and the impact it has on so many. The more open, honest press mental illness gets the likelier it is that those suffering will seek the help they deserve, since most in this country who suffer do not seek the treatment they need, if they even recognize they need treatment at all. The lingering stigmas surrounding mental disorders contribute greatly to that, as does the lack of discussion. The more we talk, however, the more people are able to recognize symptoms of illness in themselves and in others, and know where and how to seek help.
Here's where Lena Dunham comes in. Celebrities, like Dunham -- as well as others whose stories about depression and anxiety and other forms of mental illness have helped raise awareness that such disorders do not discriminate based on race, class, or level of fame -- have the power to help skyrocket the conversation into the mainstream. Pop star Demi Lovato has spoken openly and honestly about her bipolar disorder; Brooke Shields wrote an entire book about her depression. Soccer star David Beckham suffers from OCD, while Newsroom star Olivia Munn has publicly discussed her struggle with trichotillomania, an anxiety disorder that has caused her to pull out her eyelashes. Add Jon Hamm, Jim Carrey, and Leonardo DiCaprio to the list of those whose lives have been impacted and mental illness reads almost like the credits for an ensemble movie.
Which, in a way, it is. According to the National Alliance on Mental Illness, 61.5 million Americans suffer from mental illness in any given year, and just a small fraction of them receive adequate or appropriate treatment. The CDC reports that just over a third of people with severe depression had been to see a mental health professional within the previous year -- many quite likely because they're ashamed to talk about it or don't know how. They may not know the symptoms they're experiencing, the feelings they're having, aren't normal, and aren't absolutes; they may not know that they don't have to live with the pain that, in many instances, they've been living with for so long.
There is no shame in suffering from mental illness or in getting help for it -- only salvation, not just for those who suffer but for those of us who live alongside them, too. It's not only important, but also essential, that we remove the stigma surrounding mental disorders, and encourage and enable those suffering to get the help they need. Celebrity may not be the total answer, but it certainly doesn't hurt. Because hearing others speak about how they've triumphed despite illness isn't about "celebrating" that illness but about celebrating the real need to talk about it as often and as openly as we can. It's also, of course, about hope.