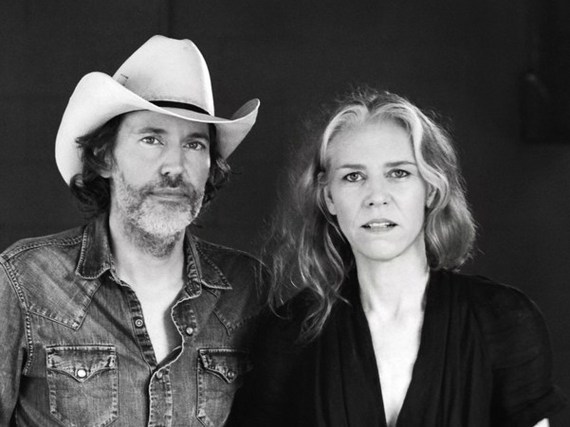 The first time I heard folk, alt-country Americana singer-songwriter Gillian Welch perform live was at MerleFest in 2004 on the heels of the popularity of the Grammy-award winning movie soundtrack for "O Brother, Where Art Thou?," on which she was an associate producer with the illustrious T-Bone Burnett and performed on two songs. It's a performance that has stayed with me through the years.
She and her husband, David Rawlings, have a long history with MerleFest dating back to the 1990s when Welch won the first-ever MerleFest Chris Austin Songwriting Contest and played one song on the Cabin Stage. The duo have since played the festival often, most recently headlining at the 2016 event on the Watson Stage on Saturday night as the Dave Rawlings Machine.
Welch and Rawlings, who received a lifetime songwriting achievement award at the Americana Music Association Awards in 2015, incorporate elements of early 20th century music including old time, classic country, traditional bluegrass and gospel with rock, rhythm and blues, jazz and even punk rock.
Welch told the Winston-Salem Journal in a recent interview,"They keep changing the name of what we do," Welch said from her home in Nashville, Tennessee. "We haven't really changed what we do. We were folk at the beginning, because there was no alt-country and there was no Americana. So if you had an acoustic guitar, you were folk."
The outdoor show -- a first for the Crossroads @ SECCA series -- is set to begin at 8 p.m. on Thursday, Aug. 25. Tickets are $30 - $40 and are available at secca.org/crossroads. All tickets are general admission, lawn seating and outdoors, rain or shine.
"When the Crossroads series started more than five years ago, we put together a list of artists we'd like to present if the series was a success," said Andy Tennille, SECCA Foundation board member and the concert series' curator, in a release. "Gillian Welch was atop that list. We are thrilled and honored to host her and her partner-in-crime David Rawlings for what will be another special night of music at SECCA...this time under the stars!"
According to the SECCA release, Welch first appeared on the folk scene in 1996 with her stunning debut, "Revival," produced by the legendary T-Bone Burnett after Burnett saw Welch open for Peter Rowan at the Station Inn in Nashville. The album would earn Welch her first Grammy nomination for Best Contemporary Folk Album. Welch followed up the success of "Revival" with 1998's "Hell Among Yearlings."
For her 2001 release "Time (The Revelator)," Welch had long-time partner and guitar player Rawlings produce the album, which was issued on Welch's own independent record label, Acony Records, and once again received a Grammy nomination for Best Contemporary Folk Album. Her 2003 album, "Soul Journey," introduced electric guitar and drums to her body of work. After a gap of eight years, she released her fifth studio album, "The Harrow & The Harvest," in 2011, which was also nominated for a Grammy for Best Contemporary Folk Album.
Rolling Stone named "Nashville Obsolete," the couple's seventh album and latest together, among its "25 Essential Albums and Events" for Fall 2015.
Launched in 2011, the Crossroads @ SECCA concert series aims to provide attendees with an extraordinary evening of music, art, food and drink featuring world-class musicians in an intimate concert environment. To date, the series has hosted Béla Fleck and Abigail Washburn, Leon Russell, Jim White, The South Memphis String Band, David Grisman & Del McCoury, Charles Walker & the Dynamites, Preservation Hall Jazz Band, Justin Townes Earle, Phil Cook, Caleb Caudle, Dean &B ritta, William Tyler, Patterson Hood, Hiss Golden Messenger, Odyssey 5, Love Language, Estrangers, Chris Stamey and the Blind Boys of Alabama.
SECCA seeks to enhance perspectives, inspire community and ignite new ideas at the intersection of art and its visitors.
Popular in the Community