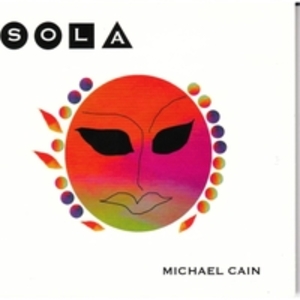 Musician Michael Cain's name is not well known by the general listening public, but he surely should be. When not making his impression on the next generation of musicians as an educator at The Eastman School of Music in Rochester, the New England Conservatory of Music in Boston or his present faculty position at Brandon University in Brandon, Manitoba Canada, the 49-year-old keyboardist has been working with some notable jazz artists including Ravi Coltrane, Greg Osby, MeShell Ndege Ocello, Robin Eubanks and most notably a nine year stretch with drummer Jack DeJohnette.
An accomplished pianist, Mr. Cain's most recent work has had a distinctively electronic bent to it with colors and textures that seem to borrow from elements of jazz, hip hop and Electronic Dance Music.
I was struck by his creative production of baritone saxophonist Brain Landaus' wonderful 2010 debut Traverse and later discovered his under the radar solo foray into electronic music aptly titled Solo from 2011 , one of the best offerings of that year's musical crop.
Following up on the electronic theme is Mr. Cain's latest offering the celestial sounds of Sola. Mr. Cain assembles two distinctively different bands playing from two geographical locations, Las Vegas and New York, to make an album that captivates the listener with deep grooves, inherent musicality and a palpable sense of equanimity .
Renaldo Elliot's opening salvo on drums on "Orun" -- a Yoruba word for Sun, has a tribal celebratory sound to it. Mr. Cain creates a world of suspended reality, conjuring up a magical mist on keyboards while the front line of Mike Gonzales on trumpet, Eddie Rich on Saxophone and Julian Tanaka on clarinet announce your arrival to this new space.
On " Esu Dance," out of the hypnotic ostinato of Mr. Cain's electronic effects emerge the three horns playing a trance-like chorus. Mr. Cain's subtle manipulation of his bag of electronic tricks creates an atmosphere over which trumpeter Mike Gonzales solos searchingly. Bassist Abu Gumyroyan and Drummer Elliot anchor the lighter than air music to earth and Mr. Cain colors the tune with imaginative sounds that bubble to the surface as the horns punctuate repeated lines.
With a nod to Rap and EDM , Cain's forceful "In the Front Door" utilizes a techno drum/ bass line over which the spoken word of the late composer/ arranger Gerald Wilson is juxtaposed. Wilson was a mentor to Mr. Cain and this is both a tribute to him and a celebration of the event Mr. Wilson documents. With the repeated refrain "Black People" lingering in the air, the pedantic recitation by Mr. Wilson explains about how in 1961 segregation was broken by the NAACP and he was first allowed as a Black musician to enter a Las Vegas hotel through the front door. The song is a triumph of expression for Mr. Cain and a creative celebration of this milestone achievement in the human rights struggle of Black musicians..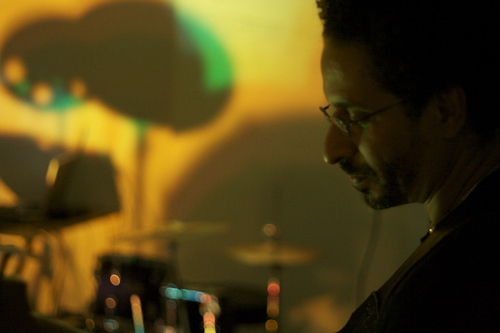 The New York based group of James Genus on bass and Billy Hart on drums is featured on just two tracks of this album. The ballad titled "Mais Uma Noite" features the big acoustic bass of Mr. Genus who offers an especially fluid solo. Mr. Hart's subtle trap work is restrained and exemplary. Mr. Cain's electronic piano and synthesizer dance beautifully, a most delicate display. Mr. Cain, eschews the acoustic piano for this otherwise acoustic set and in doing so seems to be showing how emotive a well played electronic keyboard can be.

The Vegas crew returns on "Wogg" another EDM inspired beat that features the serpentine dual voices of Mr. Gonzales 'trumpet and Mr. Tanaka's clarinet swimming against the undercurrent of the beat laid down by Mr. Elliot's drums and undulating waves of Mr. Cain's aquatic electronics.
The dirge like "No Se Fia" features a processional drum line by Mr. Elliot and a sauntering bass line by Mr. Gumroyan. The three horns repeat the mournful refrain like New Orleans's funeral marchers. Mr. Tanaka's clarinet is the lone voice that can be heard taking flight like a freed spirit.
"The Sin You Have Been Looking For" offers another languishing, dirge-like beat that incorporates more of Mr. Cain's fascination with all sounds electronic. He likes to layer sound upon sound, using his three horn line up to play the repeating melody line in sync with his electronic keyboard. The effect is like the rhythmic equivalent of a mad work-gang conductor driving his prisoners to a maddening repetitive sledge hammer beat. As the song fades the horns stray off line like drunken revelers struggling to keep up to the pace.
The final track is perhaps the most beautiful in its unadorned simplicity. Mr. Cain plays acoustic piano with his New York Crew of Mr. Genus on bass and Mr. Hart on drums. On the press release Mr. Cain spoke of his opportunity to play with Mr. Hart as being a dream come true. The respect shows through in the sensitive way Mr. Cain plays this gorgeous melody with such subdued and heartfelt poise. Mr. Genus plays a poignant bass solo that is ripe with emotion. Mr. Hart for his part leaves this one to Mr. Cain accompanying him with barely perceptible brush strokes.
Here is a video from his Solo album from 2011
Related
Popular in the Community