DETROIT -- Voters today elected Detroit's first white mayor in 40 years to help lead the struggling city out of bankruptcy.
Mike Duggan, who ran on his financial rescue of the city's largest hospital system, beat Wayne County Sheriff Benny Napoleon 55 percent to 45 percent with 98 percent of precincts reporting, the Detroit News reported. Both candidates are Democrats. The city of Detroit is 83 percent African American.
Many times during the Detroit mayoral race, the idea of Duggan victoriously addressing supporters from the podium seemed improbable at best. In June, Duggan was found to be ineligible and blocked from Detroit's primary ballot after another candidate, Tom Barrow, challenged the date he filed for residency after moving to Detroit from a nearby suburb.
Duggan briefly quit the race before announcing he would mount a write-in campaign. He beat the field of candidates, including Napoleon, by at least 20,000 votes. The validity of his write-in votes was challenged numerous times in court.
During the pivotal day for Detroit, the U.S. Department of Justice was on hand to monitor the election to ensure the Voting Rights Act was upheld. The DOJ was also present in Hamtramck, an enclave of Detroit, two counties in Ohio and one in New York.
Napoleon often sought to paint Duggan, who moved to Detroit from nearby Livonia, Mich. to run for mayor, as a suburban carpetbagger. In the pair's last televised debate, Napoleon warned viewers that, "While Mike was sleeping in Livonia," he had risen through the ranks of the Detroit Police Department to chief, before being appointed sheriff of Wayne County, where Detroit is located, in 2009.
While the city argues for the right to file for Chapter 9 bankruptcy in federal court, major fiscal decisions will be approved by the state-appointed emergency manager, Kevyn Orr, who has ultimate authority over the city's budget. Still, Duggan likely won't be off the hook if residents don't see improvements to services. So many streetlights are out that parts of the city plunge into darkness every night. About 78,000 vacant buildings blighting the city must be renovated or torn down. So far this year, close to 300 murders have been logged.
Though Duggan has said he didn't support appointing an emergency manager to run the Motor City, he has pledged to work with Orr to transition the city back to being run by a democratically-elected official. Napoleon disagreed; he said the emergency manager's presence is unlawful.
Duggan, a former hospital system CEO, released a plan that calls for creating a Department of Neighborhoods to enforce code violations, reduce blight and streamline the process for opening businesses in Detroit. He favors financial incentives to move residents living on blocks with four or less homes to more populated neighborhoods and says he will seize abandoned properties from banks that have foreclosed on empty homes. A former Wayne County prosecutor, he has supported the police department's efforts to move more officers to active duty and hiring civilians for administrative duties.
Duggan campaigned on his turnaround of the Detroit Medical Center, which faced a $500 million deficit, job cuts and possible hospital shutdowns when he was appointed CEO in late 2003. He boasted eight straight years of profits while launching a popular campaign promising 29-minute maximum wait times for emergency room patients. That may have resonated with voters, who cite police and ambulance response times averaging close to an hour after calls as one of Detroit's most crippling issues. Duggan also spearheaded the sale of the DMC to Vanguard Health Systems in 2011. It was sold to Tenet Healthcare Corp. in June.
Even before the polls opened on Tuesday, Duggan's fundraising had eclipsed Napoleon's efforts to raise money; with corporate interests like DTE Energy, Penske CEO Roger Penske and Compuware founder Peter Karmanos donating large sums to a Super PAC supporting his bid for mayor. Duggan's own campaign raised four times as much money as Napoleon's, according to Crain's Detroit Business.
But some voters were wary of Duggan's resume before he took over the Detroit Medical Center. As an important aide for former Wayne County Executive Ed McNamara, Duggan was never charged with any crimes. But McNamara's administration, regularly referred to as the "McNamara machine" by political watchers, was the target of a federal investigation.
Napoleon's relationship with the current administration in Wayne County also cost him politically in the race for mayor, as current County Executive Robert Ficano battles several scandals. Construction of a new prison on valuable downtown Detroit land became a political liability as cost overruns bloated construction costs by $140 million. Napoleon now says he didn't support the now-halted prison project and blamed the disaster on Ficano.
Duggan is the first white mayor to be elected since Roman Gribbs in 1970, who served one term before declining to run again. His successor, Coleman Young, who was Detroit's first African-American mayor, served five full terms -- a total of 20 years in office.
Before You Go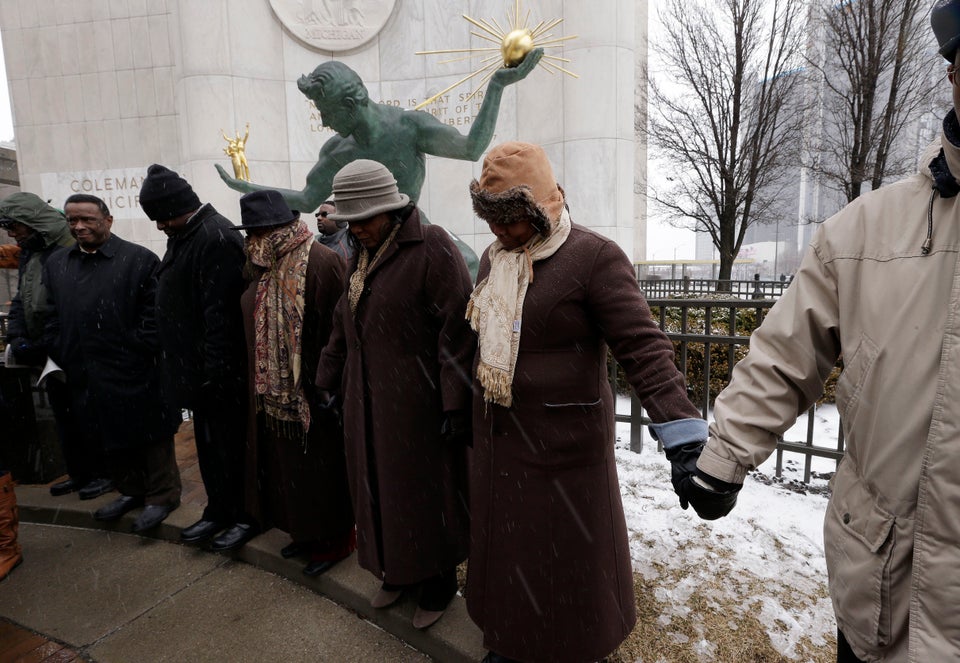 How Detroit Could Change After Bankruptcy
Popular in the Community