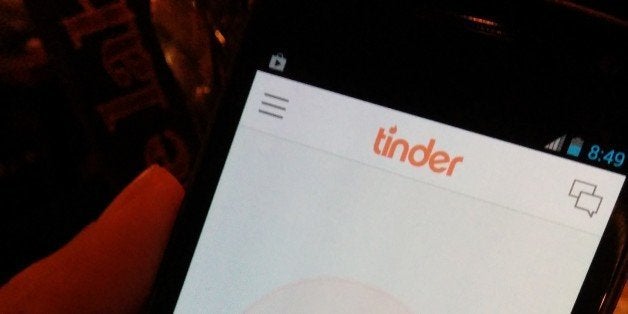 Recent talk about young women and sex has centered around the "hookup culture," and how millennials are forgoing serious relationships in favor of casual hookups; sleeping with men but not dating them; and taking a laissez-faire approach to romance. In many ways, this shift makes sense: In a competitive, media-driven world where news is reduced to sound bites and anything we want can be delivered to our doorstop tomorrow, why not be as efficient as possible when it comes to romance, too? Hooking up -- for both men and women -- makes sense for our modern society. It's about satisfying a physical need, and that's that.
Mobile apps like Tinder and The Grade have made hookup culture prominent by making hooking up more accessible. Tinder is on-demand, instant gratification interaction with a potential partner: Swipe through photos, see one that strikes your fancy, and "like" him or her. If he or she "likes" you back, the app connects you. The ease and low risk factor are two reasons the more than 50 million active users on Tinder check their accounts as much as 11 times per day.
But in addition to making hooking up easier, these apps have also made hooking up a far more equal opportunity. In fact, you could argue that for women, hooking up in the information age is the safest and most liberating it's ever been. Expressing interest in someone on Tinder is not much different from doing so at a bar, except that you also have a chance to pre-screen: Most apps allow users the ability to see if you have mutual friends -- which, of course, could be built-in references -- and shared interests. You're also spared having to deliver, or hear, any awkward pickup lines, never a bad thing. But perhaps the best part: No unsolicited suitors. On most dating sites -- and certainly in bars -- anyone can message you, or try to spark up a conversation. With Tinder, only someone you've "liked" can make contact. College-age people often say theirs is a generation that is interested in efficiency and ease. They already feel comfortable online, and they know what to look for -- and look out for. This sort of pre-screening and early stage anonymity is very appealing -- and safe.
Of course, the comfort level this generation feels is what might also be considered the greatest risk to mobile app dating: Because interacting feels so natural, it may be easier to let your guard down with people who are, let's not forget, strangers. But it's nothing that this generation hasn't been warned about when it comes to the Internet. Like with other aspects of life, social media doesn't change the way people date, but instead helps facilitate practices and habits already in place. The intention and the outcome, after all, are the same: Find a mate.
And like anything else, hooking up in the information age is all about portion control -- and using mobile apps for healthy reasons and in healthy doses. Some days, it may be for physical satisfaction. On others, it may be about finding romance. Really, that's no different from more old-fashioned approaches to meeting people. Sometimes you really do have to kiss a lot of frogs to find your prince, if a prince is what you want. That said, you don't want to be kissing frogs all day, every day; just because mobile apps make connecting easier doesn't mean you should do so at the expense of everything else in your life. (Which, it could be argued, people already know. Indeed, there's reason to believe that the pervasiveness of hookup culture is likely greatly exaggerated. A study presented at the recent annual meeting of the American Sociological Association found that just under one-third of college students have had more than one partner in the past year -- a number comparable to rates in 1988, 1996, 2002, and 2010. Which means that hooking up has not replaced committed relationships.)
Is there a risk that, in the time of Tinder, people start to take dating and hooking up less seriously? Sure, if you believe that having easier access to things makes people callous, which I'm not sure it does. But let's remember that dating is supposed to be fun. The math is pretty simple: In the end, what social media dating does is give users -- and, most poignantly -- women more options. And more options means more freedom, and more power, too.
Related
Popular in the Community