POTUS' executive order de-militarizing our police a good first step, but more must be done.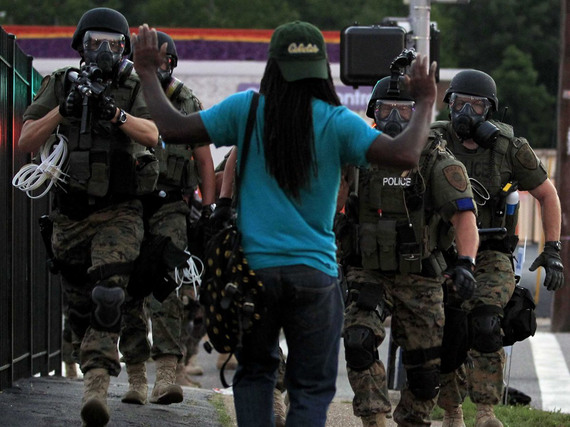 President Obama: Police must "embrace a guardian -- rather than a warrior -- mindset to build trust and legitimacy both within agencies and with the public."
The nature of law enforcement has changed over the last 40 years. Instead of civilian protectors of American communities, our police forces have evolved to resemble our military, in part, through the free transfer of military-grade weapons from the Department of Defense to local police.
Through the Department of Defense's "1033 Program," more than $5 billion in military equipment has been transferred over the last decade to police at no charge.
There must be a clear difference between our military forces and local law enforcement. I am alarmed to see the lines increasingly blurred with the rise of the warrior cop.
I introduced the Stop Militarizing Law Enforcement Act in the 113th and the 114th Congress. This bipartisan bill would (1) restrict the type of equipment that can be transferred from the military to local law enforcement and (2) institute transparency and accountability measures.
While I'm encouraged that my recommendations are a part of President Obama's recent executive order on this issue, including banning the free transfer of certain military-grade equipment and imposing strict oversight and transparency measures, we cannot stop advocating for comprehensive reform.
Recently, House Republicans stonewalled my efforts to restrict free transfer of weaponry from the battlefield to local police. Instead, they voted to expand the program to any state and local law enforcement agency that makes a request under the guise of border security. Even school and university police departments can receive this equipment.
This expansion promises to increase the proliferation of military equipment onto America's streets, and is clear proof that a legislative solution beyond an executive order is required.
The military and the police are separate institutions with separate purposes. There is a big difference between the civil law enforcement mentality, and the military mindset. The creed of an Army soldier is to "deploy, engage, and destroy the enemies of the United States of America in close combat." Conversely, the police motto is: "To protect and serve."
The blurring of lines between these institutions creates potential for abuse. Police authority in the community comes with the responsibility to exercise power appropriately. The communities that police are meant to protect are not the enemy and Mine Resistant Ambush Protected Vehicles (MRAPs) should not be used as cop cars.
A militarized police force cannot be fully effective. Because police are civilian members of a community, their success depends upon the trust and cooperation of that community. The pervasive use of tactics that are overly aggressive and militarized tend to exacerbate any tensions that may already exist.
I want to see our military and law enforcement institutions thriving; but, we must re-think programs that supply law enforcement agencies with military-grade weapons for free. It's time to put the heavy weapons away and focus upon repairing trust between citizens and their law enforcement officials.
As we rebuild the trust between communities and the police, we have to address the role that the federal government has played in supplying law enforcement with military-grade battlefield equipment.