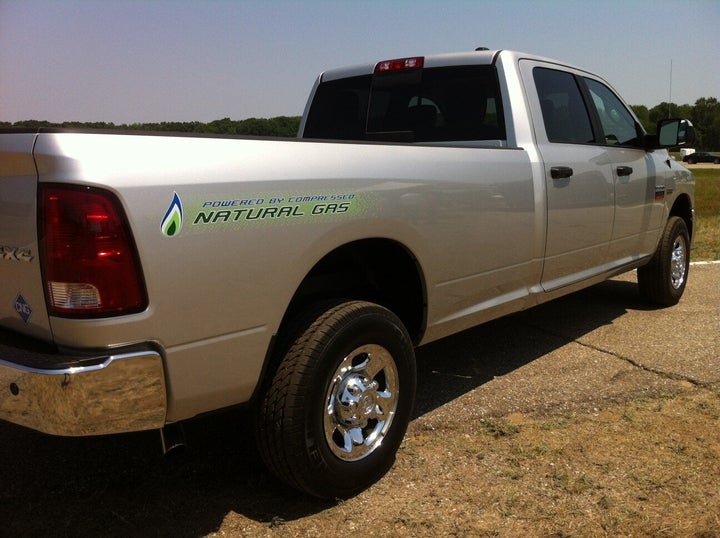 While there's much hype in the auto industry about the future of electric and battery-powered cars, Chrysler is rolling out a heavy-duty pickup truck that runs on compressed natural gas, betting that Americans can be convinced to start adopting the vehicle by touting its fuel as clean and homegrown.
Later this year, the company will start selling a natural gas version of its Ram 1500 pickup truck, joining Honda as the second automaker to offer a compressed natural gas (or CNG) vehicle to the American public.
The CNG Ram 1500 will be the first vehicle in what's expected to be a big push by Chrysler of CNG cars in the United States: CEO Sergio Marchionne has said the company will introduce several CNG vehicles in 2017. And he's personally invested in making the cars a success: A source told The Huffington Post that Marchionne has personally called Michigan Gov. Rick Snyder's office four times in the past few months, pushing for changes in Michigan's laws that would give Chrysler tax credits for producing CNG cars in the state. The source did not want to be named because the talks weren't public.
Doug Killian, a project manager for the Ram 1500, said Chrysler sees three big upsides for CNG: It's cheaper than regular gasoline, burns very cleanly and there is ample supply of natural gas in the United States, which could curb Americans' dependence on oil from the Middle East.
But the move to vehicles powered by natural gas concerns environmentalists, who are monitoring the effects of hydraulic fracturing, or fracking, a process used to extract natural gas underground. The natural gas production from underground shale has increased 600 percent since 2006, according to the U.S. Energy Information Administration. Environmental groups say the process results in air pollution, methane leaks into water supplies and possible earthquakes.
Still, Chrysler is plowing ahead, convinced that natural gas cars could be one piece of a complicated puzzle that will help the automaker reach new stringent fuel economy standards; average fuel economy is expected to be 54.5 mpg in 2025.
General Motors is also bullish on the technology, CEO Dan Akerson said last week. The company plans to offer two natural gas pickup trucks later this year, but Akerson said the technology won't be widely adopted until there are CNG fueling stations "every three or four blocks," according to the Chicago Tribune.
There aren't very many gas stations that offer CNG. So for now, Chrysler is focusing on fleet customers, who often have their own on-site fueling stations and can add a natural gas pump easily if they already have a line coming in to supply natural gas for heating.
"Since we don't have control over the infrastructure, we want to make fully valid vehicles available so eventually, if the infrastructure does get built out, we will be in position to offer vehicles," Killian said.
The CNG investment is a departure from promises Chrysler made when it asked for bailout money in 2008 and 2009. Back then, the automaker said its dedication to electric cars was one big reason it should get government assistance. But that was before Fiat and Sergio Marchionne took control.
Just months after emerging from bankruptcy with its new parent company Fiat, Chrysler disbanded the engineering team that was working on electric cars and sold off its Global Electric Motors department, which made little golf-cart-like cars. Although Chrysler has one plug-in Town and Country in the works, the company now seems wedded to the idea of natural gas cars. Italian-based Fiat is already the world leader in building natural-gas cars, offering five CNG vehicles in Europe and Asia.
According to industry group Natural Gas Vehicles for America, the United States lags behind the rest of the world in acceptance of natural gas as a fuel for cars and trucks. There are 112,000 natural gas-powered vehicles on U.S. roads, out of 14.8 million worldwide, the group said.
A boom in natural gas production has driven down the price of this fuel to a 10-year low, making the cost of a CNG vehicle seem more affordable for companies with a large fleet of trucks. Equipped with CNG tanks, the trucks cost about $11,000 more initially. But given that CNG costs about $1.50 to $2 for the equivalent of a gallon of gas, that $11,000 could be made up in about 60,0000 to 75,000 miles of use.
During a test drive of the large truck offered to journalists at an event last week, a CNG truck delivered a performance similar to that of regular gasoline-powered truck. If it didn't say "powered by natural gas" on its side, one might not know there's anything different about the truck. That's a major difference from a large diesel-powered truck, whose engine is noisy and vibrates enough to shake the vehicle.
The most notable difference inside the CNG truck is a large area in the back of the pickup bed where natural gas tanks are stored in a high-strength steel box. The storage space for compressed gas takes up much more space than the area holding gasoline in a regular car. Trucks usually come with two CNG tanks, as well as a small gasoline tank for backup purposes, in case a driver runs out of natural gas and can't quickly return to a fueling station. But the pickup bed is large enough to also hold equipment and the box holding the tanks can withstand 1,000 pounds of weight, Killian said.
"There are no compromises, really," Killian said. The "difference between running on natural gas and on gasoline is nearly imperceptible."
REAL LIFE. REAL NEWS. REAL VOICES.
Help us tell more of the stories that matter from voices that too often remain unheard.