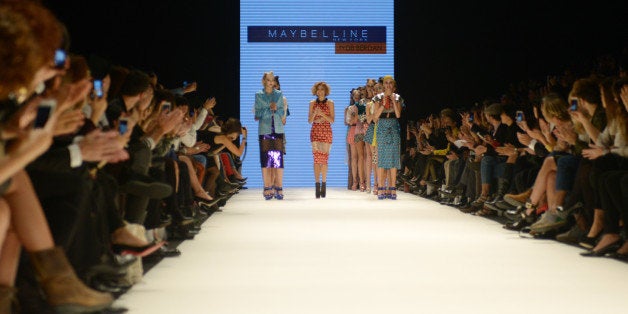 Since the early 1990s, New York Fashion Week has exploded, transforming from a small, industry insider event to an expensive, celebrity-filled circus with hundreds of designers, thousands of guests and oversized runway shows in every corner of Manhattan.
That is about to change. The Wall Street Journal reports that IMG Fashion, the company that runs New York's Mercedes-Benz Fashion Week, is announcing several changes today that will address the chaotic nature of its biggest biannual event.
So what are the most significant problems with New York Fashion Week... and how are they going to fix them?
1. Fashion shows have gotten elaborate... and EXPENSIVE.
Like, $1 million for a 10-minute show expensive (for the big brands, at least). A large part of that cost is the rental fee for the venues. So IMG Fashion is going to be reducing rents on some of the spaces in the famed "tents," plus offering some new nearby venues that will be even more affordable.
2. The show spaces are outdated and small (and can't contain the hordes of press and stars).
So the redesigned spaces have better lighting, more space for editors and a generally more "modern" vibe.
3. Runway shows have gotten ridiculously crowded... with lots of non-VIPs.
Blame it on the reality TV stars or perhaps the rise of bloggers. Either way, IMG tells WSJ that they need to reduce the amount of people at the shows, cutting media guest list by 20 percent and "making invitations once again an exclusive pass for true fashion insiders." You've been warned, would-be crashers.
4. There are shows all over the city, meaning editors and buyers spend all day sprinting around in heels (or spending loads on taxis).
While there may still be some far-flung runway shows, IMG Fashion is going to offer a a shuttle service to and from its main venues. We bet Anna Wintour will probably still take a private car...
But will we still have street style?