The elegant boutique Library Hotel is housed in the landmark 1921 Hill & Stout building at 41st street on the corner of Madison Avenue, two blocks from the Public Library. A great example of Neo-Gothic architecture from the turn of the previous century, a terra cotta facade of columns of alternating diamond brick patterns charges up to the sky framing beautiful sandstone arches and copper clad projecting bays with delightful Gothic motifs. The building pulls one back to the early artistic expressions of NYC architecture in the early 1900s before Art Deco became all the rage.
The hotel's literary theme is evident upon entering the quiet foyer as the first shelves of the 6000 books in the Library Hotel's collection are on display lining the walls leading to the front desk. As each room is numbered along the Dewey decimal system, as in a library's catalogue, each room has its own personal book collection. One might call this a 'novel' approach.
One loves to feel pampered and protected, especially in a demanding city like New York, and the Library Hotel proves a charming oasis from the busy world. A delight at only 60 rooms on 12 floors, one feels the advantage of staying in a boutique hotel immediately and the extra attention of the staff that affords. I noticed the Library Collection staff members go out of their way on several occasions to connect with me and insure our needs or concerns were being met. It made it clear to me why this hotel is in Trip Advisors' top ten.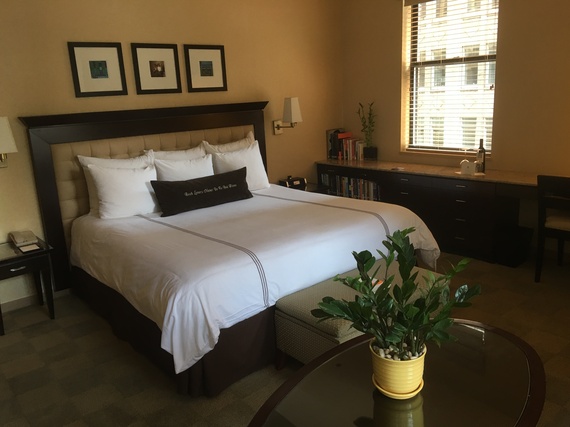 The rooms are sumptuous, and elegant, carefully designed and exceedingly comfortable. FYI: each room's collection of books are organized by category so that no two rooms overlap the same subject. If your collection is somehow lacking, all books downstairs are available to be selected to be taken to your room for the duration of your stay.
Sometimes in a landmark building you get architectural beauty which may come with the trade off of limited space. This Hill & Stout design, for example, was constructed on a footprint 110 feet wide and only 25 feet deep! But the library hotel uses every inch to its advantage and designed rooms that provide comfort and elegance. Each room also has a marble tiled bathroom that is carefully appointed for a very luxurious experience and offers one of the city's best values off one of the busiest avenues.
The hotel has a 'reading room' on the second floor, which is a large comfortable room with excellent views of Madison Avenue and 41st street. A complimentary coffee and espresso machine is available, with pastries and fruit 24 hours a day, an unusual amenity you rarely find in any hotel. A complimentary breakfast is also served here every morning from 7:30 to 10, and a wine and cheese is offered every evening from 5pm to 8pm where prosecco, red wine and domestic cheeses are available. Many tables and banquettes are available to sit at, as well as an entire book case wall for guests to make selections for their reading pleasure. I used this room to visit in the late hours to write, truly appreciating the 24 hour access as I am quite the night owl.
The mid-town location of the hotel puts it near Fifth Avenue shopping, and the culture and museums of mid-town as well, as well as lower mid-town, Bryant Park and Grand Central Station.
The proximity to the New York Public Library, which you can see if you turn right out of the hotel's front door, also inspired a visit to that architectural masterpiece. As I walked along Library Way, the two blocks connecting Madison ave to Fifth along 41st street, I was able to appreciate as many of the 96 bronze plaques embedded in the concrete sidewalk as I could, quoting 45 writers from 11 countries, over 20 centuries, a project completed in the late 1990s by the New York Public Library and local buildings and businesses.
At the library I took in the exhibits and sat quietly on the third floor gallery amidst the historic portraits of our country's leaders and library's founders, reading up on Alexander Hamilton, who happened to be on exhibit on the first floor where his personal letters were on display in the lobby.
The Library Hotel also has an elegant roof top 'writers room' and balcony, which is always opened for the guests, and also has a bar available from 7 to 11, which is a lovely way to take in the panorama of midtown and relax with a cocktail in the open night air of New York City. Watching the city from the twelfth floor with no roof overhead is an unusual treat as just about every square inch of air space in this town is usually cut off, off limits or claimed by private companies or residents with penthouse gardens.
The hotel has a relationship with the New York Sports Club, which has multiple locations throughout the city, and conveniently had one location just four blocks from the hotel, an easy walk which I took advantage of during my stay as I'm a bit of a gym enthusiast and hate to miss a day of my work out especially while traveling.
I took advantage of both offerings in the reading room during my stay, the breakfast before an adventure down into Greenwich Village, and the wine and cheese later in the evening which empowered my walk to my Broadway show which was only a few avenues across town to Times Square. Knowing the comfort that awaited me on my return made each sojourn all the easier.
From the writing room, to the roof top garden, to your own elegant room, you're well taken care of in a home away from home, while being in the heart of one of the greatest cities in the world.
Rooms at the Library Hotel come with free wi-fi, minibars, flat screen tv's and junior suites come with small pull out couches that could sleep another guest. Access to the second floor reading room and their teas, coffees, cookies and fruit is available 24 hours a day. There is a business center on the 2nd floor next to the reading room for computer needs or printing.