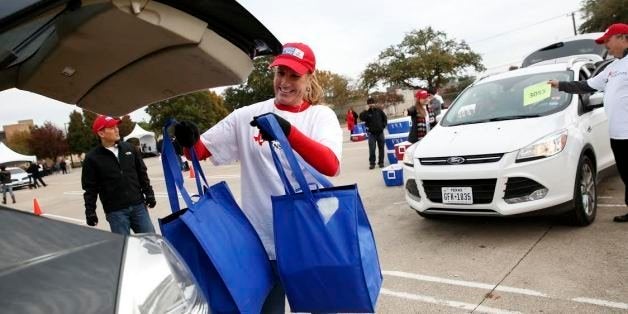 The election is, finally, over. It probably wouldn't be unreasonable to assume that most of us, regardless of whether our candidate won or lost, feel pretty shaken by the process that brought us to this moment. Divisiveness and incivility--which continue to be front and center in our news feeds and on our cable news even after the election--make it difficult to imagine how we begin the process of turning with a common sense of purpose toward the future.
But there is so much that binds us. We have a chance now to come together over the true American values (universal values, really) that have gotten lost amidst the vitriol--generosity, love of home and family, sense of community. The Dalai Lama and Arthur Brooks, wondering in the New York Times how we might begin repairing after this season of anger, write: "Everyone has something valuable to share. We should start each day by consciously asking ourselves, "What can I do today to appreciate the gifts that others offer me?" We need to make sure that global brotherhood and oneness with others are not just abstract ideas that we profess, but personal commitments that we mindfully put into practice. Each of us has the responsibility to make this a habit."
Millions of Americans, along with people around the world, will do just that on #GivingTuesday, November 29th. Their acts of giving, and their sense of community pride, will be that much more profound for being done in concert with so many others, and in the face of so much uncertainty, It's a day when we have an opportunity to express gratitude for all we have, and pay it forward in ways big and small--by giving time or expertise; making monetary donations large or small; donating food or clothing; performing simple acts of kindness, connection, or reconnection.

What does that kind of collective giving look like? It looks like hundreds of people in Baltimore spreading acts of kindness throughout their city and the citizens of Newton, KS creating an online wish book of needs to be filled; like volunteers baking bread for neighbors in need and breaking bread with them; like more than 10,000 teachers giving lessons on philanthropy; like families talking about the value of generosity at the dinner table. It looks like communities reorienting toward the future. And, of course, it looks like real funds being raised to address real issues--poverty, hunger, climate change, medical research, education, inequality, and so much more.

Being part of a democracy is made up of so much more than our politics. Voting is one measure of our engagement in civic life, but civic involvement and philanthropy are also pillars of democratic societies. How much our communities give, and how much our citizens care for one another, are measures of how healthy those communities are and how healthy we are as a nation. On election days, there are winners and losers. Afterwards, we have the opportunity to begin to come together again and, together, help create the country we truly want to live in. Then we all win.
This post is part of a series produced by The Huffington Post and the #GivingTuesday Team at 92nd Street Y, to celebrate #GivingTuesday. #GivingTuesday is a global giving movement, and the series (which will feature content throughout November) aims to celebrate how people are giving back around the world. For more information about #GivingTuesday, visit here. And to join the conversation on social media, use the hashtag #GivingTuesday.
REAL LIFE. REAL NEWS. REAL VOICES.
Help us tell more of the stories that matter from voices that too often remain unheard.