On May 15, when the American Civil Liberties Union called for an investigation into the entertainment industry's "systemic failure" to hire female directors, the call was heard around the entertainment world. It sparked a lot of talk about the dismal number of women directors in Hollywood and the scarcity of films being produced with strong female leads.
"There is so much focus on the problem and too little talk about the solution,"
says independent filmmaker, Paige Morrow Kimball.
With only seven percent of women directors at the helm of the 250 top-grossing movies last year and little opportunity for women to play meaty roles after the age of 40, Kimball, a former reality TV producer/director saw a need and answered the call.

My solution is to write films about women, and hire as many women as possible both in front of and behind the camera. I've always had an independent spirit, and now with crowd funding and technology I don't have to wait for a 'yes', I can make it happen. Patience has never been my greatest virtue.
With her newest film, Play Date, Kimball wrote a script with three strong female leads and hired mostly women in key positions, including Producer, AD, DP, Production Designer, Editor and more. Play Date is a short film about a seven-year-old girl who discovers a homeless woman in her backyard and invites her inside for a play date, while her parents are too distracted to notice.
With this film Kimball not only created roles for women in front of and behind the camera, but she also tackled the global issue of homelessness. She was inspired to write the script for Play Date when a chance wrong turn led her through L.A.'s famed Skid Row. "I was headed to a concert at dusk, and was shocked to see dozens of homeless people on the streets setting up their tents for the night," says Kimball.
This went on for blocks and blocks and I was upset and ashamed that this was happening a few miles from my home and I had never witnessed it. I went home that night and Play Date poured out of me.
Play Date is a short film designed for families to watch together. It raises the issue of the invisibility of homelessness in a magical, entertaining way and also explores the distraction parents face with the rising demands of technology.
As parents, in Los Angeles, we're busy and we don't tend see what is happening right in our back yards. We're starting to see more homeless tents all over L.A. but it's an issue that's tempting to ignore it because if feels so unsolvable.
"When I read the script I was so moved," says Terry Walters who got on board as the films lead actress and as a producer. "It was an opportunity for me to give back, play a meaty role and work with a independent director who is thinking out of the box."
To raise money for the film, Kimball and Walters launched a crowd funding campaign that was designed to give back as well. A percentage of the proceeds were donated to OPCC (Ocean Park Community Center in Santa Monica) and the campaign created waves. The film's transformative message was featured in Forbes Magazine and reached several celebrities who got on board, as it's associate producers and backers, including Calista Flockhart, Mary McDonnell, Jayne Atkinson, Jon Tenney, Rob Morrow and more.
The film also resonated with John Maceri, Executive Director at OPCC. Maceri is widely regarded as one of the country's most innovative and effective leaders in housing and services for the most vulnerable in our community and is known for his transformative Ted Talk: Can Homelessness be Solved?
"The film is socially relevant and has so many layers to it," says John Maceri of OPCC.
It's a magical realism family film that appeals to a wide range of ages and backgrounds. People leave the screenings wanting to make the world a better place... not an easy thing to do in 15 minutes.
OPCC is on board to help develop Play Date out as an educational program to community centers, religious organizations and schools.
"Play Date shows us that every human being has a story, and it asks the question, what can I do to make a difference?" says Maceri.
"Rather than trying to fix the problem, we must bring it to light, and start the conversation, especially with future generations," says Walters.
You either get depressed talking about it, or ask yourself, 'What small thing can I do to be part of a solution?' We're changing perception from the ground up, and the beauty is we don't need anybody's permission to do it. We can create on our own.
Play Date will make it's World Premiere this Saturday June 6 at the Dances With Kidz Film Festival in Los Angeles.
Whether trying to change perception about homelessness or helping raise the numbers of women working in Hollywood, Kimball continues to attempt to create positive change, one film at a time.
I made this film for my daughters, who are nine and 12, to show them that they can be anything they want. And they can make a difference, no matter how seemingly small to help make the world a better place.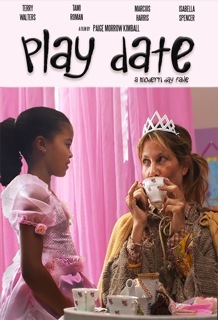 All photos used with permission.
Related
Popular in the Community