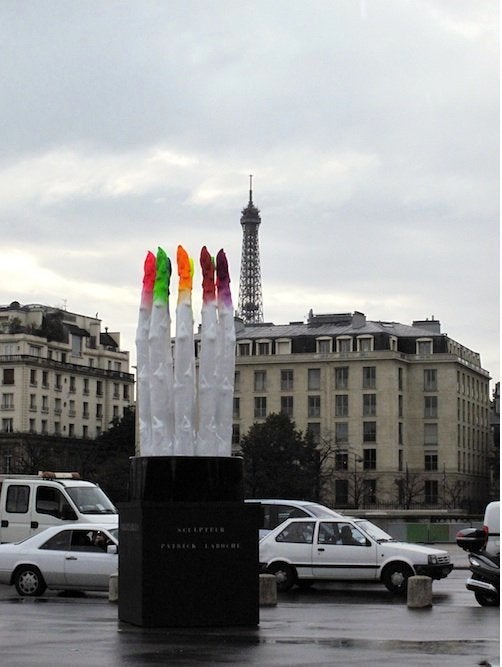 Last week, the international art crowd arrived from near and far for Paris' Foire Internationale d'Art Contemporain (FIAC). Art fairs can often be a rather dull enterprise with long days spent inside window-less convention halls and a steady stream of mostly average and sometimes engaging art. But this fair was pulsing with energy and -- according to many dealers -- actual sales. Art Basel, Art Basel Miami Beach and Frieze London are arguably the most important art fairs in the world but it seems Paris is carving out a place for itself in the contemporary art arena. The city of lights isn't just about dead artists anymore.
>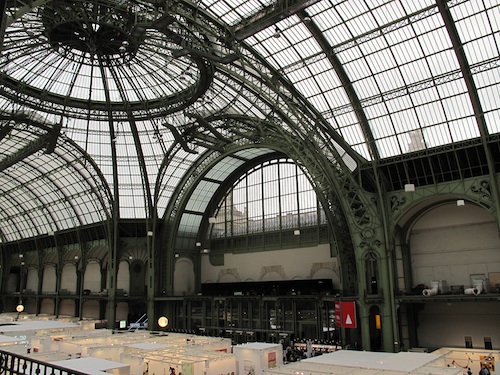 FIAC in Le Grand Palais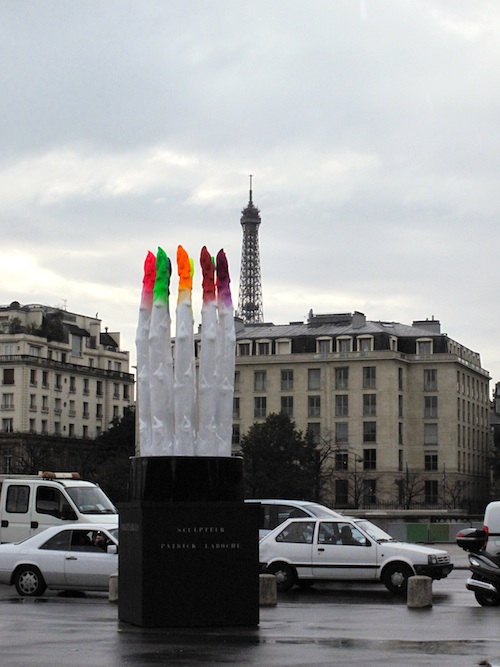 Asparagus sculpture by Patrick Laroche, part of FIAC's public art initiative
I enjoyed a busy week of darting about town from gallery visits to evening events. It all started with a rainy Sunday trek to Pantin for a brunch celebrating the much-anticipated opening of Thaddaeus Ropac's new 50,000-square-foot exhibition space. Pantin, in the northeast of Paris, is known as a performance arts center -- evidently that's common knowledge since my cab driver asked if I was heading there to sing or dance. And there was plenty of performance to be had, both among the camera-ready crowd (including Bianca Jagger and France's one-time Minister of Culture Jack Lang and the art (notably the recreation of conceptual artist Joseph Beuys' seminal 1969 performance piece "Titus Andronicus/Iphigenie" featuring a white horse). In the building adjacent to the Beuys exhibition, Ropac displayed an impressive new series by German artist Anselm Kiefer, exploring the origin and creation of life, with prices varying from €200,000 to €1 million.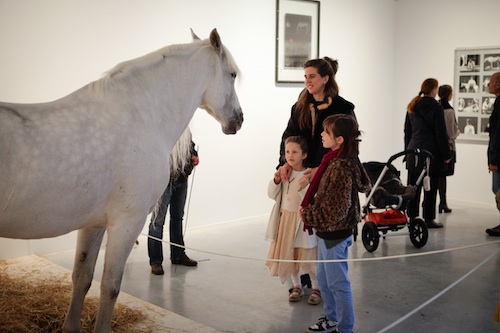 Joseph Beuys "Titus Andronicus/Iphigenie" at Thaddaeus Ropac, Paris Pantin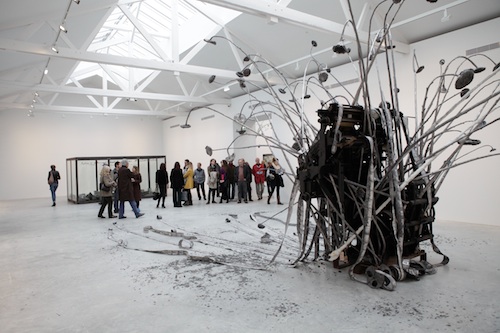 The crowd at the Anselm Kiefer exhibition at Thaddaeus Ropac, Paris Pantin
From there I quickly scooted back to town to co-host an intimate cocktail party with curator/art dealer Isabelle Le Normand, my partner in crime for the week. We eased into art fair mode and caught up with Sunny Rahbar of Dubai's The Third Line gallery, Paris-based collector Joseph Kouli, art critics Rahma Khazam and Amanda Coulson, co-founder of the Volta art fair. This was followed by a dinner at Palais de Tokyo with the artist couple Pauline Bastard (a finalist in this year's Audi Talent Awards for contemporary art) and Ivan Argote. On Monday evening, I returned to Palais de Tokyo for the opening of the exhibition "Imaginez l'Imaginaire" which drew a large crowd of French hipsters complete with the international contemporary art uniform: Topknots, bright lipstick and big black-framed eye glasses for girls; shaggy hair and skinny jeans for guys. Tuesday was spent visiting the Marais galleries, (notably the Sophie Calle exhibition at Galerie Emmanuel Perrotin which I reviewed for the January issue of Modern Painters) before catching up with LA art girls Veronica Fernandez, Esther Kim and Kana Manglapus over dinner at Cantine du Faubourg and drinks at the tried and true Hotel Costes.
And then came Wednesday -- the VIP opening for the fair. This reporter's press pass was for a 2 p.m. entry so the chivalrous Joseph Kouli (who made the apt observation that attending art fairs is like trying to watch hundreds of different films of varied genres and plot lines all at the same time) invited me to the 10 a.m. collector preview. This meant fewer crowds and more one-on-one time with galleries. Highlights include Christoph Weber at ProjecteSD, Rana Begum at The Third Line and David Ostrowski at Peres Projects.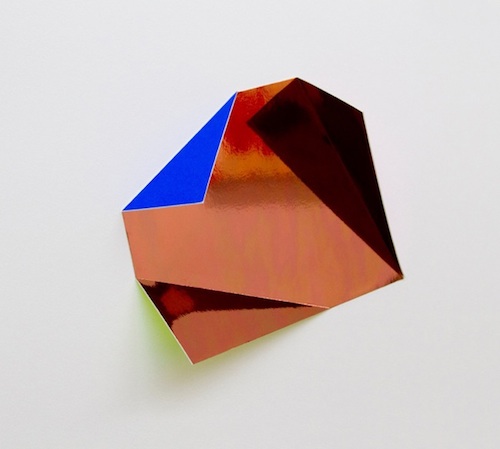 Rana Begum at The Third Line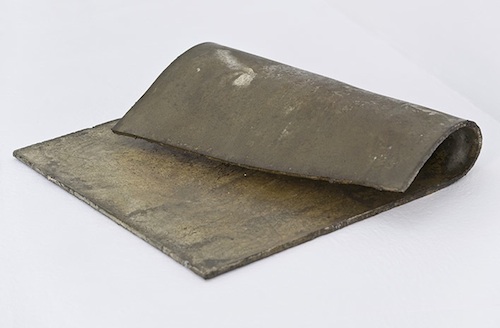 Christoph Weber at ProjecteSD
After a very, very, very long day at the fair it was time for a glass of champagne at Christie's. The auction house co-hosted a private reception with the American Friends of the Musée d'Orsay to preview their upcoming post-war and contemporary art auction lots featuring work by Jean Dubuffet, Robert Mapplethorpe and Ugo Rondinone. Champagne flowed and a set by DJ Tristesse Contemporaine turned the otherwise staid auction house into a bit of a nightclub. The crowd seemed to have fun with the complimentary 3-D glasses given out to view Andy Warhol's psychedelic The Statue of Liberty, 1962 .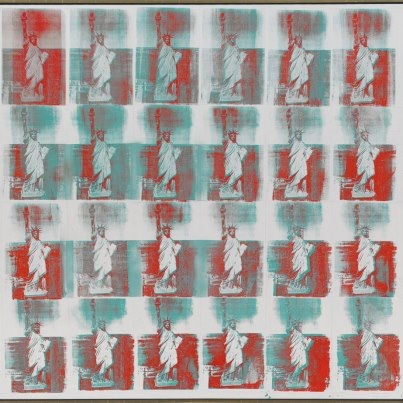 Andy Warhol's psychedelic The Statue of Liberty, 1962
Later that evening, I headed to the Ecole des Beaux Arts for a massive party celebrating their recent graduating class. The crush of people was just too much and when the champagne ran out, it was time to call it a night. The following evening ended early for me, too early as apparently I missed the not-to-be-missed event hosted by artist Maurizio Cattelan for his magazine Toilet Paper at the centuries-old Parisian night life institution Maxim's...maybe next year. And already it was the weekend, which meant a visit to the impressive Rosenblum Collection and Friends and a reception at one of my favorite contemporary art foundations, La Maison Rouge. The last stop on that rainy Friday night was at the Bal Jaune, a circus-themed event co-hosted by the Foundation Ricard and Beaux Arts magazine at L'île Seguin (the site on which François Pinault hoped to build his foundation before decamping to Venice). It was quite the glamorous affair complete with fashion designers Vanessa Bruno (with her partner, art dealer Frank Elbaz), Jean Charles de Castelbajac and Giambattista Valli as well as art world notables such as Orlan, Sophie Calle and Jean de Loisy. I spent most of Saturday visiting the galleries in Belleville (my Paris reviews for Modern Painters also feature neighborhood galleries Crèvecoeur and Jocelyn Wolff) before one last stop at FIAC. And then it all came to a close, until next year.
For more pictures, click here
REAL LIFE. REAL NEWS. REAL VOICES.
Help us tell more of the stories that matter from voices that too often remain unheard.